The Power of Full Engagement
: Managing Energy, Not Time, is the Key to High Performance and Personal Renewal
Jim Loehr and Tony Schwartz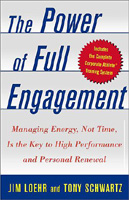 Format:
Paperback, 245pp.
ISBN:
9780743226752
Publisher:
Free Press
Pub. Date:
February 2003
Average Customer Review:


For Bulk Orders Call: 626-441-2024

Description and Reviews
From
The Publisher:
We live in digital time. Our pace is rushed, rapid-fire, and relentless. Facing crushing workloads, we try to cram as much as possible into every day. We're wired up, but we're melting down. Time management is no longer a viable solution. As best selling authors Jim Loehr and Tony Schwartz demonstrate in this ground breaking book, managing energy, not time, is the key to enduring high performance as well as to health, happiness, and life balance.
The number of hours in a day is fixed, but the quantity and quality of energy available to us is not. This fundamental insight has the power to revolutionize the way you live your life. The Power of Full Engagement is a highly practical, scientifically based approach to managing your energy more skillfully both on and off the job.
At the heart of the program is the Corporate Athlete® Training System. It is grounded in twenty-five years of work with some of the world's greatest athletes to help them perform more effectively under brutal competitive pressures. Clients have included Jim Courier, Monica Seles, and Arantxa Sanchez-Vicario in tennis; Mark O'Meara and Ernie Els in golf; Eric Lindros and Mike Richter in hockey; Nick Anderson and Grant Hill in basketball; and gold medalist Dan Jansen in speed skating.
During the past decade, dozens of Fortune 500 companies have paid thousands of dollars to learn the Corporate Athlete training system. So have FBI swat teams, critical care physicians and nurses, salesmen, and stay-at-home moms. The Power of Full Engagement lays out the key training principles and provides a powerful, step-by-step program that will help you to:
Mobilize four key sources of energy
Balance energy expenditure with intermittent energy renewal
Expand capacity in the same systematic way that elite athletes do
Create highly specific, positive energy management rituals
Above all, this book provides a life-changing road map to becoming more fully engaged on and off the job, meaning physically energized, emotionally connected, mentally focused, and spiritually aligned.

Reviews
The authors, founders of and executives at LGE Performance Systems, an executive training program based on athletic coaching programs, offer a program aimed at stressed individuals who want to find more purpose in their work and ways to better handle their overburdened relationships. Just as athletes train, play and then recover, people need to recognize their own energy levels. "Balancing stress and recovery is critical not just in competitive sports, but also in managing energy in all facets of our lives. Emotional depth and resilience depend on active engagement with others and with our own feelings." Case studies demonstrate how some modest changes can have an immediate impact. Loehr (Mental Toughness Training for Sports) and Schwartz (Art of the Deal, writing with Donald Trump) also include a chart highlighting Action Steps, Targeted Muscle, Desired Outcome and Performance Barrier and apply these tenets to individual cases. A chart analyzing the benefits and costs to taking certain action shows the impact negative behavior can have on both physical and mental well-being. However, the actual "training program" whereby readers can learn how to institute certain rituals to change their behavior is less well-defined. Managers and other employees who have attended HR seminars may find this plan easy to use, but self-employed people and others less familiar with "training" may be unable to recognize their behavior patterns and change them. Copyright 2002 Reed Business Information, Inc.

About the Authors
Jim Loehr
and
Tony Schwartz
are senior partners and principals at LGE Performance Systems. They codeveloped the Full Engagement model and the Corporate Athlete Training System. Each of them has worked with hundreds of senior executives and managers. As a performance psychologist, Jim has also coached hundreds of athletes. The author of twelve books, including Stress for Success, Jim lives in Orlando, Florida. Tony is coauthor with Donald Trump of the #1 best selling Art of the Deal, and of What Really Matters: Searching for Wisdom in America. He lives in New York City with his wife and two daughters.

Table of Contents
| | | |
| --- | --- | --- |
| | Part One: The Dynamics of Full Engagement | 1 |
| 1 | Fully Engaged: Energy, Not Time, is Our Most Precious Resource | 3 |
| 2 | The Disengaged Life of Roger B. | 19 |
| 3 | The Pulse of High Performance: Balancing Stress and Recovery | 28 |
| 4 | Physical Energy: Fueling the Fire | 48 |
| 5 | Emotional Energy: Transforming Threat Into Challenge | 72 |
| 6 | Mental Energy: Appropriate Focus and Realistic Optimism | 94 |
| 7 | Spiritual Energy: He Who Has a Why to Live | 110 |
| | Part Two: The Training System | 129 |
| 8 | Defining Purpose: The Rules of Engagement | 131 |
| 9 | Face the Truth: How Are You Managing Your Energy Now? | 148 |
| 10 | Taking Action: The Power of Positive Rituals | 165 |
| 11 | The Rengaged Life of RIger B. | 183 |
| | Resources | 195 |
| | Summary of the Corporate Athlete Full-Engagement Training System | 197 |
| | Organizational Energy Dynamics | 203 |
| | Most Important Physical Energy Management Strategies | 205 |
| | Glycemic Index Examples | 206 |
| | The Corporate Athlete Personal Development Plan of Roger B. | 207 |
| | The Corporate Athlete Personal Development Plan Worksheet | 217 |
| | Acknowledgements | 223 |
| | Notes | 227 |
| | Bibliography | 233 |
| | Index | 237 |

Find Items On Similar Subjects

Focal Point
: A Proven System to Simplify Your Life, Double Your Productivity, and Achieve All Your Goals

LeaderShock
... And How to Triumph Over It