LeaderShock
...and How to Triumph Over It: Eight Revolutionary Rules for Becoming a Powerful and Exhilarated Leader
Greg Hicks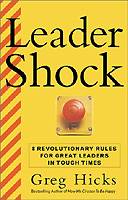 Format:
Hardcover, 208pp.
ISBN:
9780071408011
Publisher:
McGraw-Hill Trade
Pub. Date:
December 2002
Average Customer Review:

For Bulk Orders Call: 626-441-2024

Description and Reviews
From
The Publisher:
Faced with the chaos, demands, and difficult relationships in business today, leaders in every field feel overwhelmed, frustrated and ineffective. Today's leaders are in LeaderShock! Finally, there's a way out.
Greg Hicks has created the LeaderShock program - a revolutionary new way to lead that's based on seven years of breakthrough research into flourishing leaders and organizational cultures. His award-winning program has shown thousands how to thrive in spite of a worldwide business culture that has us managing from one crisis to the next, fighting forces beyond our control, and taking actions that don't "pay-off." Now it's your turn to thrive.
Unlike other books that prescribe generic leadership traits, this book offers a radically different solution: a practical roadmap of eight behavioral rules you can use regardless of your personality, experience level, organizational culture, gender, or age. Adopt all eight rules and something amazing happens - all those outside forces beyond your control will no longer control you.
Whether you lead a three-person team or a multinational conglomerate, this clear and concise book will show you how to:
Activate and express "Intentions" to create extraordinary relationships and get the outcomes you really want.
Use "Recasting" - A surprising and acutely analytical new way to convert stress into strength.
Create a uniquely accountable and truth-driven culture that excites and motivates your people.
Become proactive and forceful without overpowering others.
As practical as it is liberating, LeaderShock ...And How to Triumph over It will systematically guide you to find what every leader wants - powerful effectiveness and personal exhilaration. The timing has never been so right.

Reviews
"The eight LeaderShock rules to form a powerful roadmap for a fresh brand of leadership right when we need it the most. Without question, LeaderShock should be required reading for every leader."
—Dean O'Hare Chairman and CEO, The Chubb Corporation
"Greg Hicks has named the epidemic all leaders must fight -LeaderShock. Fortunately, he's also developed the ultimate cure. The best leadership book I've read, it's eight precepts truly cross cultural and geographical boundaries with extraordinary effect."
—Gary Owcar President, CNA Global
"The LeaderShock model presents a practical guide for leaders in our high-stress world. Over and over, I've watched it transform overwhelmed and reactive managers into highly effective and energized leaders."
—David Kelso Executive V.P. of Finance and Strategy, Aetna, Inc.
"Greg's book gives us a powerful and timely new way to lead. Embrace these eight rules and you will feel masterful and invigorated. A must read for anyone working to build a healthy, thriving workplace or community."
—Martha D. Newman Executive Director, Health Forum
"During the last twenty-five years I've been exposed to dozens of leadership programs, books and speakers. None have come close to the lasting and profound effects of Greg Hicks' eight LeaderShock rules. This book will forever change the way you lead."
—David Fowler CEO, TCI


Reader's Index
Send us your favorite quotes or passages from this book
.
• "Choosing your day isn't about denying problems, surgarcoating them, or guaranteeing specific results. It's about intensifying your focus on that which is uplifting and self affirming." Pg. 24 • A reader from Minneapolis, MN
• "Do what
you
love, then let others fill in the gaps by doing what
they
love." Pg. 65 • A reader from Miami, FL

About the Author
Greg Hicks
is co author of the best-selling
How We Choose to Be Happy
and CEO of Foster, Hick & Associates, an internationally recognized consulting firm with such diverse clients as G.E. Capital, the U.S. Navy, and the Mayo Clinic. Hicks is also on the faculty of the Health Forum and the College of Business at San Jose State University. An entertaining and enlightening speaker/trainer, every year thousands of leaders at every level around the globe profit from his popular and transformational LeaderShock programs.

Table of Contents
Acknowledgements
ix
Prologue: LEADERSHOCK
The Management Crisis of Our Time
1
Rule 1
Activate Intentions
11
Rule 2
Own It All!
41
Rule 3
Refuse to Conform
63
Rule 4
Recast Stress Into Strength
85
Rule 5
Replace Plans With Possibilities
107
Rule 6
Focus On Your People First
125
Rule 7
Give, Don't Take!
141
Rule 8
Demand the Truth
157
Synergy
A New Way To Lead
179
Afterword
189

Find Items On Similar Subjects

Leadership on the Line
: Staying Alive Through the Dangers of Leading

The Power of Full Engagement
: Managing Energy, Not Time, is the Key to High Performance and Personal Renewal