Theodore Roosevelt on Leadership
: Executive Lessons from the Bully Pulpit
James M. Strock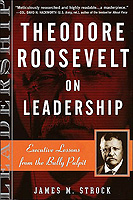 Format:
Paperback, 288pp.
ISBN:
9780761515395
Publisher:
Prima/Forum Publishing
Pub. Date:
January 28, 2003
Average Customer Review:

For Bulk Orders Call: 626-441-2024

Description and Reviews
From
The Publisher:
Theodore Roosevelt, the youngest man ever to become president, was a leader of uncommon strength. Through the sheer force of his extraordinary will, Roosevelt almost single-handedly turned America into a modern world power. His leadership in the face of overwhelming challenges is a splendid model for business executives and managers struggling to master todays turbulent marketplace. In Theodore Roosevelt on Leadership, you will discover an individual who overcame a sickly boyhood to grow into a man whose physical strength and courage were an inspiration to those he led. Included are the secrets to his unparalleled leadership skills that carried him to greatness during the Spanish-American War, caused the Panama Canal to be built, busted corporate trusts, waved the "big stick" of Americas growing military might, and turned the historically weak presidency into the "bully pulpit." Constantly breaking customs and defying expectations, Roosevelt led the modern environmental movement, wrote books and essays on every conceivable topic, and was a husband and father of touching tenderness and dedication. Theodore Roosevelt on Leadership captures for the modern business reader the greatness of this true American icon.

Reviews
"Filled with invaluable lessons for twenty-first century leaders."
—John C. Maxwell author of The 21 Irrefutable Laws of Leadership, founder of The Injoy Group
"This meticulously researched and highly readable book is a masterpiece on an up-front leader. Theodore Roosevelt on Leadership could be the primer that turns around a nation choking on guidance from 'leaders' who preach 'do as I say, not as I do.'"
—Col. David H. Hackworth (U.S. Army, ret.), author of the bestseller About Face
"It is about time someone wrote a book like this! This concise and valuable guide to Theodore Roosevelt's philosophy of action is interesting as history and useful for business people and other leaders."
—Tweed Roosevelt, great-grandson of Theodore Roosevelt and president of The Roosevelt Investment Group
"This book is a vivid work of history, an altogether absorbing practical guide-and the best introduction to Theodore Roosevelt I've ever encountered."
—Peter Robinson, host of the PBS television program Uncommon Knowledge
"James Strock has written a historically engaging narrative brimming with the affirmative wisdom of Theodore Roosevelt. If you want to succeed in business or education without compromising your moral compass, this marvelous book is an absolute must."
—Douglas Brinkley, professor of history and director of the Eisenhower Center, University of New Orleans
"James Strock captures the qualities and techniques of leadership as expressed and practiced by one of the greatest leaders of the twentieth century. This book is a must for everyone with a desire to excel as a leader."
—George M. Scalise, president, Semiconductor Industry Association
"James Strock has written the book that Theodore Roosevelt's admirers have been waiting for--a clear, concise, and compelling account of TR's philosophy of living and working. This is a book that you will want to read and re-read."
—John Allen Gable, Ph.D., executive director, Theodore Roosevelt Association
"As rousing and inspirational as its protean subject, Theodore Roosevelt on Leadership is ideally timed--not only to coincide with the centennial of America's first modern president, but to combat the cynicism and artifice that beset our culture. In mining TR's life for the gold of individual character and national purpose, James Strock gives us a memorable portrait of an unforgettable American."
—Richard Norton Smith, presidential historian
"This captivating volume is a must-read for people in business, the nonprofit sector, and government who cannot achieve their goals without inspiring others."
—Carla A. Hills, chair and CEO of Hills & Company, International Consultants; former U.S. Trade Ambassador and U.S. Secretary of Housing and Urban Development
"James Strock's incredible account of Theodore Roosevelt's inspirational and strategic leadership of our country will become a primer for today's business and governmental executives in sustaining our global economy. His knowledge and interpretation of TR's strength, courage, and vision is unsurpassed. I thoroughly recommend this as required reading for both the aspiring manager and the seasoned executive."
—Carl D. Perry, president and CEO, Enova Systems Inc.
"I highly recommend this insightful account of the leadership philosophies that defined a truly extraordinary leader and one of our most dynamic (and sometimes controversial) presidents. An exhilarating read for every executive and aspiring top executive--made particularly interesting by illustrative, fascinating vignettes from TR's life."
—Malcolm R. Currie, chairman and CEO (ret.), Hughes Aircraft Co.
"In a time when perception is regarded as reality, it is nice to be reminded of the real thing. TR didn't know how to spin or use phrases like 'maximizing goals.' Common sense and tenacity, combined with the leadership principles illustrated in this inspiring book, are timeless and irresistible."
—John Milius, Hollywood writer and director
"No one exemplified management ability more than Theodore Roosevelt, the greatest executive of his era, whose extraordinary leadership talents are so well documented in James Strock's book. Theodore Roosevelt on Leadership is an outstanding reference manual for rising leaders."
—Putney Westerfield, chairman emeritus, Boyden International; former publisher, Fortune
"The values and pricinples that made Theodore Roosevelt such a great leader are as relevant today as they were during his lifetime. In this very readable book, James Strock shows readers how they can apply TR's remarkable leadership qualities to their own lives and careers."
—George Montgomery, investment banker and trustee of Environmental Defense

About the Author
James M. Strock
is principal of James Strock & Co., providing management consulting, communications and negotiation/dispute resolution services, based in San Francisco.

Table of Contents
Prologue: September 1901
Part I: In the Arena
1. Leading—Wherever You Are
2. Ceasing to Be Afraid
3. Always Learning
4. Working Bravely in the Darkness
5. Wielding the Big Stick
6. Action, Action, and Still More Action
Part II: Leadership in Action
7. Getting the Best on Your Team
8. Getting the Best from Your Team
9. The Job Only You Can Do
Part III: Building the Bully Pulpit
10. Putting Action into Words
11. Fighting Words—Responding to Unjust Criticism
12. Putting Words into Action
Part IV: Achieving Integrity
13. The Vigor of Life
Theodore Roosevelt Chronology
Notes on Sources
Select Bibliography
Acknowledgements
Index
About the Author

Find Items On Similar Subjects

Serve to Lead
: Your Transformational 21st Century Leadership System

Reagan on Leadership
: Executive Lessons from the Great Communicator

The Leadership Secrets of Colin Powell

Theodore Rex