Serve to Lead 2.0
: 21st Century Leaders Manual
James M Strock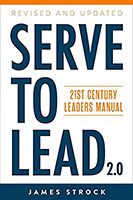 Format:
Paperback, 352pp.
ISBN:
9781978489554
Publisher:
Serve to Lead Press
Pub. Date:
April 23, 2010
Average Customer Review:


For Bulk Orders Call: 626-441-2024

Description and Reviews
From
The Publisher:
21st century leadership is a whole new world! More than ever before, everybody can lead—because everybody can serve. 'Serve to Lead' equips you with the tools to prevail—whether you're a CEO or just starting out, whether you're an entrepreneur or work in a large company, government agency, a not-for-profit organization or the military. Extensive interviews, business case studies, psychological research, biography, history and literature inform this award-winning leadership manual. 'Serve to Lead' equips you with the tools to make your unique contribution as a leader. From the raw material of your life and work you can create your own "masterpiece of service."

Reviews
"
Serve to Lead
is an invaluable toolkit for all who seek to lead in the 21st century. James Strock distills timeless leadership principles into readily accessible, actionable practices that you can put to work today."
—WARREN BENNIS, Distinguished Professor of Business, University of Southern California, and author of On Becoming a Leader
"
Serve to Lead
is the essential guidebook for 21st-century leadership. Every visionary with an idea; every corporate titan striving for excellence; every business owner seeking success; and every individual searching for a life of meaning will find in this exceptionally well-written book the inspiration, insights and ideas he needs to achieve his dreams. On a personal level, this book has changed my life; I urge men and women who aspire to make a difference in the world to let it change theirs as well."
—MARTI BARLETTA, author, Marketing to Women and Prime Time Women
"
Serve to Lead
is a book of far-ranging insight, as much about life as it is about business. It is concise, thoughtful and--perhaps most importantly—useful."
—FRANK BLAKE, CEO, The Home Depot, Inc.
"If you read only one book on leadership read
Serve to Lead
! If you only read one more book on leadership make it this book. It is inspiring, motivational, educational and actionable. Everyone from business leaders to students will find it compelling, engaging--and life-changing."
—DOUG DUCEY, chairman, iMemories, former CEO & chairman, Cold Stone Creamery
"
Serve to Lead
is one of the few business books I've read that off offers a truly democratic vision of leadership--a vision that can help leaders of every kind better serve their colleagues, their clients, and their community. Pick up a copy now and use Strock's insights to turn the raw material of your life into a masterpiece of service."
—DANIEL H. PINK, author of A Whole New Mind and Drive
"The world as we know it has inextricably changed forever. Starting with the dot-com bust and culminating with the recent economic meltdown, the world competitive environment has been redefined. Business success in this new era requires a new management/leadership process. James Strock in his book Serve to Lead has succinctly captured the essence of the quintessential twenty-first-century leadership style. During the past 30 years I have led teams ranging from 5 to 5000 people. I can clearly see how adherence to the key concepts in this book can significantly improve one's leadership and ultimate success."
—JOE BEYERS, chairman & CEO, Ambature, former vice president, Hewlett-Packard
"'Who are you serving?' is the question at the heart of James Strock's Serve to Lead, and it is the question that will change your entire vision of how you lead. Very few leadership books are authored by individuals who have actually led in both the public and private sectors, who are accomplished historians and widely acknowledged as master communicators. Strock brings all of these experiences and more to a powerful, engaging and transformative book that not only races along but which inspires and informs. If you are committed to being a truly effective leader in the twenty-first century, read this book--today."
—HUGH HEWITT, broadcast journalist, law professor, New York Times best-selling author, Blog: Understanding the Information Reformation That is Changing Your World
"
Serve to Lead
is a gift, teaching us that leadership and love are synonymous....It takes the organizational chart and turns it on its head, allowing leaders to tap into any and all sources of information that further their effectiveness....Serve to Lead makes a powerful case that leadership is an ongoing self-development process that comes from listening with empathy, gratitude, and respect which leads to a future vision rooted in love for those you serve."
—MICHAEL J. MALOUF, senior vice president, employee benefit sales, MetLife
"James Strock has hit the nail on the head. Leadership is about service. Everyone can be a leader because everyone can serve, and in Serve to Lead, Jim shows us how. Organizations today need leaders at all levels throughout the enterprise, not just at the top. This book is a must-read for everyone who aspires to lead through service."
—BILL NOVELLI, former president & CEO of AARP
"This inspirational book offers a heartfelt, revolutionary approach for twenty-first -century leadership. James Strock offers not only down-to-earth, actionable information, but also compelling stories of leaders who have discovered the power and joys of serving to lead. With its vision for our transition from a transaction-based to a relationship-based world, Serve to Lead is a blueprint for leadership success."
—ROBIN GERBER, author, Leadership the Eleanor Roosevelt Way: Timeless Strategies from the First Lady of Courage
"Eat your heart out, Frederick Taylor--in the twenty-first century individuals trump systems. Digital Age democracy makes everyone a potential leader. James Strock understands this, not as classroom theory or management jargon, but as the distilled essence of multiple careers notable for innovation, adaptability, and personal integrity. Serve to Lead is much more than a stake through the heart--if it exists--of fossilized hierarchies everywhere. Putting service before self, Strock has written an invaluable guidebook to the purposeful life. Boy, do we need it now!"
—RICHARD NORTON SMITH, presidential historian, author of Patriarch: George Washington and the New American Nation
"We don't aspire to be 'servants,' do we? We're platoon leaders, teachers, firemen, executives, and parents. But James Strock explains that by being a 'servant'--working for a higher purpose than ourselves--we nurture the confidence and audacity of history's most profoundly effective leaders. How to do so in our own lives? Serve to Lead's engaging, real-world examples chart the path. We discover the power that arises from listening rather than talking, from humility and reflection--the core leadership qualities that prove themselves through the millennia, and that can now be applied to each challenging twenty-first century calling."
—DEREK LEEBAERT, author, To Dare and to Conquer: Special Operations and the Destiny of Nations, from Achilles to Al Qaeda

About the Author
James Strock
is a recognized authority and renowned speaker on leadership. His extensive experience includes service in the private and public sectors, not-for-profit organizations and the military. Strock is the author of
Theodore Roosevelt on Leadership
and
Reagan on Leadership
.

Table of Contents
| | | |
| --- | --- | --- |
| | | |
| | Foreword | xiii |
| | Note to Readers: How to Use This Book | 1 |
| | | |
| | Part 1: Everyone Can Lead Because Everyone Can Serve | |
| 1 | Everyone Can Lead Because Everyone Can Serve | 17 |
| 2 | Who Are You Serving? | 67 |
| | | |
| | Part 2: Serve To Lead | |
| 3 | Serving Your Customers | 103 |
| 4 | Management: Serving Those You Would Lead | 139 |
| 5 | Effective Communication | 187 |
| 6 | Sales and Other Persuasive Communications | 227 |
| | | |
| | Part 3: Every Day's a Decision: Live to Serve | |
| 7 | Make Your Life a Masterpiece of Service | 281 |
| | | |
| | Acknowledgements | 333 |
| | Index | 335 |

Find Items On Similar Subjects

Theodore Roosevelt on Leadership
: Executive Lessons from the Bully Pulpit