Leading Change
: Overcoming the Ideology of Comfort and the Tyranny of Custom
James O'Toole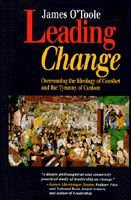 Format:
Hardcover, 302pp.
ISBN:
9781555426088
Publisher:
Jossey-Bass
Pub. Date:
April 1995
Average Customer Review:

For Bulk Orders Call: 626-441-2024

Description and Reviews
From
The Publisher:
Held up as exemplary in a decade that's desperately seeking a new order for business, in case history after case history of corporations and their executives, are usually names like Ben Cohen of Ben & Jerry's, Anita Roddick of the Body Shop, and even Jack Welch of GE. But those models just won't work anymore, says professor, consultant, and award-winning author O'Toole. Instead, he uses examples from art, history, philosophy, and, yes, occasionally business to probe the answers to three questions: Why do organizations resist change? How can leaders effect change? What should the leadership philosophy be to most effectively (and morally) induce organizational change? He concludes that a values-based leadership is the only way to pull (not push) change; that change challenges the psychological comfort of the powerful--hence, the basis for resistance; and that imposing new values and new visions will work only if leaders create followers. A thoughtful essay, not a how-to manual, that will most likely spark discomfort among legions of American managers.

Reviews
O'Toole's book is stronger in its parts than in its sum. The author, vice president of the Aspen Institute, offers some practical wisdom about leadership, derived in large part from the lessons to be learned from the lives of the figures carved on Mt. Rushmore; other, more recent "corporate Rushmoreans"; and the writings of such thinkers as management guru Peter Drucker, British industrialist Robert Owen, and English philosopher John Stuart Mill. But these are simply insights scattered throughout the pages for the reader to glean rather than elements of a strong, clear, readily identifiable thesis. Some valuable things are said, but the premises tend to be generalizations about generalizations, often specific in illustration but vague in pattern. Interesting in places but not essential.
—A.J. Anderson, GSLIS, Simmons Coll., Boston
One of America's most esteemed management thinkers offers a book that transcends how-to management primers, offering an unorthodox approach to leadership based on the lessons of history, moral and political philosophy, and the practical experience of men and women across cultures and circumstances.
—From Barbara Jacobs - BookList


Reader's Index
Send us your favorite quotes or passages from this book
.
• "Assuming that people will follow you because you are right is an error that trips up most potential leaders before they ever get out of the starting blocks." Pg. 13

About the Author
James O'Toole
is vice president of the Aspen Institute where he heads all seminar programs, including the renowned executive seminar. His major responsibility at the institute is as the director of the Corporate Leaders Forum-a consortium of 20 eminent corporations dedicated to preparing the next generation of their executives to lead change.
In 1994, O'Toole retired from the University of Southern California (USC) after a career of over 20 years on the faculty of the Graduate School of Business, where he held the University Associates' Chair of Management. At USC he had most recently been executive director of the Leadership Institute. For six years, he was editor of New Management magazine. Previous to that he was director of the 20-Year Forecast Project, where from 1973 to 1983 he interpreted social, political and economic change for the top management of 30 of the 50 largest US corporations.
O'Toole's research and writings have been in the areas of business and society, corporate culture and leadership. He has addressed dozens of major corporations and professional organizations and has published over 70 articles. Among his 12 books,
Vanguard Management
was named, "One of the best business and economics books of 1985" by the editors of
Business Week
.

Table of Contents
| | | |
| --- | --- | --- |
| | Preface | |
| | The Author | |
| | Christ Comes to Brussels: An Introduction to Values-Based Leadership | 1 |
| 1 | The Rushmoreans: An Indelible Lesson in Values-Based Leadership | 19 |
| 2 | The Corporate Rushmoreans: How to Lead Change Effectively and Morally | 37 |
| 3 | The Realists and the Fallacy of Tough Leadership | 79 |
| 4 | Why Amoral Leadership Doesn't Work | 97 |
| 5 | Leaders of Leaders: Why Values-Based Leadership Is an Unnatural Act | 127 |
| 6 | Why Democratic Leadership Is Not an Oxymoron | 143 |
| 7 | Change Resisted: Thirty-Three Hypotheses Why | 153 |
| 8 | Drucker Unheeded: Two Potent Sources of Resistance to Change | 171 |
| 9 | Deming Ignored: Premature Articulation or Flawed Leadership? | 189 |
| 10 | Owen Unrecognized: The Early Promise of the New Management | 201 |
| 11 | Owen Rejected: Valid Reasons or Rationalizations? | 215 |
| 12 | Mill Interpreted: The Despotism of Custom | 227 |
| 13 | The Ideology of Comfort: A "Good Enough" Explanation of Resistance to Change | 239 |
| | Georges Comes to the Park: Creating Order Through Design, Composition, Tension, Balance, and Harmony | 255 |
| | Notes and References | 263 |
| | Index | 273 |

Find Items On Similar Subjects

Leading Change
: The Argument for Values-Based Leadership • Paperback

Leading Change
by John P. Kotter

Creating the Good Life
: Applying Aristotle's Wisdom to Find Meaning and Happiness