Leading Change
: The Argument for Values-Based Leadership
James O'Toole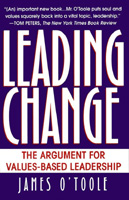 Format:
Paperback, 305pp.
ISBN:
9780345402547
Publisher:
Ballantine Books
Pub. Date:
Reprint edition (April 1996)
Average Customer Review:

For Bulk Orders Call: 626-441-2024

Description and Reviews
From
The Publisher:
Current management philosophy advocates an outmoded Machiavellian approach to running organizations: Leaders are told in countless books that they can only accomplish their goals by being tough, manipulative, dictatorial, or paternalistic as the situation requires.
In Leading Change, noted management theorist James O'Toole proposes a provocative new vision of leadership in the business world--a vision of leadership rooted in moral values and a consistent display of respect for all followers. As O'Toole brilliantly demonstrates, values-based leadership is not only fair and just, it is also highly effective in today's complex organizations.
When leaders truly believe that their prime goal is the welfare of their followers, they get results. The finest leaders--from political giants like Washington, Jefferson, and Lincoln to contemporary CEOs like Max De Pree and James Houghton--have always shared leadership with their followers. They create organizations that encourage change and self-reevaluation; they foster an atmosphere of open-mindedness and fresh thinking, in which assumptions can be challenged and goals reassessed. Grounded in the ideas of moral philosophy, Leading Change powerfully transcends the standard how-to management primer to define a challenging new approach to leadership. As O'Toole so persuasively argues, growth and change are possible, indeed necessary, and they will be effected by individuals who have the stature and the courage to lead morally. This important book, at once thought-provoking and totally practical, is bound to take its place as one of the landmark business volumes of our times.

Reviews
"[An] important new book . . .Mr. O'Toole puts soul and values squarely back into a vital topic, leadership."
—Tom Peters
"A deeply philosophical and eminently practical study of leadership as change."
—James MacGregor Burns, Pulitzer Prize and National Book Award winner, and author of Leadership
"Jim O'Toole has written the essential work for organizations to survive and thrive in today's changing world. His intellectually penetrating thinking shows us how the sometimes conflicting problems we wrestle with--often in piecemeal fashion--fit together to form a complete picture, even as the picture itself continues to change. His message is so critical to the very existence of every organization that any leader who fails to heed his advice condemns his or her company to mediocrity and/or early death. It's that basic."
—Warren Bennis, Professor and founding chairman of the Leadership Institute at the University of Southern California Author of An Invented Life and Why Leaders Can't Lead


Reader's Index
Send us your favorite quotes or passages from this book
.
• "Assuming that people will follow you because you are right is an error that trips up most potential leaders before they ever get out of the starting blocks." Pg. 13

About the Author
James O'Toole
is vice president of the Aspen Institute where he heads all seminar programs, including the renowned executive seminar. His major responsibility at the institute is as the director of the Corporate Leaders Forum-a consortium of 20 eminent corporations dedicated to preparing the next generation of their executives to lead change.
In 1994, O'Toole retired from the University of Southern California (USC) after a career of over 20 years on the faculty of the Graduate School of Business, where he held the University Associates' Chair of Management. At USC he had most recently been executive director of the Leadership Institute. For six years, he was editor of New Management magazine. Previous to that he was director of the 20-Year Forecast Project, where from 1973 to 1983 he interpreted social, political and economic change for the top management of 30 of the 50 largest US corporations.
O'Toole's research and writings have been in the areas of business and society, corporate culture and leadership. He has addressed dozens of major corporations and professional organizations and has published over 70 articles. Among his 12 books,
Vanguard Management
was named, "One of the best business and economics books of 1985" by the editors of
Business Week
.

Table of Contents
| | | |
| --- | --- | --- |
| | | |
| | Preface to the Paperback Edition | ix |
| | Preface to the Hardcover Edition | xv |
| | The Author | xxi |
| | | |
| | Christ Comes to Brussels: An Introduction to Values-Based Leadership | 1 |
| 1 | The Rushmoreans: An Indelible Lesson in Values-Based Leadership | 19 |
| 2 | The Corporate Rushmoreans: How to Lead Change Effectively and Morally | 37 |
| 3 | The Realists and the Fallacy of Tough Leadership | 79 |
| 4 | Why Amoral Leadership Doesn't Work | 97 |
| 5 | Leaders of Leaders: Why Values-Based Leadership Is an Unnatural Act | 127 |
| 6 | Why Democratic Leadership Is Not an Oxymoron | 143 |
| 7 | Change Resisted: Thirty-Three Hypotheses Why | 153 |
| 8 | Drucker Unheeded: Two Potent Sources of Resistance to Change | 171 |
| 9 | Deming Ignored: Premature Articulation or Flawed Leadership? | 189 |
| 10 | Owen Unrecognized: The Early Promise of the New Management | 201 |
| 11 | Owen Rejected: Valid Reasons or Rationalizations? | 215 |
| 12 | Mill Interpreted: The Despotism of Custom | 227 |
| 13 | The Ideology of Comfort: A "Good Enough" Explanation of Resistance to Change | 239 |
| | Georges Comes to the Park: Creating Order Through Design, Composition, Tension, Balance, and Harmony | 255 |
| | | |
| | Notes and References | 263 |
| | Index | 273 |

Find Items On Similar Subjects

Leading Change
: Overcoming the Ideology of Comfort and the Tyranny of Custom - Hardcover

Leading Change
by John P. Kotter

Creating the Good Life
: Applying Aristotle's Wisdom to Find Meaning and Happiness