Why Leaders Can't Lead
: The Unconscious Conspiracy Continues
Warren G. Bennis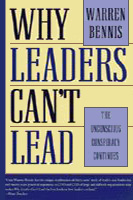 Format:
Paperback, 192pp.
ISBN:
9780787909437
Publisher:
Jossey-Bass
Pub. Date:
May 1998
Average Customer Review:


For Bulk Orders Call: 626-441-2024

Description and Reviews
From
The Publisher:
Leaders beware. There's an "unconscious conspiracy" afoot, aiming to sabatoge your plans and undermine your vision. Entrenched bureaucracy, ominous social trends, and mind-numbing routine are among its members - and their proliferation is an unfortunate sign of our time. But take heart. In this highly acclaimed work, legendary management consultant Warren Bennis unmasks the culprits, analyzes their tactics, and offers new insights for change agents struggling to take chare in an era that conspires against effective leadership.
Bennis teaches leaders to maximize their virtues, correct their faults, face change successfully, and love their work. Leaders will win, but so will their organizations: Bennis advocates a collaborative leadership that empowers employees and enhances organizational effectiveness.
So learn why leaders can't lead. Then learn how they can lead. This book--alive with warmth and wisdom--is essential reading both for leaders and for the human resource professionals who teach them.

Reviews
A priceless gift to those seeking to be accountable leaders.
—Max De Pree, author of Leading Without Power!
Only Warren Bennis has the unique combination of thirty years' study of leaders and leadership and twenty years' practical experience as COO and CEO of large and difficult organizations that makes
Why Leaders Can't Lead
the best book on how leaders can lead."
—Peter Drucker
Warren Bennis is one of the most perceptive and experienced writers on leadership and management. . . . He knows a lot about why our common efforts don't work and how they might be made to work. The book is full of lively insights expressed in vivid terms."
—John W. Gardner, former Secretary of Health, Education and Welfare, and founding chairman of Common Cause
This is vintage Bennis! Bennis at his best!
—Robert Townsand, author of Up the Organization and Further Up the Organization


Reader's Index
Send us your favorite quotes or passages from this book
.
• "What things are missing? They are, it seems to me, chiefly these qualities: integrity—dedication—magnanimity—humility—openness—creativity. And they are equally important in leaders and in those who are led." Pg. 72
• "If there is enough trust and truth, most changes can take place." Pg. 86
• "The leaders biggest problem is to make sure that he gets all the needful information and that it has not been skewed by overeager doppelgängers to suit his perceived prejudices or hunches." Pg. 136

About the Author
Warren Bennis
is Distinguished Professor of Business Administration and Founding Chairman of The Leadership Institute at the University of Southern California. Bennis has served on the faculties of MIT's Sloan School of Management, Harvard Business School, and Boston University. He served for seven years as president of the University of Cincinnati, where he coined the metaphor for the title of this book. He has been observing and writing about leadership for more than four decades and is the best-selling author of over 25 books, including
Leaders, On Becoming a Leader
, and
An Invented Life
, which was nominated for a Pulitzer Prize.

Find Items On Similar Subjects

All Items by Warren Bennis

On Leadership

Leaders
: The Strategies for Taking Charge

John P. Kotter on What Leaders Really Do

Managing the Dream
: Reflections on Leadership and Change