Managing the Dream
: Reflections on Leadership and Change
Warren G. Bennis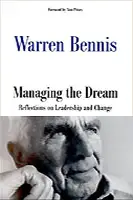 Format:
Paperback, 256pp.
ISBN:
9780738203324
Publisher:
Perseus Publishing
Pub. Date:
July 2000
Average Customer Review:

For Bulk Orders Call: 626-441-2024

Description and Reviews
From
The Publisher:
A surprising, thought-provoking, powerful collection, the best essays from Warren Bennis, the world's preeminent writer on leadership Warren Bennis has become synonymous with leadership, exploring all its dimensions as both practitioner and scholar for over four decades.
Managing the Dream
is an intimate portrait of leadership, comprising over a dozen essays that represent the author's most incisive and creative thinking. It features many of Bennis' most recent works, including "The End of Leadership," and a new preface reflecting on the challenge of leadership in the new millennium.

Reviews
"Few observers of American business have led as interesting a life as Warren Bennis...this guru has lived through every twist of modern management ....Reading [this book] is like spending several hours in the company of a smart, fascinating man."
—Business Week
"Bennis's lifelong quest to hold things together in the face of uncertainty is consolidated in these essays. Their vividness and humanity compel readers to keep that quest alive."
—Karl E. Weick,, University of Michigan
"Warren Bennis has truly achieved wisdom in the field of leadership so it is wonderful to see a collection of his works that enables us all to share his marvelous insights. This will be a very important book."
—Edgar H. Schein, MIT Sloan School of Management
"Managing the Dream is the ultimate distillation of Bennis's incredible oeuvre on leadership. Brilliance and wisdom sparkle on every page. In these wonderfully written essays, Bennis probes relentlessly to uncover the complexities, the dangers, the anguish, and the exhilaration of leadership. No one does it better!"
—Jean Lipman-Blumen, Peter F. Drucker Graduate School of Management, Claremont Graduate University

About the Author
Warren Bennis
is Distinguished Professor of Business Administration and Founding Chairman of The Leadership Institute at the University of Southern California. Bennis has served on the faculties of MIT's Sloan School of Management, Harvard Business School, and Boston University. He served for seven years as president of the University of Cincinnati, where he coined the metaphor for the title of this book. He has been observing and writing about leadership for more than four decades and is the best-selling author of over 25 books, including
Leaders, On Becoming a Leader
, and
An Invented Life
, which was nominated for a Pulitzer Prize.

Table of Contents
| | | |
| --- | --- | --- |
| | Foreword by Tom Peters | ix |
| | Preface | xiii |
| | Introduction: The Dreams—and Nightmares—of Leaders | xvii |
| Part 1 | Negotiating the Dream: Lessons in the Art of Leading | 1 |
| 1 | Managing the Dream | 3 |
| 2 | The Four Competencies of Leadership | 13 |
| 3 | On the Leading Edge of Change | 25 |
| 4 | Change: The New Metaphysics | 31 |
| 5 | Information Overload Anxiety (and How to overcome it) | 39 |
| 6 | Cope with Speed and Complexity (Raplexity) | 51 |
| 7 | The Leadership Advantage | 55 |
| Part 2 | Organizing the Dream: Social Architecture for the New Global Village | 65 |
| 8 | Is Democracy Inevitable? | 67 |
| 9 | The Coming Death of Bureaucracy | 89 |
| 10 | Corporate Boards | 103 |
| 11 | Our Federalist Future | 113 |
| 12 | The Secrets of Great Groups | 135 |
| 13 | The End of Leadership | 143 |
| 14 | Paradigm Shifts | 161 |
| 15 | The Case for Co-Leaders | 167 |
| Part 3 | Embodying the Dream: Lessons in Character | 187 |
| 16 | An Invented Life | 189 |
| 17 | The Years of Scholarship: An Intellectual Memoir | 227 |
| 18 | The Wallenda Factor | 249 |
| 19 | When to Resign | 253 |
| 20 | Followership | 269 |
| 21 | The Leader as Storyteller | 273 |
| 22 | Operating on Instinct | 283 |
| 23 | Postscript: The Future Has No Shelf Life | 295 |
| | Index | 309 |

Find Items On Similar Subjects

All Items by Warren Bennis

On Leadership

Leaders
: The Strategies for Taking Charge