The Leadership Genius of George W. Bush
: 10 Common Sense Lessons from the Commander-in-Chief
James W. Ware and Carolyn B. Thompson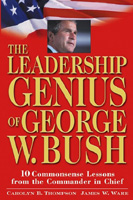 Format:
Hardcover, 256pp.
ISBN:
9780471420064
Publisher:
John Wiley & Sons
Pub. Date:
December 2002
Average Customer Review:

For Bulk Orders Call: 626-441-2024

Description and Reviews
From
The Publisher:
If, according to Abigail Adams, "great necessities call forth great leaders," then George W. Bush has displayed a natural ability to lead. Through his skillful use of timeless management principles and his powerful people skills, Bush has proven to be a genius at leadership.
The Leadership Genius of George W. Bush reveals the unwavering leadership principles of the first President with an MBA and illustrates how he uses them to operate within the arenas of politics, business, and life. Leadership and management consultants Carolyn Thompson and James Ware identify ten timeless qualities that have made Bush a great leader, breaking down each one so that you too can use these techniques in your own leadership quest–whether you are running a Fortune 500 company, the local school board, or your condo association.
Each thought-provoking chapter highlights a unique leadership lesson gleaned from Bush's political, professional, and personal endeavors. From owner of the Texas Rangers to President of the United States, these principles have propelled George W. Bush to the top and can do the same for you:
Identifying core values
Building alliances
Having a vision
Communication
Building trust
Discipline
Bringing in the right people
Intuition
Allowing those hired to do their jobs
Getting results
The Leadership Genius of George W. Bush explores everything from overcoming setbacks (as Bush did during his nomination bid) and managing in crisis (September 11th) to setting the vision and hiring the best and brightest to execute it.
Engaging and entertaining, The Leadership Genius of George W. Bush is a lively blend of professional accomplishments and personal beliefs. Clearly outlining the techniques that have made George W. Bush such an effective leader, this practical guide will help you develop the leadership skills necessary for success in today's fast-paced world.




Reviews

"Finally, a fun-to-read book about George W. Bush that details the secrets to his success!"

—Ken Blanchard, coauthor, The One Minute Manager
"Political journalists love graduate student intelligence, the ability to make clever allusions in seminars, and in 1999—2000 they hassled George W. Bush for not having it. They didn't realize what this book succinctly displays: that the President has something far more important–CEO intelligence, the ability to ask tough questions, garner essential information, and make discerning decisions. Such intelligence can be fostered and honed, and this book shows how."
—Dr. Marvin Olasky, Professor of Journalism, The University of Texas at Austin, and Editor in Chief, World magazine
"Put aside politics and read this book right away for its true wisdom and concrete advice about leadership. The authors have done a brilliant job explaining the leadership style that makes this President so effective. Any leader can learn from the philosophy, strategy, and tactics in this book."
—Bruce Tulgan, founder of RainmakerThinking, Inc., author, Winning the Talent Wars
"Thompson and Ware make a compelling case that this President who 'loves to be underestimated' has a highly effective approach to leadership that is humane, direct, and at times, truly transformational. Many in business today could benefit from reading this book."
—David M. Abshire, President, Center for the Study of the Presidency
"Carolyn Thompson and James Ware have it right . . . leadership is about what one is, not just what one does. About character, not just charisma . . . about credibility, not just credentials. This timely account of The Leadership Genius of George W. Bush will truly encourage and inspire readers."
—Commissioner Robert A. Watson, Retired National Commander The Salvation Army, U.S.A.

About the AuthorsCarolyn B. Thompson
is President of Training Systems, Inc., a customized performance improvement and HR consulting company dedicated to helping small- and medium-size organizations enhance their ability to recruit, inspire, and retain quality leaders at every level. An experienced manager, Carolyn has held numerous leadership positions in chambers of commerce, public library boards, and global associations, including the International Society for Performance Improvement. Ms. Thompson is the author of several management books and has been the subject of articles in Working Woman magazine, Inc. magazine, Redbook, and BusinessWeek.
James W. Ware
is a partner of the Focus Consulting Group, Inc. The firm works with leaders to develop mission and value statements that are the foundation of sustainable growth. He is a recognized authority on the connection between creativity and business and has delivered keynote speeches on this topic to audiences around the world. Ware is a Myers-Briggs Type Indicator®—qualified instructor, and a certified mediator for the Center for Conflict Resolution in Chicago. Previously, he has been an instructor at the Keller Graduate School of Management and a trainer for Interaction Associates, global consultants for Facilitative Leadership training. Ware has a degree in philosophy, an MBA in finance from the University of Chicago, and earned the CFA (chartered financial analyst) designation.

Table of Contents
| | |
| --- | --- |
| | Introduction |
| 1 | What Do You Stand For?: Identify Core Values |
| 2 | Where Are You Going?: Inspire Through Vision |
| 3 | Can I Trust You?: Become Credible |
| 4 | Bring in the Right People, Part One: Don't Be Afraid to Hire People Smarter Than You |
| 5 | Bring in the Right People, Part Two: Leave 'Em Alone! |
| 6 | Encourage Collaboration: Build Alliances |
| 7 | Give It to 'Em Straight: Communicate |
| 8 | If It's Noon, I Must Be Jogging: Be Disciplined and Focus |
| 9 | Intuitive Wisdom: Trust Your Instincts |
| 10 | Getting Results: Hold People Accountable |
| | Notes |
| | Index |

Find Items On Similar Subjects

Nixon's Ten Commandments of Leadership and Negotiation
: His Guiding Principles of Statecraft

Theodore Roosevelt on Leadership
: Executive Lessons from the Bully Pulpit