Nixon's Ten Commandments of Leadership and Negotiation
: His Guiding Principles of Statecraft
James C. Humes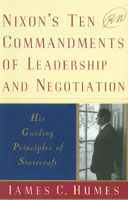 Format:
Paperback, 196pp.
ISBN:
9780684848167
Publisher:
Touchstone Books
Pub. Date:
October 1998
Average Customer Review:

For Bulk Orders Call: 626-441-2024

Description and Reviews
From
The Publisher:
Interweaving vignettes that capture Nixon's skills as a strategist and negotiator of foreign policy, a former White House speech writer illuminates the essential rules that brought Nixon success and shows how they can be applied by leaders in every field.

Reviews
The Ten Commandments of Leadership and Negotiation
reveals Nixon's mastery of negotiation techniques. Any business executive or lawyer will find Nixon's bargaining principles compelling.
—Dwayne O. Andreas, Chairman, Archer Daniel Midland Company

About the Author
James C. Humes
, the Ryals Professor of Language and Leadership at the University of Southern Colorado, is the author of several books including
The Wit and Wisdom of Winston Churchill, Confessions of a White House Ghost Writer
, and
Eisenhower and Churchill
. Mr. Humes lives in Pueblo, Colorado.

Table of Contents
Introduction
13
1
Always Be Prepared to Negotiate, but Never Negotiate Without Being Prepared.
Nixon, Winston Churchill
29
2
Never Be Belligerent, but Always Be Firm.
Nixon, General Santa Anna
45
3
Always Remember That Covenants Should Be Openly Agreed To but Privately Negotiated.
Nixon, Prince Metternich
57
4
Never Seek Publicity That Would Destroy the Ability to Get Results
Nixon, Neville Chamberlain
75
5
Never Give Up Unilaterally What Could Be Used as a Bargaining Chip. Make Your Adversaries Give Something for Everything They Get.
Nixon, Benjamin Franklin
91
6
Never Let Your Adversary Underestimate What You Would Do in Response to a Challenge. Never Tell Him What You Would Not Do.
Nixon, Benjamin Disraeli
105
7
Always Leave Your Adversary a Face-Saving Line of Retreat
Nixon, Douglas MacArthur
121
8
Always Carefully Distinguish Between Friends Who Provide Some Human Rights and Enemies Who Deny All Human Rights.
Nixon, Sir Anthony Eden
133
9
Always Do At Least as Much for Our Friends as Our Adversaries Do for Our Enemies.
Nixon, Pericles
149
10
Never Lose Faith. In Just Cause Faith Can Move Mountains. Faith Without Strength Is Futile, but Strength Without Faith Sterile.
Nixon, Napoleon III
159
Addendum
173
Epilogue
183
Index
185

Find Items On Similar Subjects

Richard Nixon
: The Life