Your Leadership Legacy
: Why Looking Toward the Future Will Make You a Better Leader Today
Robert M. Galford and Regina Fazio Maruca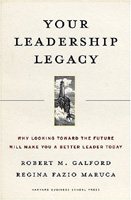 Format:
Hardcover, 194pp.
ISBN:
9781591396178
Publisher:
Harvard Business School Press
Pub. Date:
September 12, 2006
Average Customer Review:

For Bulk Orders Call: 626-441-2024

Description and Reviews
From
The Publisher:
Your legacy is something you'll worry about later in your career, at the edge of retirement—right? Not according to Robert Galford and Regina Maruca. In Your Leadership Legacy, these authors argue that thinking about your legacy now makes you a better leader today.
Based on stories of top managers and leaders who have shaped successful careers, the book explores the art of "legacy thinking," helping you to formulate a legacy that will have a positive effect on your work immediately.
The authors provide a disciplined approach to framing one's legacy, as well as planning and shaping it over time. Starting with the idea that your legacy is defined by how others approach work and life as a result of having worked with you, the book enables you to:
Assess your current impact on those around you
Identify ways to strengthen that impact, and
Pass along the best of oneself in the process
While many leaders "find themselves" and hone their work accordingly only after a major life crisis,
Your Leadership Legacy
enables all leaders to craft their work and to build their legacy unburdened by such crises, and to experience both personal satisfaction and achievement throughout their working lives.

Reviews
"After reading Your Leadership Legacy, any leader would wish that they had read it at the start of their career. It's a book that actually forces you to think how your day-to-day actions are molding your eventual measure as a leader. By planning for the impact you will have on your people and your organization, you become a better leader today."
—Thomas C. Leppert, Chairman and CEO, The Turner Corporation
"This important and useful book goes to the heart of leadership today. It challenges thoughtful leaders to ask themselves not just what it takes to get ahead but, more importantly, what it means to leave something lasting behind."
—Alan M. Webber, Founding Editor, Fast Company
"Your Leadership Legacy should inspire many leaders to empower the people who matter at work, at home, and in their communities. Galford and Maruca will teach you how to learn as much from your leadership mistakes as from your successes."
—Carol Goldberg, President, The AVCAR Group, Ltd.

About the Authors
Robert M. Galford
is a managing partner of the Center for Executive Development in Boston. He divides his time between teaching executive education programs and working closely with senior executives at the world's leading professional and financial organizations on the issues that lie at the intersection of strategy and organization. He has taught executive programs at the Columbia University Graduate School of Business, the Kellogg Graduate School of Management, and most recently at Harvard University. Earlier in his career, Rob was executive vice president and chief people officer of Digitas, a marketing services firm based in Boston. He was also vice president of the MAC Group and its successor firm, Gemini Consulting. He is coauthor of
The Trusted Advisor
and
The Trusted Leader
.
Regina Fazio Maruca
is a writer and editor based in Sandwich, Massachusetts. She specializes in books and articles that focus on leadership, marketing, and organizational issues. Her clients have included Accenture and McKinsey & Company. She is also a principal at the Center of Executive Development in Boston, where she helps develop curricula for executive training programs. A veteran journalist, Regina is a former senior editor at
Harvard Business Review
and former associate managing editor at the
Boston Business Journal
and
New England Business
magazine.

Table of Contents
| | | |
| --- | --- | --- |
| | | |
| | Acknowledgments | |
| | Introduction | |
| | | |
| | Part I: Making Leadership Last | |
| 1 | Building a Legacy: Impact, Duration and Judgment | 3 |
| | | |
| | Part II: Impact and Duration | |
| 2 | What Kind of Impact Are You Having? | 25 |
| 3 | What Role Are You Playing? | 49 |
| 4 | Your Intentional Legacy Writing a Legacy Statement | 69 |
| 5 | Is Your Legacy Designed to Last? Pressure-Testing Your Statement | 101 |
| 6 | Are You Doing the Right Thing? From Statement to Action, Audits and Beyond | 119 |
| | | |
| | Part III: Judgment | |
| 7 | The Need For Judgment Challenges, Pitfalls, Tripwires and Other Bad Stuff | 145 |
| 8 | Legacies and the Responsibilities of Leadership | 165 |
| | | |
| | Chapter Notes | 183 |
| | Index | 187 |
| | About the Authors | 193 |

Find Items On Similar Subjects

A Leader's Legacy

The Trusted Leader
: Bringing Out the Best in Your People and Your Company