Emotional Intelligence
: Why It Can Matter More Than IQ
10th Anniversary Edition
Daniel Goleman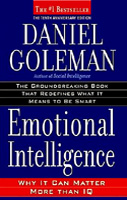 Format:
Paperback, 352pp.
ISBN:
9780553383713
Publisher:
Bantam Books
Pub. Date:
September 27, 2005
Average Customer Review:

For Bulk Orders Call: 626-441-2024

Description and Reviews
From
The Publisher:
Everyone knows that high IQ is no guarantee of success, happiness, or virtue, but until Emotional Intelligence, we could only guess why. Daniel Goleman's brilliant report from the frontiers of psychology and neuroscience offers startling new insight into our "two minds"—the rational and the emotional—and how they together shape our destiny.
Through vivid examples, Goleman delineates the five crucial skills of emotional intelligence, and shows how they determine our success in relationships, work, and even our physical well-being. What emerges is an entirely new way to talk about being smart.
The best news is that "emotional literacy" is not fixed early in life. Every parent, every teacher, every business leader, and everyone interested in a more civil society, has a stake in this compelling vision of human possibility.

About the Author
Daniel Goleman
, PH.D. is also the author of the worldwide bestseller
Working with Emotional Intelligence
and is co-author of
Primal Leadership: Learning to Lead with Emotional Intelligence
, written with Richard Boyatzis and Annie McKee.
Dr. Goleman received his Ph.D. from Harvard and reported on the brain and behavioral sciences for The New York Times for twelve years, where he was twice nominated for the Pulitzer Prize. He was awarded the American Psychological Association's Lifetime Achievement Award and is currently a Fellow of the American Association for the Advancement of Science His other books include Destructive Emotions, The Meditative Mind, The Creative Spirit, and Vital Lies, Simple Truths.

Table of Contents
| | | |
| --- | --- | --- |
| | Aristotle's Challenge | ix |
| Part 1 | THE EMOTIONAL BRAIN | |
| 1 | What Are Emotions For? | 3 |
| 2 | Anatomy of an Emotional Hijacking | 13 |
| | | |
| Part 2 | THE NATURE OF EMOTIONAL INTELLIGENCE | |
| 3 | When Smart Is Dumb | 33 |
| 4 | Know Thyself | 46 |
| 5 | Passion's Slaves | 56 |
| 6 | The Master Aptitude | 78 |
| 7 | The Roots of Empathy | 96 |
| 8 | The Social Arts | 111 |
| | | |
| Part 3 | EMOTIONAL INTELLIGENCE APPLIED | |
| 9 | Intimate Enemies | 129 |
| 10 | Managing with Heart | 148 |
| 11 | Mind and Medicine | 164 |
| | | |
| Part 4 | WINDOWS OF OPPORTUNITY | |
| 12 | The Family Crucible | 189 |
| 13 | Trauma and Emotional Relearning | 200 |
| 14 | Temperament Is Not Destiny | 215 |
| | | |
| Part 5 | EMOTIONAL LITERACY | |
| 15 | The Cost Emotional Illiteracy | 33 |
| 16 | Schooling the Emotions | 33 |
| | | |
| | Appendix A: What Is Emotion? | 289 |
| | Appendix B: Hallmarks of the Emotional Mind | 291 |
| | Appendix C: The Neural Circuitry of Fear | 297 |
| | Appendix D: W. T. Grant Consortium: Active Ingredients of Prevention Programs | 301 |
| | Appendix E: The Self-Science Curriculum | 303 |
| | Appendix F: Social and Emotional Learning: Results | 305 |
| | Notes | 311 |
| | Acknowledgments | 341 |
| | Index | 343 |

Find Items On Similar Subjects

Emotional Intelligence 2.0

Executive EQ
: Emotional Intelligence in Leadership and Organization

The Other 90%
: How to Unlock Your Vast Untapped Potential for Leadership and Life