The Power of Impossible Thinking
: Transform the Business of Your Life and the Life of Your Business
Yoram Wind and Colin Crook with Robert E. Gunther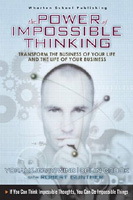 Format:
Paperback, 290pp.
ISBN:
9780131877283
Publisher:
Wharton School Publishing
Pub. Date:
January 30, 2006
Average Customer Review:


For Bulk Orders Call: 626-441-2024

Description and Reviews
From
The Publisher:
From identifying terrorist threats, to evaluating prison abuses in Iraq, to recognizing catastrophic problems at Enron or WorldCom, our own thinking shapes our ability to see potential problems and pitfalls. On the other hand, our thinking has the power to create new opportunities, as demonstrated by pioneers such as Howard Schultz, who transformed coffee drinking forever with Starbucks or Oprah Winfrey who refined the talk show, magazine and book publishing worlds as well as the lives of her audience and readers.
The Power of Impossible Thinking: Transforming the Business of Your Life and the Life of Your Business
by Jerry Wind & Colin Crook with Robert Gunther shows how business and personal transformation begin with changing the thinking that defines us.
Building on knowledge of "mental models" reinforced by the latest neuroscience research, the authors—Wharton School Professor Jerry Wind and Colin Crook, former chief technology officer of Citibank—provide a systematic and practical process for recognizing, challenging and changing the mental models that limit or expand thinking and action.
"What you see is what you think," say the authors. "The ability to see the world differently can create significant opportunities, as companies such as Southwest Airlines, FedEx, Charles Schwab and others have demonstrated."
Comprised of four sections, the book is filled with groundbreaking case studies and real-world examples—from British runner Roger Bannister's shattering of the 4-minute mile to Andy Grove, who changed his company and computing; from the "now what?" introduction of Segway to G.W. Bush's use of "evil" in a critical speech and its impact on the cultures of the Middle East. The authors build their case page by page, coaching the reader to decipher their own mental models and transform thinking along the way. Questions at the end of each chapter help readers to analyze their own understanding of mental models.
In the end, What you think is what you do. "When you face a new decision or new challenge," the authors advise, "step back a moment and consider whether you have the right model for it."
Recognize how current models limit or expand your scope of actions. How to avoid missing opportunities.
Know when to shift horses Updating models to fit the current environment. Deciding if a new model will work better. Risks of implementing it.
Recognize that paradigm shifts are a two-way street. Old models that might be applied to your current challenge.
See a new way of seeing. Finding new models. The people and the situations that will expand your set of models.
Zoom in and out to make sense of complexity. If overwhelmed by data and information, practice zooming out so you can see the forest for the trees. If too far back from a problem, zoom in to examine the details before coming back to the big picture.
Engage in experiments. Hypotheses suggested by new mental models and how to design experiments to test them.
Finally, the authors show how to access models quickly through intuition, and help readers assess the effectiveness of any mental model. The Power of Impossible Thinking delivers the power to change lives. It's the first hands-on guide to enhancing one's mental models: the key to breakthrough success in business—and in life.

Reviews
"Wind and Crook have written a marvelous book that can teach you how to think more effectively in personal and business settings. Read it and learn!"
—Drea Zigarmi Author of The Leader Inside: Learning Enough About Yourself To Lead Others and co-author of Leadership and the One Minute Manager
"We like to say, 'See it with your mind's eye.' Wind and Crook show us that our mind is our eye. What we think is what we see, and what we see directs how we act. Not only do the authors make this paradigm clear, but they offer concrete and practical ways to change our mind's eye and as a consequence change our actions and the results we get. The value of that is hard to top."
—J. Stewart Black, Ph.D. co-author of Leading Strategic Change and Professor, University of Michigan Business School
"I have been trying to explain why Japan has fallen into a pitfall and cannot come out of even the simplest problems. One can call it an innovators dilemma, but that does not solve the problem. This book suggests we have to go back to the basics of reviewing our underlying 'mental models' now and then, and only then, have to construct a new model, perhaps plural, and move onto exploring the new terrain."
—Kenichi Ohmae Author of the international bestseller, The Borderless World
"While most of us may recognize that the world we respond to is more in our mind than in any physical reality, often we don't have a clue why this is so. This very important book clearly explains how our mental models work to construct these distinct inner worlds. And more importantly it offers empowering advice on how we can use this knowledge to work for us rather than against us in creating a better outer world for ourselves, our organizations, and our societies."
—Charles C. Manz Best-selling author of SuperLeadership, Fit to Lead, and Temporary Sanity
"This is an important book that 'makes sense of how we make sense.' The authors provide a thorough, fresh, and compelling exploration into the dimensions of mental models. All leaders who want to be more effective in their actions would be served well to leverage the principles in this book to learn about how they think and make sense of the world around them."
—Nick Pudar Director of Strategic Initiatives, General Motors

About the Authors
Yoram (Jerry) Wind
is The Lauder Professor, Professor of Marketing, and Founding Director of the Wharton Fellows Program and the SEI Center for Advanced Studies in Management at The Wharton School. A world-renowned marketing expert, his 20 books include
Convergence Marketing
and
Driving Change
, and he has been recognized with many major marketing awards. He has advised Fortune 500 firms, non-U.S. multinationals, governments, and entrepreneurial ventures in industries ranging from financial services to consumer goods.
Colin Crook
is senior fellow of The Wharton School of the University of Pennsylvania, Advisory Board member of Rein Capital, editorial board member of the journal Emergence and has served on numerous National Academy committees and advisory groups. He has provided advice to governments and businesses around the world, and is a Fellow of the Royal Academy of Engineering (UK). He was formerly Chief Technology Officer for Citicorp.

Table of Contents
Preface
Hijacking Our Minds.
Mental Models.
What We See Is What We Think.
The Importance of Mental Models.
Thinking the Impossible.
Endnotes


xlv
PART I:
RECOGNIZE THE POWER AND LIMITS OF MENTAL MODELS
1
1
Our Models Define Our World
Rethinking IBM's Research Model.
Compartmentalization of Business and Personal Life.
Domestic Emerging Markets.
The Parallel Universes in Our Minds.
Building Our Brains.
Where "Models" Come From.
Models for the Moment.
Avoiding Obsolescence.
The Consequences Of Models.
Endnotes


3
2
Running The Miracle Mile


21
PART II:
KEEPING YOUR MODELS RELEVANT
37
3
Should You Change Horses?


39
4
Paradigm Shifts Are a Two-Way Street
Something Old, Something New
The Sequence of Scientific Revolutions
Sometimes We Go Only One Way
The Paradigm Swing: Living in St. Petersburg
Paradigms Whose Time Has Not Yet Come
Seeing in Both Directions
Endnotes


57
5
Seeing A New Way of Seeing
How To See Differently.
New Maps.
Endnotes


77
6
Sift For Sense from Streams of Complexity
What Is Knowledge?
Throwing a Drowning Man Another Megabyte Of Data.
Knowing More, Knowing Less.
Swallowing the Sea.
It's All about Context.
Zooming In and Out.
The Process of Zooming in and Zooming Out.
Knowing Where You Stand.
Zooming In.
Zooming Out.
Extreme Thinking: Simultaneous Zooming In and Out.
An Application: Do You Want Fries with That?
Zooming.
Endnotes


93
7
Engage in R&D of the Mind.The Need for Experiments
Conducting Cognitive R&D.
Making a Leap.
Challenges of Experimentation.
When to Experiment: Weighing the Costs and Returns of Cognitive R&D.
Into the Laboratory.
Life as a Laboratory: Continuous Adaptive Experimentation.
Endnotes


121
PART III:
TRANSFORM YOUR WORLD
139
8
Dismantle the Old Order


141
9
Find Common Ground to Bridge Adaptive Disconnects


157
PART IV:
ACT QUICKLY AND EFFECTIVELY
171
10
Develop the Intuition to Act Quickly
What Is Intuition?
Instinct, Insight and Intuition.
The Power of Creative Leaps.
Dangers of Intuition.
Developing Your Capacity for Intuition.
Models in Action.
Endnotes


173
11
The Power to Do the Impossible


189
12
Challenging Your Own Thinking: Personal, Business and Society


209
Conclusion: What You Think Is What You Do
Beyond Possibility


235
Appendix: The Neuroscience Behind Mental Models
Core Concepts.
We Live Together in Separate Worlds.
We Use Only a Small Part of What We See.
Reality Is a Story the Brain and World Work Out Together.
Mental models.
The Cartesian Theater.
The Reality of Reality.
Explications.
Walking on a Dark City Street at Midnight (Book Opening).
Shaking Hands with Bugs Bunny: The Nature of Memory (Book Opening).
Overlooking Gorillas: Inattention Blindness (Book Opening).
Hard Wiring: Nature vs. Nurture (Chapter 1).
Seeing Things Differently (Chapter 5).
Zooming in and Out to Sift for Sense from Streams of Complexity (Chapter 6).
A Self-Reflexive World: Epistemological Solipsism (Chapter 9).
Intuition (Chapter 10).
Cultivating A Practice Of "Letting Go" (Chapter 10).
Endnotes


239
Selected Bibliography
257
Acknowledgments
261
Index
263

Find Items On Similar Subjects

Powerful Times
: Rising to the Challenge of Our Uncertain World

The Forgotten Half of Change
: Achieving Greater Creativity through Changes in Perception