Purpose
: The Starting Point of Great Companies
Nikos Mourkogiannis with a Foreword by Roger Fisher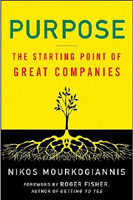 Format:
Hardcover, 272pp.
ISBN:
9781403975812
Publisher:
Palgrave Macmillan
Pub. Date:
September 19, 2006
Average Customer Review:


For Bulk Orders Call: 626-441-2024

Description and Reviews
From
The Publisher:
In
Purpose
, world-renowned thought leader Nikos Mourkogiannis turns the entire idea of leadership on its head and shows that the choice between values and success is no choice at all. Mourkogiannis argues that companies must satisfy the need for purpose—a set of values that defines an organization and inspires and motivates its employees. Rather than organization and structure, ideas are what cause companies to go from good to great. Drawing on examples from across multiple industries, Mourkogiannis demonstrates how a strong purpose is the essential first step toward lasting success.

Reviews
"At a time when the public holds business in such low esteem, Purpose shows leaders how to restore confidence and make money at the same time. Nikos Mourkogiannis's message is informed, interesting, inspiring, and much-needed worldwide."
—Rosabeth Moss Kanter, Harvard Business School Professor and author of Confidence: How Winning Streaks and Losing Streaks Begin and End
"Inspiring a large global organization with a common purpose whilst respecting its diversity is high on the agenda of top management. Nikos Mourkogiannis's Purpose sheds light on the importance and practice of defining and embedding a sense of purpose in an organization and, thereby, of aligning the interests of its strategic stakeholders. I recommend the reading of this outstanding book."
—Dr. Josef Ackermann, CEO, Deutsche Bank
"Mourkogiannis has written an outstanding and very readable book describing the qualities of leadership that are essential to create great companies and keep them great. It is important reading for all entrepreneurs and business executives and those who would like to be."
—Martin Lipton, Partner of Wachtell, Lipton, Rosen & Katz
"An essential resource for today's business leaders and for the next generation as they face the fresh challenges of this new century."
—Roger Fisher, from the foreword
"Mourkogiannis has artfully uncovered the essence of greatness in all great companies with the concept of purpose. Most importantly, he has brought this critical concept to life in a most powerful and approachable fashion."
—Douglas R. Conant, President and CEO, Campbell Soup Company
"At this time, when the credibility of American CEOs has been drowned by greed, here is a roadmap for future leaders in whose wisdom the fate of the world rests. The notes and bibliography alone are worth a read--buy this book!"
—Robert A.G. Monks, co-author of Corporate Governance
"Mourkogiannis has it right: the organizations with a moral purpose are the long-term winners because they are motivated by something more powerful than money."
—Chris Hohn, Chairman of The Children's Investment Fund
"Mourkogiannis can make things happen, because he really knows how business works."
—Professor Dr. Wolfgang Reitzle, CEO, Linde AG
"Mourkogiannis glides beautifully on the razor's edge of where we are in the current reality of the business world today. Purpose is the future practice that is here now. You will find insight that will help you become more aware and centered on the realities of practicing in today's global business environment."
—Louis Carter, President and CEO, Best Practice Institute
"Building on vast experience, Mourkogiannis analyzes what drives action and adds a new dimension to leadership. A truly inspirational piece of work."
—Thomas Thune Andersen, CEO, Maersk Oil and Partner, A.P. Moller Maersk
"An overriding sense of purpose is hard to achieve, and hard to change once achieved, but potentially transformational in its implications, as Nikos Mourkogiannis's book so persuasively demonstrates."
—Pankaj Ghemawat, Professor, Harvard Business School
"Nikos is a world-class thinker. In this book he reinvents leadership and shows what great companies have in common."
—Jacob Rothschild
"Across a broad array of industries and businesses, Nikos Mourkogiannis has made a substantial impact; he has an inquisitive mind with exceptional mental agility. He has turned many companies, in loss-making circumstances, into winners in this field. In Purpose he reveals many of the processes that have brought his clients success."
—Sir Jackie Stewart
"Mourkogiannis reinvents strategy by anchoring it to purpose. Strategy that has no purpose is merely tactics; true transformation of an organization depends upon the principles described in Mourkogiannis's book."
—Dr. Reto Francioni, CEO, Deutsche Borse
"Through his vast global business experience, Nikos Mourkogiannis offers fascinating stories and insights on the role of purpose in business success. This book will inspire CEOs, aspiring CEOs, and students of business everywhere."
—Donald T. Phillips, author of Lincoln On Leadership and On The Wing of Speed
"Nikos is the genuine Philosopher Consultant--with him you gain completely new insights."
—Sir John Parker, Chairman, P&O and National Grid

About the Author
Nikos Mourkogiannis
is a senior partner at Panthea, an elite leadership consulting firm providing advice to Chairmen and CEOs of top companies around the world. He is also senior executive advisor on leadership to Booz Allen Hamilton. Nikos helped create the Harvard Law School Center on Negotiations with Roger Fisher, author of the business bestseller Getting to Yes. He has worked on some of the most complex and important business deals of the last thirty years, with some of the most influential leaders in international business and government. He lives in London.

Table of Contents
| | | |
| --- | --- | --- |
| | Acknowledgments | ix |
| | Foreword by Roger Fisher | xiii |
| | | |
| | Part I What Is Purpose? | |
| 1 | Introducing Purpose | 3 |
| 2 | The Real Value of Purpose | 23 |
| 3 | What Purpose Is Not | 45 |
| | | |
| | Part II Great Stories of Purpose | |
| 4 | Tom Watson's Passion for Discovery | 59 |
| 5 | Warren Buffett and the Excellence of Financial Artistry | 67 |
| 6 | Sam Walton's Altruistic Commitment to the Customer | 77 |
| 7 | The Heroic Purpose of Henry Ford and Siegmund Warburg | 89 |
| | | |
| | Part III How Purpose Builds Greatness | |
| 8 | Purpose and Morale | 113 |
| 9 | Purpose and Innovation | 127 |
| 10 | Purpose and Competitive Advantage | 137 |
| 11 | Purpose and Leadership | 149 |
| | | |
| | Epilogue: Purpose in Action | 173 |
| | | |
| | Appendix 1 Panthea and Booz Allen Hamilton: Our Proposition | 197 |
| | Appendix 2 50 Key Points | 203 |
| | Notes | 209 |
| | Critical Bibliography | 217 |
| | Index | 247 |

Find Items On Similar Subjects

The Power of Purpose
: Living Well by Doing Good

The Power of Purpose
: Creating Meaning in Your Life and Work