The Power of Purpose
: Find Meaning, Live Longer, Better - Third Edition
Richard J. Leider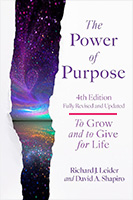 Format:
Paperback, 216pp.
ISBN:
9781626566361
Publisher:
Berrett-Koehler Pub.
Pub. Date:
3 edition September 14, 2015
Average Customer Review:

For Bulk Orders Call: 626-441-2024

Description and Reviews
From
The Publisher:
What really matters? How should we grapple with the many political, economic, medical, and spiritual crises we seem to encounter on a daily basis? What can we count on when everything around us seems so ephemeral? Coach, leadership legend and vitality expert Richard Leider argues that purpose is the answer to all of these questions. When all else seems unknowable or fleeting, purpose give us the will to live. In the end, it's all we can control.
Leider examines the critical importance of a sense of purpose in achieving a full, productive, and contributory working life, and explains how finding purpose is the key to living both longer and better. He offers a detailed, practical process for finding your calling. Concise and easy to read, based on many interviews with people of all ages, and including numerous stories of people living on purpose,
The Power of Purpose
guides readers toward discovering the purposes they already have within them.
The second edition of this bestselling book has reworked multiple chapters to include powerful new stories and lessons learned by the author. It also emphasizes new techniques and methods for detecting and determining purpose, research demonstrating the documented medical connections between purpose and longevity, and survey results of fulfilled individuals who discovered that, in retrospect, meaning trumped money (and everything else) in their lives.

Reviews
"The Power of Purpose addresses the key issue for many people's lives these days: wanting to feel that their life here on earth is not meaningless. I commend this book to all those seeking help in identifying their mission and calling."
Richard N. Bolles, author of What Color Is Your Parachute?
"Dick Leider draws a road map for a life of service and improving the lives of others."
Walter F. Mondale, former United States Vice President
"As we enter the new millennium, most of us are searching for deeper meaning in our lives-some reliable compass point to guide us ahead.... The Power of Purpose teaches you to embrace the complex questions life is asking you. Find your 'why' and your 'what' and your 'how' will become clear."
Frederic M. Hudson, Ph.D., Founder and President, The Hudson Institute of Santa Barbara
"Dick Leider's most relevant work-a call to all of us to shape our lives intentionally by discovering the power of purpose."
Marilyn J. Mason, author of Seven Mountains: The Inner Climb to Commitment and Caring
"The Power of Purpose helps all of us to define purpose and calling with remarkable new dimension in our own lives. It is a significant book."
Frances Hesselbein, CEO, The Peter F. Drucker Foundation
"What are your gifts? How can you best serve? What are you here to do and be in this life? These are the questions Dick Leider raises and helps you answer in The Power of Purpose-a practical guide to finding and fully embracing your calling in life."
Eric Utne, Founder, Utne Reader

About the Author
Richard Leider
is consistently rated as one of the top executive educators and coaches in the world. He is ranked by Forbes as one of the"Top 5" most respected executive coaches and by Linkage as one of the "Top 50" executive coaches in America. Founder and Chairman of The Inventure Group, a coaching and consulting firm in Minneapolis, Minnesota, Leider has a worldwide practice working with many leading organizations such as Ameriprise, Caterpillar, Habitat for Humanity, MetLife, Pfizer and PriceWaterhouseCoopers. He is on the faculty of executive education programs at Duke Corporate Education, the University of Minnesota Carlson School's Executive Development Center and the Harvard Business School's General Management Program. As a speaker and seminar leader, he has taught over 100,000 executives from 50 corporations worldwide. Leider is the author of Something to Live For, Claiming Your Place at the Fire, Repacking Your Bags, and Whistle While You Work.

Table of Contents
| | | |
| --- | --- | --- |
| | | |
| | Preface - The Purpose Evolution | |
| | | |
| Part I | THE MEANING OF PURPOSE | |
| 1. | The Purpose Moment | |
| 2. | The Purpose Quest | |
| 3. | The Purpose Spiral | |
| 4. | The Gift of Purpose | |
| | | |
| Part II | PATHS TO PURPOSE | |
| 5. | Uncovering Your Purpose | |
| 6. | Uncovering Your Gifts | |
| 7. | Uncovering Your Passions | |
| | | |
| Part III | WORKING ON PURPOSE | |
| 8. | How Do I Heed the Call? | |
| 9. | How Do I Work on Purpose? | |
| | | |
| Part IV | LIVING ON PURPOSE | |
| 10. | Why Do I Get Up in the Morning? | |
| 11. | How Do I Stay on Purpose? | |
| 12. | How Do I Live Longer, Better? | |
| 13. | What Is the Meaning of Life? | |
| | | |
| | RESOURCES | |
| | The Purpose Study Group | |
| | Core Questions on the Life Spiral | |
| | The Purpose Checkup | |
| | The Working-on-Purpose Inventory | |
| | Recommended Reading | |
| | The Purpose Path | |
| | | |
| | Notes | |
| | Acknowledgments | |
| | Index | |
| | About the Author | |

Find Items On Similar Subjects

Life Skills
: Taking Charge of Your Personal and Professional Growth