The Power of Purpose
: Living Well by Doing Good
Peter S. Temes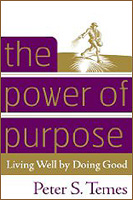 Format:
Paperback, 304pp.
ISBN:
9780307337153
Publisher:
Three Rivers Press
Pub. Date:
March 27, 2007
Average Customer Review:

For Bulk Orders Call: 626-441-2024

Description and Reviews
From
The Publisher:
The Power of Purpose
begins with a simple but remarkable statement: "The more you focus on helping others, the more you will succeed in reaching your own goals." Peter S. Temes builds on this fundamental insight to share a simple plan for living with the truest and most enduring kind of happiness.
At the heart of
The Power of Purpose
are the "three levels of thinking." At the first level, we ask, Who am I? and What do I want? At the second level, we ask, Who do other people think I am? How do I look to them? But the real magic happens when we hit the third level, forgetting about ourselves and asking the questions that lend a powerful sense of purpose to our lives: How do others look to themselves? How can I help others become the people they want to be?
To help us along the way, Temes, who teaches humanities at Columbia University, draws on the wisdom of great thinkers including Aristotle, Soren Kierkegaard, and Abraham Lincoln; the life lessons of great achievers ranging from Mother Teresa to Michael Jordan; and home truths he's gathered from his parents, his grandparents, and his three children. From all these sources and from his own life of great personal accomplishment, Temes identifies the essential knowledge that brings people happiness and success. He cites Aristotle's notion that happiness is not a psychological state but a moral one, resulting from doing good in the world. Temes also believes in the pivotal importance of trust and team-building in every area of life, from the family to the workplace to the street corner.
The Power of Purpose
is a map for finding the confidence and power, the opportunities and occasions, and—most important—the techniques and strategies for centering your relationships and work on helping others. It is a book with a point of view: the clearest path to your own success and happiness lies in helping others get to where they want to go.

Reviews
Temes employs the same probing approach he used in The Just War to explore the best way to live a meaningful life. He posits that there are three levels of thinking; the first two are "how do I feel?" and "how do others feel about me?" The third, which elevates existence, is "how do others feel about themselves?" Drawing on sources as diverse as Aristotle and I.B. Singer's "Gimpel the Fool," as well as men and women who make a difference today, Temes argues for living at the third level both personally and professionally: "helping others look good in their own eyes and finding strength and happiness in yourself by helping others feel stronger and happier." This mode of thought will lead to better management, better parenting and a better world, says Temes, who draws on his own experience to illustrate how spending time with his family meant more to him than a career. Temes, who teaches literary humanities at Columbia, is to some extent pouring old wine into new bottles (help yourself by helping others), but he offers a text that probes deeply and, happily, counters the idea that self-help is only about self-advancement. (Mar.)
—Publishers Weekly, Copyright © Reed Business Information, a division of Reed Elsevier Inc. All rights reserved.


Reader's Index
Send us your favorite quotes or passages from this book
.
• "[I]magine the man or woman who looks at the world and understands,
this is when I should push, here is the opportunity to reshape the world in some small way
, and knows too when to say,
here is when I must step back, here is when my desire has to yield to patience
. The real power lies in being able to see
both
visions." Pg. 11

About the Author
Peter S. Temes
's previous books include
Teaching Leadership, Against School Reform (and in Praise of Great Teaching)
, and
The Just War
. He teaches in the Core Curriculum at Columbia Universoty and has been a consultant to Goldman Sachs, Ernst & Young, British Telecom, and other multibillion-dollar firms.

Table of Contents
| | | |
| --- | --- | --- |
| | Introduction | |
| | | |
| | Part 1: The Three Levels of Thinking | |
| 1 | The Three Levels of Thinking | 9 |
| 2 | The Central Questions of the Three Levels | 21 |
| | | |
| | Part 2: Ambition: The Foundation for Success, and the Engine to Get You Where You Want to Go | |
| 3 | Ambition Does Not Have to Be Selfish | 43 |
| 4 | The Differences Between Ambition and Greed | 53 |
| | | |
| | Part 3: Insight: Knowing What Games Other People Are Playing, and Using That Knowledge to Win | |
| 5 | Winning the War | 71 |
| 6 | Knowing the Real Thing When You See It | 89 |
| 7 | The Power of Purpose | 111 |
| | | |
| | Part 4: Relationships: Without Relationships with Others, Nothing Else Is Possible | |
| 8 | The Three Critical Relationship Skills | 139 |
| 9 | The Power of Teams | 163 |
| 10 | How to Be a Truth Teller | 193 |
| | | |
| | Part 5: Positive Impact: The Most Worthy Goal of Any Higher Achiever | |
| 11 | Giving | 215 |
| 12 | Where Does Purpose Come From? | 239 |
| | | |
| | Part 6: Putting It All Together | |
| 13 | Making the Power of Purpose Work in Your Life | 251 |
| | Afterword: A Dream for My Children | 271 |

Find Items On Similar Subjects

Purpose
: The Starting Point of Great Companies

The Power of Purpose
: Creating Meaning in Your Life and Work