The Monk and the Riddle
: The Education of a Silicon Valley Entrepreneur
Randy Komisar with Kent L. Lineback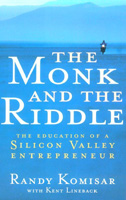 Format:
Paperback, 192pp.
ISBN:
9781578516445
Publisher:
Harvard Business School Publishing
Pub. Date:
September 1, 2001
Average Customer Review:

For Bulk Orders Call: 626-441-2024

Description and Reviews
From
The Publisher:
How one Silicon Valley insider has blazed a path of professional-and personal-success playing the game by his own rules.
Silicon Valley is filled with garage-to-riches stories and hot young entrepreneurs with big ideas. Yet even in this place where the exceptional is common, Randy Komisar is a breed apart. Currently a "Virtual CEO" who provides "leadership on demand" for several renowned companies, Komisar was recently described by the Washington Post as a "combined professional mentor, minister without portfolio, in-your-face investor, trouble-shooter and door opener." But even more interesting than what he does is how-and why-he does it. Komisar has found a way to turn an ambitious and challenging work life into his life's work.
The Monk and the Riddle
is unlike any other business book you've read. Transcending the typical "leadership book" model of lists and frameworks on how to succeed in business,
The Monk and the Riddle
is instead a lively and humorous narrative about the education of a unique Valley insider. It unfolds over the course of an ongoing dialogue between Komisar and would-be entrepreneurs, "Lenny and Allison," and is at once a portal into the inner workings of Silicon Valley-from how startups get launched to how venture capitalists do their deals to how plans get prepared and pitched-and a deeply personal account of how one mover and shaker found fulfillment, not in work's rewards but in work itself.
As the narrative follows Komisar through meetings with venture capitalists and eager entrepreneurs, and as his conversations with Lenny evolve toward a resolution,
The Monk and the Riddle
imparts invaluable lessons about the differences between leadership and management and passion and drive, and about the meaning of professional and personal success. "When all is said and done," writes Komisar, "the journey is the reward."

Reviews
"The Monk and the Riddle is a reminder that we do not need to sacrifice our lives to make a living. Komisar offers a long overdue antidote to today's cash-in-cash-out mentality."
—Stewart Alsop, General Partner, New Enterprise Associates, and Columnist, FORTUNE
"This is the first business book that made me laugh and cry."
—Bruce Judson, Author of Hyperwars and Net Marketing
"Mentor, guide, chief strategist and even spiritual adviser."
—San Jose Mercury News
"In the symphony of business, Randy Komisar is a wandering maestro...a Valley legend with an impressive record of success helping startups make it big."
—Guru.com
"Part sensitive coach, part tough-talking businessman."
—Business 2.0

About the Author
Randy Komisar
is a Virtual CEO who has worked with companies such as WebTV and Mondo Media. He was CEO of LucasArts Entertainment and Crystal Dynamics, and one of the founders of GO and Claris.

Table of Contents
| | | |
| --- | --- | --- |
| | Acknowledgments | |
| | Prologue: The Monk and the Riddle | |
| 1. | The Pitch | |
| 2. | The Rules of the Game | |
| 3. | The Virtual CEO | |
| 4. | The Deferred Life Plan | |
| 5. | Romance, not Finance | |
| 6. | The Big Idea | |
| 7. | Beyond the Bottom Line | |
| 8. | Who Will Lead? | |
| 9. | The Gamble | |
| 10. | The Whole Life Plan | |
| | Epilogue: The Road | |
| | About the Author | |

Find Items On Similar Subjects

Jack Welch and the GE Way
: Management Insights and Leadership Secrets of the Legendary CEO

Lessons From the Top
: The Search for America's Best Business Leaders