Winning Every Day
: The Game Plan for Success
Lou Holtz with a Foreword by Harvey Mackay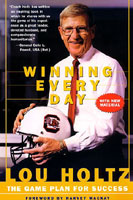 Format:
Paperback, 219pp.
ISBN:
9780887309533
Publisher:
Harperbusiness
Pub. Date:
September 1999
Average Customer Review:

For Bulk Orders Call: 626-441-2024

Description and Reviews
From
The Publisher:
"Your talent determines what you can do. Your motivation determines how much you are willing to do. Your attitude determines how well you do it."-- Lou Holtz
Meet Lou Holtz, the motivational miracle worker who revitalized the Notre Dame football program by leading the legendary Fighting Irish to nine bowl games and a national championship. During his twenty-seven years as a head football coach, Holtz garnered a 216-95-7 career record. Each new assignment brought a different team with different players, but, invariably, the same result--success. How did he do it? By designing a game plan for his players that minimized obstacles while maximizing opportunities.
Now he wants to pass his game plan on to you. In Winning Every Day, you'll discover ten strategies that will drive you to the top of your professional and personal life. Coach Holtz will reveal how you can acquire the focus and commitment it takes to be a champion. It won't be easy; it takes sacrifice to be the best. But now you'll have a proven winner alongside you in the trenches. Winning Every Day demonstrates how you can elevate your performance while raising the standards of everyone around you. Follow Coach's strategies and winning becomes habitual. You will learn to welcome sacrifice as you dedicate yourself to excellence. He will show you how to clearly define your short-term and long-term goals, to develop an unwavering sense of purpose without compromising flexibility.
Through it all, Coach Holtz will help you discover the courage you need to live a life of unremitting triumph. You couldn't have a better guide. He will provide you with the strategies he has shared with Fortune 500 companies, groups, and organizations. Voted the top motivational speaker two years running by a survey of speakers' bureaus, Coach is going to present you with all the Xs and Os, the basics of his game plan for success in life and business.

Reviews
"The lessons contained in this book may start out having to do with sports, but they apply to almost every aspect of life. The stories in this book are wonderfully entertaining, and the lessons are priceless. This is a book about winning, written by a man who is a true winner in every sense of the word."
—Sean McManus, president, CBS Sports
"Coach Lou Holtz has written one of the best motivational books that I've ever read on how to be successful in whatever you do in life."
—Steve Spurrier, football coach, University of Florida Gators
"Seldom do we experience the charisma and character of a dynamic personality such as Lou Holtz, the very successful former football coach of Notre Dame. Lou has left his distinctive mark of success everywhere he has coached. Winning Every Day is not just a catchy phrase, but with Coach Holtz, a way of life."
—Carl Pohlad, president, Marquette Bancshares and owner of the Minnesota
"Lou Holtz is a brilliant strategist, a first-class motivator, and an inspiring role model. Winning Every Day coaches you through the hard-won lessons of life that Coach Holtz has gleaned from a lifetime of learning. Using personal behind-the-scenes experiences he shows you how to break through obstacles, capitalize on fleeting opportunities, and achieve success. There is no better mentor than Lou Holtz."
—Peter Lowe, president and CEO of Peter Lowe International
"Lou has taken his wisdom and principles of winning on the gridiron and translated them successfully for implementation into daily life. He has also included his patented brand of humor throughout making this an informative as well as enjoyable read."
—Barry Alvarez, Head Football Coach University of Wisconsin
"I've known Lou Holtz for a long time as a man of unflinching, unyielding character and integrity. It shows in this remarkable book."
—Senator Jesse Helms
"Lou Holtz has spent most of his adult life helping others achieve their full potential. He believes success depends not so much on an abundance of God given talent, it does on the passionate and intelligent application of the talent we have. Winning Every Day is the best of Lou Holtz.."
—Richard A. Rosenthal, Athletic Director Emeritus, University of Notre Dame
"Lou Holtz has put into his book every element required for success in any endeavor. All who put into practice his ten elements for success will raise their level of performance significantly."
—J. M. Haggar, Jr., Retired Chairman of the Board, Haggar Clothing Company
"Coach Holtz has a vast reservoir of knowledge and experience in the key elements of living a successful life. Using football as his primary vehicle, he provides a most inspiring and motivational treatise conveyed in a folksy and oftentimes humorous manner. Not only is Winning Every Day a very important book to read, but also a complete and utter joy."
—John W.
"This is the book we've all hoped Lou Holtz would write. In these pages he shares the wisdom and experience of a lifetime. It's a great read, and sure to be a hit."
—Dan Quayle, 44th Vice President of the United States

About the Author
Lou Holtz
is a studio analyst for CBS Sports on College Football Today and travels the country widely, giving motivational speeches to Fortune 500 companies.
Holtz began his coaching career at the University of Iowa in 1960 as an assistant coach and held head coaching positions at the College of William and Mary, North Carolina State, the University of Arkansas, the University of Minnesota, and the University of Notre Dame, becoming one of the top fifteen winningest coaches in college football history. He also served as head coach of the NFL's New York Jets.
Holtz was born in Follansbee, West Virginia, and received a B.S.S. degree in history from Kent State University and an M.S. in education from the University of Iowa. He authored the New York Times bestselling book The Fighting Spirit, which chronicled Notre Dame's 1988 championship season. He lives in Orlando, Florida, with his wife, Beth. They have four children.

Table of Contents
| | | |
| --- | --- | --- |
| | Foreword by Harvey Mackay | vii |
| | Introduction: The Game Plan for Success | xi |
| 1 | Every Victory Is Won Before The Game Is Played: The Power of Attitude | 1 |
| 2 | The Best Part Of Getting Knocked Down Is Getting Back Up: Tackling Adversity | 22 |
| 3 | Putting the Why Before the Where or What: Sense of Purpose | 44 |
| 4 | Getting Game-Ready: Make Sacrifice Your Ally | 60 |
| 5 | Adapt or Die: The Perils of Being Number One | 77 |
| 6 | Run for Daylight: Competing on Your Field of Dreams | 96 |
| 7 | You Are What You Think: Nurturing Your Self-Image | 122 |
| 8 | Can I Trust You? | 143 |
| 9 | Are You Committed to Excellence? | 152 |
| 10 | Do You Care About Me? | 181 |
| 11 | Into the End Zone: Turn Your Questions into Victories | 200 |
| | Acknowledgements | 207 |

Find Items On Similar Subjects

Wins, Losses, and Lessons
: An Autobiography

Wooden
: A Lifetime of Observations and Reflections On and Off the Court

What It Takes To Be Number #1
: Vince Lombardi on Leadership

Leading with the Heart
: Coach K's Successful Strategies for Basketball, Business, and Life