Wins, Losses, and Lessons
: An Autobiography
Lou Holtz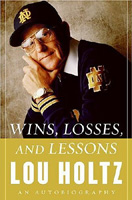 Format:
Hardcover, 336pp.
ISBN:
9780060840808
Publisher:
William Morrow
Pub. Date:
August 15, 2006
Average Customer Review:

For Bulk Orders Call: 626-441-2024

Description and Reviews
From
The Publisher:
When I die and people realize that I will not be resurrected in three days, they will forget me. That is the way it should be. For reasons known only to God, I was asked to write an autobiography. Most people who knew me growing up didn't think I would ever read a book, let alone write one.


—Lou Holtz
Few people in the history of college sports have been more influential or had a bigger impact than Lou Holtz. Winner of the three national Coach of the Year honors, the only coach ever to lead six different schools to season-ending bowl games, and the ninth-winningest coach in college football history, Holtz is still teaching and coaching, although he is no longer on the gridiron.
In his most telling work to date, the man still known as "Coach" by all who cross his path reveals what motivated a rail-thin 135-pound kid with marginal academic credentials and a pronounced speech impediment to play and coach college football, and to become one of the most sought-after motivational speakers in history. With unflinching honesty and his trademark dry wit, Holtz goes deep, giving us the intimate details of the people who shaped his life and the decisions he would make that shaped the lives of so many others.
His is a storied career, and Holtz provides a frank and inside look at the challenges he overcame to turn around the programs at William and Mary, North Carolina State, Arkansas, and Minnesota. From growing up in East Liverpool, Ohio, to his early days as a graduate assistant at the University of Iowa, to his national championship runs at Notre Dame and his final seasons on the sidelines in South Carolina, Lou Holtz gives his best, a poignant, funny, and instructive look into a life well lived.

Reviews
With a strong overtone of moral teaching, college football coaching legend Holtz offers a prosaic but endearing memoir. It's clear from the beginning that Holtz sees coaching as nurturing more than mere athletic achievement; it's an opportunity to mold promising student-athletes into superlative young men: "Coaching gives one a chance to be successful as well as significant." Holtz grew up in a hardscrabble West Virginia mining town in the 1940s and '50s, keeping a determinedly working-class and strictly religious attitude no matter how high he climbed as a coach. His stories of assistant and then head coaching at institutions from Ohio State to North Carolina State—as well as run-ins with big names like Bill Cowherand Bill Clinton—are full of funny anecdotes and neat little lessons, but they tend to blur in the mind. A standout is Holtz's long-term position at Notre Dame, of special importance not just because of his devout Catholicism but also his refreshing devotion to strict academic standards for the players. In fact, what stands out is his modesty and adamant belief that football is ultimately less important than education. (Aug.)
—Publishers Weekly, Copyright © Reed Business Information, a division of Reed Elsevier Inc. All rights reserved.


Reader's Index
Send us your favorite quotes or passages from this book
.
• "When you accept the fact that you are in your present condition, good or bad, because of the choices you have made, you will then find yourself capable of changing your situation by making better choices." Pg. 39
• "What I didn't realize was that authority comes with the job: respect was what I needed to earn, and you earn respect only by proving yourself as a leader." Pg. 109
• "Before joining the Notre Dame family, I heard a lot about the spirit of Notre Dame, but I wasn't sure what that meant. The people were spiritual, and the leaders of the university were driven by the Holy Spirit, of that I had no doubt. But I wasn't convinced the campus itself held anything spiritual. Then, in my first year, I made an interesting observation. I realized that if you don't believe in the omnipresent spirit of Notre Dame, you never feel it. I made up my mind that I was going to believe in this spirit. The moment I started believing, I started feeling it. And the feeling never left." Pg. 227
• "I expected us to recruit attitude over athleticism, and an aptitude for hard work over natural ability." Pg. 240
• "Before you start blaming others, look at yourself. You will find you must look no further for the cause of the problem." Pg. 240

About the Author
After nearly three decades on the sidelines,
Lou Holtz
retired from coaching and now shares his strategies for success with Fortune 500 companies, groups, and organizations. He is the author of two bestsellers, The Fighting Spirit and Winning Every Day. He lives in Florida.

Table of Contents
| | | |
| --- | --- | --- |
| | Introduction | xi |
| | | |
| 1 | It's Not What You Have, It's Who You Have | 3 |
| 2 | Success Is a Choice You Make | 23 |
| 3 | First Impressions Have Lasting Results | 43 |
| 4 | A Day Without Learning Is a Day Without Living | 55 |
| 5 | Setbacks Don't Define Your Goals, You Go | 73 |
| 6 | Greatness Starts with Belief and Total Commitment | 89 |
| 7 | Leading Is Easy When People Want to Be Lead | 109 |
| 8 | A Halfhearted Commitment Is Worse Than No Commitment at All | 127 |
| 9 | What Behavior Are You Willing to Accept? | 147 |
| 10 | Bad Things Sometimes Happen for a Good Reason | 173 |
| 11 | Getting Rid of Excuses | 199 |
| 12 | Success Is a Matter of Faith | 227 |
| 13 | Perfection Is Possible If You Accept Nothing Less | 245 |
| 14 | All You Can Do Is All You Can Do | 265 |
| 15 | Everyone Needs Something to Look Forward To | 281 |
| | Epilogue | 299 |
| | Acknowledgements | 305 |
| | Appendix | 309 |
| | Index | 312 |

Find Items On Similar Subjects

Winning Every Day
: The Game Plan for Success