Leading with the Heart
: Coach K's Successful Strategies for Basketball, Business, and Life
Mike Krzyzewski with Donald T. Phillips Foreword by Grant Hill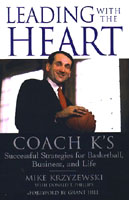 Format:
Paperback, 304pp.
ISBN:
9780446676786
Publisher:
Warner Books
Pub. Date:
February 2000
Average Customer Review:

For Bulk Orders Call: 626-441-2024

Description and Reviews
From
The Publisher:
"Now Coach K reveals his personal principles for leadership, from dealing with adversity in life or on the basketball court, to taking responsibility for your actions, to learning how to trust your heartfelt instincts in times of trouble. The result is a book that shows how you can be successful in any leadership challenges you face.
LEADING WITH THE HEART chronicles Coach K's background in a Polish Chicago neighborhood, where he was guided by parents who demanded honesty and integrity. From his days at the U.S. Military Academy playing under Coach Bobby Knight, Krzyzewski first learned that coaching meant more than showing players what to do and how to do it. It meant building an emotional bond of trust that gives his players the confidence and freedom to succeed both on and off the court. From his tenure as the Duke head coach, Coach K illustrates his leadership insights and shows you how to:
Summon the courage to endure adversity and critics--follow through with your plans and commitments, even when everyone else is saying you can't do it.
Learn how to think on your feet--a leader has to come in with a great game plan but must know when to improvise and make adjustments.
Take responsibility for how your team performs--if you're a stickler for excellence, then winning will be a natural by-product.
Give your players time and attention--commit to giving them 100 percent of your focus and they'll commit 100 percent of their effort.
An inspiring look into the heart and mind of an extraordinary leader, LEADING WITH THE HEART is about bringing out the best and demanding the best--from ourselves, from those around us, and from any organization that is playing to win today."

Reviews
Duke basketball coach Krzyzewski, today's most successful NCAA coach, reviews significant games and key events in his career in addition to offering advice to coaches, players and everyone trying to do better in life. The son of working-class Polish immigrants, he got a scholarship to West Point, where he became an accomplished player before becoming a coach. His breezy approach is direct and simple: what's most important is working as a team toward a common goal--not necessarily to win the game, but to play the best possible game. Says Coach K, "There are five fundamental qualities that make every team great: communication, trust, collective responsibility, caring and pride." Approaching each season the same way, he extends himself to his players, encouraging them to spend time at his home and with his family, while emphasizing the importance of keeping up with academics and enjoying the overall experience of college. In fact, Krzyzewski tries to hire assistant coaches who have played for him because they're versed in on- and off-court problems. At the end of each chapter, he offers general pointers, such as that "business, like basketball, is a game of adjustments. So be ready to adjust." Although he occasionally refers to a coach as a "leader," for the most part he leaves it up to readers to connect the dots between his coaching strategies and useful business strategies. (Mar.) Copyright 2000 Cahners Business Information.

About the Authors
Mike Krzyzewski
Coaching Phenom: Back-to-back NCAA national championships, seven Final Fours, and one of the most successful basketball programs in the nation are all accomplishments of Duke's head basketball coach.
Donald T. Phillips
is the author of six books, including Lincoln on Leadership, The Founding Fathers on Leadership, and Martin Luther King, Jr., on Leadership. He lives in Fairview, Texas, where he currently serves as mayor.

Table of Contents
| | | |
| --- | --- | --- |
| | Foreword by Grant Hill | |
| | | |
| | PRESEASON | 1 |
| 1 | Getting Organized | 3 |
| 2 | Building Your Team | 19 |
| 3 | Establishing Descipline | 35 |
| 4 | Getting Organized | 51 |
| | | |
| | REGULAR SEASON | 65 |
| 5 | Teamwork | 67 |
| 6 | Training and Development | 85 |
| 7 | Turn Negatives Into Positives | 103 |
| 8 | Game Day | 117 |
| | | |
| | POSTSEASON | 133 |
| 9 | Refresh and Renew | 135 |
| 10 | Handling a Crisis | 149 |
| 11 | Focus on the Task at Hand | 167 |
| 12 | Celebrate Tradition | 185 |
| | | |
| | ALL-SEASON | 201 |
| 13 | Blueprint Basics | 203 |
| 14 | The Core of Character | 221 |
| 15 | Friendship | 237 |
| 16 | Life | 257 |
| | Epilogue | 279 |
| | | |
| | Acknowledgments | 285 |
| | Index | 287 |
| | About the Author | 292 |

Find Items On Similar Subjects

Wooden
: A Lifetime of Observations and Reflections On and Off the Court