Every Business Is a Growth Business
: How Your Company Can Prosper Year After Year
Ram Charan & Noel M. Tichy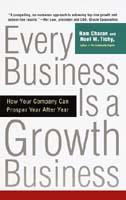 Format:
Paperback, 352pp.
ISBN:
9780812933055
Publisher:
Three Rivers Press
Pub. Date:
April 2000
Average Customer Review:

For Bulk Orders Call: 626-441-2024

Description and Reviews
From
The Publisher:What's the number one item on every company's agenda?
Profitable Growth.
Every Business Is a Growth Business
is your one-stop guide to making profitable growth happen. It's a radical and refreshing source of ideas, inspiration, and common sense, all based on the unparalleled experience and access of Ram Charan and Noel Tichy.
Charan and Tichy have worked with some of the world's leading executives--people such as Jack Welch of GE, Eckhard Pfeiffer of Compaq, Larry Bossidy of Allied Signal, John Reed of Citigroup, Dick Brown of Cable & Wireless, Alex Trotman and Jacques Nasser of Ford, and the senior management of Coca-Cola--who have transformed their companies into profitable growth machines. Every Business Is a Growth Business is a distillation of what the authors and these unique leaders have learned about profitable growth:


If your business isn't growing sustainably and profitably, it's dying.

Any business can grow profitably. There is no such thing as a mature business.

A company grows because growth is in the corporate mindset, created by the company's leaders.

The mindset of growth starts at the top, but it must reach all the way to the bottom.

Sustainable growth is profitable and capital-efficient.

"Broadening your pond," changing your company's genetic code, developing a growth strategy from the outside in, and other unique ideas.

Every Business Is a Growth Business
includes inside accounts of how GE Medical, Allied Signal, Compaq, Citibank, Reynolds and Reynolds, Praxair, and GE Capital developed profitable growth strategies. It includes "The Handbook for Growth," a highly practical guide that will be an immense help as you and your team develop your company's profitable growth strategy.

About the Author
Ram Charan
has advised CEOs and worked with boards of directors, and he was named in Business Week's top ten for in-house executive education. Some of his current clients include Citigroup, DuPont, Ford, General Electric, Bell Atlantic, Compaq, Warner-Lambert, Tek-tronix, Allied Signal, Cable & Wireless, KeraVision, and Universal Studios. He has been on the faculty of both the Harvard Business School and Northwestern University and is also the author of Boards at Work.
Noel M. Tichy
is a professor at the University of Michigan Business School and a worldwide consultant specializing in leadership and organizational transformation. His previous books include The Leadership Engine (with Eli Cohen) and Control Your Destiny or Someone Else Will (with Stratford Sherman).

Table of Contents
| | |
| --- | --- |
| | Preface |
| Part I | Why Every Business Can Be a Growth Business |
| CHAPTER 1 | Thinking Clearly About Growth |
| CHAPTER 2 | There's No Such Thing as a Mature Business |
| CHAPTER 3 | Common Sense and Capital: The Business Thinking Underlying Top-Line Growth and Bottom-Line Results |
| Part II | Broadening the Pond |
| CHAPTER 4 | Strategy from the Outside In |
| CHAPTER 5 | How John Reed Turned Citibank Outside In |
| CHAPTER 6 | Eckhard Pfeiffer: The Methodical Radical of Compaq |
| CHAPTER 7 | John Trani and the New Frontier of Service at GE Medical |
| CHAPTER 8 | GE Capital Services: Capitalizing on Change |
| Part III | Energizing and Aligning the Organization for Growth |
| CHAPTER 9 | The Genetic Code and How to Change It |
| CHAPTER 10 | Rewriting the Genetic Code at AlliedSignal |
| CHAPTER 11 | Reynolds and Reynolds: Creating Lifelong Customers |
| CHAPTER 12 | Can You Pass the Father Cunningham Test? |
| Part IV | The Handbook for Growth |
| Handbook | |
| Endnotes | |
| Index | |

Find Items On Similar Subjects

Competing for the Future

The E-Myth Revisited
: Why Most Small Businesses Don't Work and What to Do About It

W.A.Y.M.I.S.H.
:Why Are You Making It So Hard ... for me to give you my money?