Winning With People
: Discover the People Principles that Work for You Every Time>
John C. Maxwell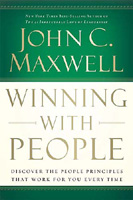 Format:
Hardcover, 272pp.
ISBN:
9780785260899
Publisher:
Nelson Books
Pub. Date:
January 14, 2005
Average Customer Review:

For Bulk Orders Call: 626-441-2024

Description and Reviews
From
The Publisher:
Ask the successful CEOs of major corporations, entrepreneurs, top salespeople, and pastors what characteristic is most needed for success in leadership positions, and they'll tell you—it's the ability to work with people.
Some people are born with great relationship skills, but those who are not can learn to improve them. In Winning with People Maxwell has translated decades of experience into 25 People Principles that anyone can learn.
Maxwell has divided the People Principles in this book according to the questions we must ask ourselves if we want to win with people:
Readiness: Are we prepared for relationships?
Connection: Are we willing to focus on others?
Trust: Can we build mutual trust?
Investment: Are we willing to invest in others?
Synergy: Can we create a win-win relationship?
Each section contains guiding People Principles. Some are intuitive, such as
The Lens Principle: Who We Are Determines How We See Others
. Others may go against your instincts, such as
The Confrontation Principle: Caring for People Should Precede Confronting People
. All of them are 100 percent practical!

Companion Book:
25 Ways to Win with People
: How to Make Others Feel Like a Million Bucks

Reviews
With more than seven million copies of 30-odd titles in print, preacher turned leadership guru Maxwell is a one-man publishing empire. His latest follows the proven format—a series of short, friendly sermons filled with plainspoken common sense. This time, Maxwell takes on interpersonal skills, saying, "All of life's successes come from initiating relationships with the right people and then strengthening those relationships by using good people skills." The book offers 25 chapter-based "People Principles" that explore how to prepare oneself for relationships, focus on others, build trust, invest in others and create win-win relationships. The quality of the content varies. Some chapters, like "The Confrontation Principle" with its six-step "road map for healthy confrontation," are concise, thoughtful and original. Others (particularly in the later sections, where the book starts to run out of steam), such as "The Partnership Principle," are more like motivational talks and offer few practical takeaways. Each principle is introduced with two to three pages featuring a familiar figure—Abraham Lincoln, Barbara Walters, Ben Franklin, Angelina Jolie, etc.—or a personal story from the author's life. Maxwell concludes each principle with a page of discussion questions, which should prove useful since the book doesn't lend itself to a cover-to-cover read and is probably best swallowed one principle at a time, with some reflection in between.
—Publishers Weekly, Copyright © Reed Business Information, a division of Reed Elsevier Inc. All rights reserved.

Find Items On Similar Subjects

All Items by John Maxwell

25 Ways to Win with People
: How to Make Others Feel Like a Million Bucks

Running with the Giants
: What Old Testament Heroes Want You to Know About Life and Leadership

Leadership 101

The 21 Indispensable Qualites of a Leader