Social Intelligence
: The New Science of Human Relationships
Daniel Goleman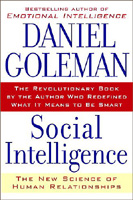 Format:
Hardcover, 416pp.
ISBN:
9780553803525
Publisher:
Bantam
Pub. Date:
September 26, 2006
Average Customer Review:

For Bulk Orders Call: 626-441-2024

Description and Reviews
From
The Publisher:
In
Social Intelligence
, Goleman shows that our interpersonal relationships, both good and bad, have the power to actually shape our brains and affect cells throughout our bodies. Our daily encounters with spouses, coworkers, parents, children, and even strangers act as a setpoint for our moods; they are crucial to achievement in study and work; they shape our immune response—they can even help determine how long we will live. The deeper the relationship, the stronger the impact.
Emotions are Contagious
How we connect with others has unimagined significance.
Our brain's very design makes it sociable, inexorably drawn into an intimate brain-to-brain linkup whenever we relate to another person. During these linkups, our brains engage in an astonishing neural duet, The resulting feelings have far-reaching consequences, releasing cascades of hormones that regulate biological systems from our heart to immune cells. Nourishing relationships have a beneficial impact on our health, while toxic ones can act like slow poison in our bodies.
Acting Wisely in Human Relationships
In
Social Intelligence
, Daniel Goleman defines an entirely new era of personal competence, and shows how we can all increase our social intelligence—even in adulthood. He outlines the fundamentals of building all-important rapport and empathy, and reveals how to identify personality types that have destructive influences.
Social Intelligence
speaks to fundamental questions, like: How can we help our children grow up to be happy? How does a satisfying relationship translate into better health? What is the basis of a nourishing marriage? How can business leaders or teachers bring out the best performance in those they lead or teach? How can groups divided by prejudice and hatred come to live together in peace? And what do these insights suggest for the kind of society we are able to build—and for what really matters in each of our lives?

About the Author
Daniel Goleman, Ph.D.
is also the author of the worldwide bestseller Working with Emotional Intelligence and is co-author of
Primal Leadership: Learning to Lead with Emotional Intelligence
, written with Richard Boyatzis and Annie McKee. Dr. Goleman received his Ph.D. from Harvard and reported on the brain and behavioral sciences for
The New York Times
for twelve years, where he was twice nominated for the Pulitzer Prize. He was awarded the American Psychological Association's Lifetime Achievement Award and is currently a Fellow of the American Association for the Advancement of Science His other books include
Destructive Emotions, The Meditative Mind, The Creative Spirit
, and
Vital Lies, Simple Truths
.

Find Items On Similar Subjects

Emotional Intelligence

Primal Leadership
: Realizing the Power of Emotional Intelligence