The No Asshole Rule
: Building a Civilized Workplace and Surviving One That Isn't
Robert I. Sutton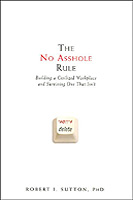 Format:
Paperback , 238pp.
ISBN:
978-0446698207
Publisher:
Business Plus
Pub. Date:
September 1, 2010
Average Customer Review:

For Bulk Orders Call: 626-441-2024

Description and Reviews
From
The Publisher:
Today's deluge of business books exhaustively addresses problems with leadership, corporate strategy, sales, budgeting, incentives, innovation, execution, and on and on. But scant attention is devoted to a problem that plagues every workplace: Assholes. In a landmark Harvard Business Review essay, Stanford Professor Robert Sutton showed how assholes weren't just an office nuisance, but a serious and costly threat to corporate success and employee health. In his new book, Sutton reveals the huge TCA (Total Cost of Assholes) in today's corporations. He shows how to spot an asshole (hint: they are addicted to rude interruptions and subtle putdowns, and enjoy using "sarcastic jokes" and "teasing" as "insult delivery systems"), and provides a "self-test" to determine whether you deserve to be branded as a "certified asshole." And he offers tips that you can use to keep your "inner jerk" from rearing its ugly head.
Sutton then uses in-depth research and analysis to show how managers can eliminate mean-spirited and unproductive behavior (while positively channeling some of the virtues of assholes) to generate an asshole free—and newly productive—workplace. Enlightening case studies include an analysis of how Google's "don't be evil" maxim helped launch the company to unprecedented early growth, how JetBlue and Southwest Airlines "fire" passengers who demean their employees, and how a "belligerent" e-mail from Cerner CEO Neal Patterson made his company's stock plunge 22% in three days (and how his graceful apology helped the stock bounce back).

About the Author
Robert Sutton
is Professor of Management Science and Engineering in the Stanford Engineering School, where he is Co-Director of the Center for Work, Technology, an active member of the Stanford Technology Ventures Program, and a cofounder of the new Hasso Planter Institute of Design, a multi-disciplinary program at Stanford that teaches and spreads "design thinking." Sutton is also an IDEO Fellow. Sutton studies the links between managerial knowledge and organizational action, innovation, and organizational performance, and has published over 100 articles in academic and applied publications. Sutton is author of Weird Ideas That Work: 11 ½ Practices for Promoting, Managing, and Sustaining Innovation (Free Press, 2002) and co-author (with Jeffrey Pfeffer) of both
The Knowing-Doing Gap: How Smart Firms Turn Knowledge Into Action
(Harvard Business School Press, 2000 and of
Hard Facts, Dangerous Half-Truths, and Total Nonsense: Profiting from Evidence-Based Management
(Harvard Business School Press, 2006).

Customer Reviews
Write your own online review
.

Sizzle and Substance
December 1, 2006
Reviewer: Kent Blumberg from Baton Rouge, LA United States
On an episode of Fox TV s House series last year, the husband of a patient was talking with one of the doctors. Their conversation went like this:
Husband: I assume that House is a great doctor.
Dr. Chase: Why would you assume that?
Husband: Because when you re that big a jerk, you're either great or unemployed.
Professor Robert I. Sutton sets out to help us change that unfortunate fact of organizational life with his upcoming book, "
The No Asshole Rule
." And I think he largely succeeds.
Earlier this year, Sutton worried aloud (on his blog) whether this book was too much sizzle and not enough substance. For my money, it's both. Yes, it has a titillating title, and a cute cover. But it also shares a strong foundation in scientific evidence, as do all of his books.
The book is about jerks: who they are, the damage they cause, how to avoid being one yourself, how to avoid being hurt by one, and how to get them out of your organization and keep them out.
Jerks are us, to put it bluntly. These are people who consistently make others, especially those with lower prestige and power, feel lousy. We have all encountered them in our lives. Some of us probably suffer from the disease ourselves (Sutton offers a self assessment, while pointing out that you might get better data if you ask others to answer the question about you.)
Because of the organization of the book, it takes a bit of work to reach the conclusion that jerks do more harm than good. An early chapter nicely lays out the extensive evidence of the harm these folks do to organizations and to themselves. Then, more than 100 pages later, Sutton drops in a chapter about the virtues of jerks. I would have preferred to see the pros and cons all laid out in one chapter, with a clear conclusion that they are on balance bad for us. I recommend reading the two chapters together to get the full story.
However, assuming we all agree that fewer jerks are better, Sutton gives us a wonderful set of tools for accomplishing that goal. He spends fully half the book on how to implement the No Assholes rule, how to keep from being one yourself, and how to cope in an organization where they—and not the rule—rule. As with all of his books, he has given me a long list of things to do and things to ponder.
Sutton left me with one small bit of confusion on the rule. While most of the book is devoted to the No Assholes rule get em out (all of em) and keep em out Sutton presents data that suggest keeping one token jerk around might be even better. I read and understand this bit, but I think the One Asshole rule is better left to those with advanced skills in this area. For beginners at this, I think it s better to get 'em all out. Once we have a few years practice at this, perhaps we can adopt the more advanced rule. Read the book and see what you think.
I like the way Sutton writes, I like his evidence-based view on life, and I loved this book. Buy it, read it, use it. You ll be glad you did.

Find Items On Similar Subjects

Hard Facts, Dangerous Half-Truths And Total Nonsense
: Profiting From Evidence-Based Management

The Knowing-Doing Gap
: How Smart Companies Turn Knowledge into Action