Crucial Conversations
: Tools for Talking When Stakes Are High - Second Edition
Kerry Patterson, Joseph Grenny, Ron McMillan and Al Switzler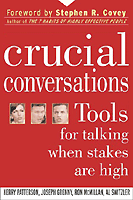 Format:
Paperback, 256pp.
ISBN:
9780071771320
Publisher:
McGraw-Hill Trade
Pub. Date:
2 edition September 16, 2011
Average Customer Review:

For Bulk Orders Call: 626-441-2024

Description and Reviews
From
The Publisher:A powerful, seven-step approach to handling difficult conversations with confidence and skill
"Crucial" conversations are interpersonal exchanges at work or at home that we dread having but know we cannot avoid. How do you say what needs to be said while avoiding an argument with a boss, child, or relationship partner?
Crucial Conversations
offers readers a proven seven-point strategy for achieving their goals in all those emotionally, psychologically, or legally charged situations that can arise in their professional and personal lives. Based on the authors' highly popular DialogueSmart training seminars, the techniques are geared toward getting people to lower their defenses, creating mutual respect and understanding, increasing emotional safety, and encouraging freedom of expression. Among other things, readers also learn about the four main factors that characterize crucial conversations, and they get a powerful six-minute mastery technique that prepares them to work through any highimpact situation with confidence.
Learn how to keep your cool and get what you want when emotions flare.
When stakes are high, opinions vary, and emotions run strong, you have three choices: Avoid a crucial conversation and suffer the consequences; handle the conversation badly and suffer the consequences; or read
Crucial Conversations
and discover how to communicate best when it matters most. This wise and witty guide gives you the tools you need to step up to life's most difficult and important conversations, say what's on your mind, and achieve positive outcomes that will amaze you. You'll learn how to:
Prepare for high-impact situations with a six-minute mastery technique
Make it safe to talk about almost anything
Be persuasive, not abrasive
Keep listening when others blow up or clam up
Turn crucial conversations into the action and results you want
Whether they take place at work or at home, with your neighbors or your spouse, crucial conversations can have a profound impact on your career, your happiness, and your future. With the skills you learn in this book, you'll never have to worry about the outcome of a crucial conversation again.

Reviews
"Most books make promises. This one delivers. These skills have . . . generated new techniques for working together in ways that enabled us to win the largest contract in our industry's history."
—Dain M. Hancock, President, Lockheed Martin Aeronautics

Table of Contents
Foreword by Stephen R. Covey
xi
Acknowledgements
xv
1
What's a Crucial Conversation
And Who Cares?
1
2
Mastering Crucial Conversations
The Power of Dialogue
17
3
Start With Heart
How to Stay Focused on What You Really Want
27
4
Learn to Look
How to Notice When Safety Is at Risk
45
5
Make It Safe
How to Make It Safe to Talk About Almost Anything
65
6
Master My Stories
How to Stay in Dialogue When You're Angry, Scared, or Hurt
93
7
STATE My Path
How to Speak Persuasively, Not Abrasively
119
8
Explore Others' Paths
How to Listen When Others Blow Up or Clam Up
141
9
Move To Action
How to Turn Crucial Conversations into Actions and Results
161
10
Putting It All Together
Tools for Preparing and Learning
179
11
Yeah, But
Advice for Tough Cases
193
12
Change Your Life
How to Turn Ideas into Habits
215
Endnotes
229
Index
231

Find Items On Similar Subjects

Influencer
: The Power to Change Anything

Crucial Accountability
: Tools for Resolving Violated Expectations, Broken Commitments, and Bad Behavior

Powerful Conversations
: How High-Impact Leaders Communicate