Powerful Conversations
: How High-Impact Leaders Communicate
Philip J. Harkins with an Introduction by Warren G. Bennis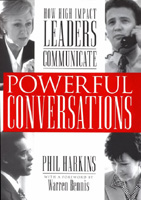 Format:
Hardcover, 224pp.
ISBN:
9780071353212
Publisher:
McGraw-Hill Trade
Pub. Date:
June 1999
Average Customer Review:

For Bulk Orders Call: 626-441-2024

Description and Reviews
From
The Publisher:
All Leaders Talk. It Is The Power of Their Talk That Determines Whether They Win Or Lose.
For the first time in one comprehensive guide, noted leadership expert Phil Harkins shares the powerful conversation techniques he has been studying and using for years with many top executives from Fortune 500 companies such as Kraft, Xerox, and Morgan Stanley. Over the years, these techniques have proven to improve the growth and productivity of dozens of companies by helping high-impact leaders attain new levels of work. Powerful Conversations, Harkins illustrates, are neither mystical nor unattainable. Harkins outlines the processes to follow to eliminate communication barriers to foster learning and growth. He explains why and how powerful conversations are effective tools - and how to use and measure them to know when you've had a productive powerful conversation. He also addresses other key topics, including: the five kinds and 10 types of powerful conversations; when and where to have powerful conversations; how to avoid bad conversations that destroy relationships. Packed with real-life examples from great leaders and communicators such as Jack Welch, Oprah Winfrey, and Howard Schultz, Harkins provides a step-by-step blueprint for mastering the craft of powerful, productive conversations. His program is one that all leaders - from team leaders to CEOs - will learn from and follow for years to come.
Powerful communicators are made, not born. Powerful Conversations outlines the conversational techniques and tools that leaders from all walks of life use to create a bond with their listener, motivate others to achieve exceptional performance, and achieve business goals with each conversation.
Noted leadership expert Phil Harkins packs years of research and interviews into Powerful Conversations. His step-by-step blueprint will show every reader how to conduct and control effective, productive conversations and includes:
-- The power conversation strategies of Oprah Winfrey, Jack Welch, and others
-- Diagrams, models, lessons, and tests exploring the latest conversation technology
-- A hands-on workbook for practicing powerful conversation techniques

Reviews
"Phil Harkins has it exactly right. To be a leader is to communicate powerfully'as he does in this thoughtful book."
—Robert B. Reich, Professor of Social and Economic Policy, Brandeis University
"Powerful Conversations have made a real difference in the effectiveness of the Operations Senior Leadership Team. We are delivering unprecedented results thanks to the clearer communication and improved working relationships."
—Larry Gundrum, Senior Vice President, Kraft Foods
"In my business, Powerful Conversations are leading to believability and a growing sense of achievability by our employees that they can drive a massive agenda for change."
—Linda Coughlin, Managing Director, Scudder Kemper Investments, Inc.
"In a fast forward world, candor and clarity are prerequisites for success. POWERFUL CONVERSATIONS is a must read book for leading into the 21st century."
—Steve Ozonian, Chairman and CEO, Prudential Real Estate and Relocations Solutions
"A powerful guide, both savvy and wise, to emotional intelligence in action. Phil Harkins has given us an essential handbook for leaders at any level."
—Daniel Goleman, Author, Working with Emotional Intelligence

About the Author
Phil Harkins, CEO of Linkage, Inc., is a noted authority on leadership, communication, and organizational development. Phil's consulting and executive coaching focuses on leaders and leadership teams. He has helped hundreds of organizations advance and leverage their business and people. His clients include senior executives and teams at Fortune 500 companies worldwide, as well as government agencies, hospitals, small businesses, and non-profits. His most recent books,
Powerful Conversations: How High Impact Managers Communicate
and
Click! Communicating with Magic at Work
and in Life has helped thousands of managers become more effective communicators.

Find Items On Similar Subjects

Crucial Conversations
: Tools for Talking When Stakes Are High

Leading Out Loud
: Inspiring Change Through Authentic Communications