Crucial Accountability
: Tools for Resolving Violated Expectations, Broken Commitments, and Bad Behavior
Second Edition
Kerry Patterson, Joseph Grenny, Ron McMillan and Al Switzler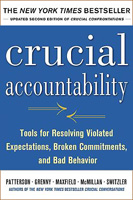 Format:
Paperback, 336pp.
ISBN:
9780071829311
Publisher:
McGraw-Hill
Pub. Date:
2 edition May 24, 2013
Average Customer Review:

For Bulk Orders Call: 626-441-2024

Description and Reviews
From
The Publisher:
In this UPDATED SECOND EDITION (first edition titled "Crucial Confrontations"), you'll learn how to hold anyone accountable, master performance discussions, and get results.
Behind the problems that routinely plague our organizations and families, you'll find individuals who are either unwilling or unable to deal with broken promises. Colleagues break a rule, coworkers miss a deadline, friends fail to live up to commitments (or just plain behave badly), and nobody says a word. Nobody holds anyone accountable. With repeated infractions, individuals become increasingly upset until they finally do speak their minds, but they do so poorly--often creating whole new sets of problems.
Research proves that mishandled disappointments aren't just morale killers, they're institution killers--diminishing organizational performance by 20 to 50 percent and accounting for up to 90 percent of all divorces.
Everyone knows how to run for cover, or, if sufficiently provoked, step up to problems in a way that causes a real ruckus. Crucial Accountability teaches you how to deal with violated expectations in a way that solves the problem at hand without harming the relationship—and, in fact, even strengthens it.
Broken promises, missed deadlines, poor behavior--they don't just make others' lives miserable; they can sap up to 50 percent of organizational performance and account for the vast majority of divorces. Crucial Accountability offers the tools for improving relationships in the workplace and in life and for resolving all these problems--permanently.

Reviews
"Hey, if you read only one 'management' book this decade...I'd insist that it be Crucial Confrontations."
—from the foreword by Tom Peters
"...revolutionary ideas...opportunities for breakthrough..."
—Stephen R. Covey, author of The 7 Habits of Highly Effective People
"...unleash the true potential of a relationship or organization and move it to the next level...."
—Ken Blanchard, coauthor of The One Minute Manager® and The Secret: What Great Leaders Know--and Do
"... the most recommended and most effective resource in my library."
—Stacey Allerton Firth, Vice President, Human Resources, Ford of Canada
"...brilliant strategies for those difficult discussions at home and in the workplace..."
—Soledad O'Brien, cohost of CNN's Morning Edition
"This book is the real deal....Read it, underline it, learn from it. It's a gem."
—Mike Murray, VP Human Resources and Administration, Microsoft (retired)

About the Authors
Kerry Patterson
has consulted with hundreds of Fortune 500 companies using his award-winning training program to teach development and maintenance of healthy organizations.
Joseph Grenny
has 20 years of experience coaching thousands of corporate and government leaders around the world in the art of communication.
Ron McMillan
cofounded and was the vice president of research and development of Covey Leadership Center.
Al Switzler
is currently on the faculty at the Executive Development Center at the University of Michigan. Together these authors have founded VitalSmarts and have trained more than 500,000 people world wide. They live in the greater Salt Lake City area.

Find Items On Similar Subjects

Influencer
: The Power to Change Anything

Crucial Conversations
: Tools for Talking When Stakes Are High