Edison on Innovation
: 102 Lessons in Creativity for Business and Beyond
Alan Axelrod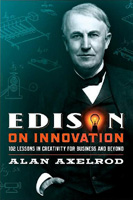 Format:
Hardcover, 192pp.
ISBN:
9780787994594
Publisher:
Jossey-Bass
Pub. Date:
February 25, 2008
Average Customer Review:

For Bulk Orders Call: 626-441-2024

Description and Reviews
From
The Publisher:
"There is no question that Edison was and remains the name-brand marquee inventive genius—a 'modern Prometheus' no less or, at the very least, the 'Wizard of Menlo Park.' And that is precisely the problem. Geniuses may create any number of wonderful things, but otherwise they're really of no use to the rest of us—the non-geniuses."—From the Preface
But what if Edison was no genius? What if he just acted like one? And what if we all could follow his example?
In this fascinating exploration of one of the most celebrated and innovative minds, best-selling author Alan Axelrod cuts through the myths and reverence surrounding Edison's "genius" to show how the inventor was, in fact, an ordinary man who created extraordinary work. While many of us believe that creativity, like genius, is something that just happens by chance or destiny, Edison's life demonstrates that creativity of the very highest order can indeed be summoned up at will, and even reduced to a reliable working method and set of principles.
In contrast to many creative prodigies, Edison worked by "open" methods, making his processes relatively easy to study and emulate. Using Edison's own diaries, papers, and modern studies of his work, Axelrod draws out time-tested principles that can be applied by even the least creative among us. Edison on Innovation presents 102 key lessons, including
Experiment with everything
Embrace problems
Start small, scale up
Innovate without inventing
Learn the market
Create new uses for whatever you have
Plan for spontaneity
Make the problem the solution
Edison on Innovation serves as a revelation to anyone who needs or wants to be creative on demand and for anyone whose business requires the continual creation of new ideas and the practical realization of the best of them.

Reviews
"In Edison on Innovation, Alan Axelrod deconstructs the myth of the lone American inventor, Thomas A. Edison. Axelrod's insights into Edison's creative process offer many practical tips for anyone about to embark on the all-consuming creative process of starting a company or building a better mousetrap."
—Steve Hindy, founder and president of the Brooklyn Brewery and coauthor, Beer School: Bottling Success at the Brooklyn Brewery
"Creativity can be practiced. Children do it all the time in free play. It can also be harnessed for adult invention and innovation. Edison did it successfully for sixty years, and Alan Axelrod shows how in practical, easy-to-read fashion. Adopting even some of Edison's principles can lead to greater success in almost any enterprise, for-profit and not-for-profit alike."
—G. Rollie Adams, president and CEO, Strong National Museum of Play
"In Edison on Innovation, Alan Axelrod not only examines the means and methods by which the 'Wizard of Menlo Park' created over a thousand inventions—including some that built modern civilization—he invites you to try them for yourself. What's more, he shows you how. A fascinating, very stimulating, and eminently useful book."
—Charles Phillips, American Journal of Play

About the Author
Alan Axelrod
is the author of numerousbusiness and management books, includingEisenhower on Leadership and two BusinessWeek best sellers:
Patton on Leadership
and
Elizabeth I, CEO
. He is a popular speaker on leadership and has delivered speeches at venues as diverse as the Florida City and County Management Association in Orlando and the Excellence in Government Conference in Washington, D.C. He has been featured in
Fortune, BusinessWeek
, and
Inc.
and is a frequent guest on news programs.

Find Items On Similar Subjects

Thinkertoys
: A Handbook of Creative-Thinking Techniques