Powerful Times
: Rising to the Challenge of Our Uncertain World
Eamonn Kelly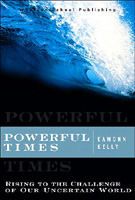 Format:
Paperback, 288pp.
ISBN:
9780131855205
Publisher:
Wharton School Publishing
Pub. Date:
September 22, 2005
Average Customer Review:

For Bulk Orders Call: 626-441-2024

Description and Reviews
From
The Publisher:
Understand the most revolutionary human transformation in four centuries... and prepare for it!
We're not just living through an "age of change." We're experiencing a change of age: the most profound inflection point in human history since the Enlightenment.
That's the thesis of Eamonn Kelly's remarkable new book, Powerful Times. From terrorism and nuclear proliferation to emerging technologies that could change the nature of humanity to the rise of new and innovative economic powers, Kelly weaves together seven powerful "dynamic tensions" that will fundamentally reshape human life in the coming decades. Kelly offers breakthrough insights into how these tensions will conflict and interact to create huge waves of change beyond anything we've seen before. Using scenario thinking techniques pioneered at Royal Dutch/Shell and nurtured at Global Business Network, Kelly evokes the different futures that might unfold as a result of the interplay of these dynamic tensions and the profound implications for society and business. Whether you're an executive, strategist, entrepreneur, policymaker, or citizen, this book delivers actionable insights of incomparable breadth and depth. Use it to understand and prepare for what's comingand to transform this moment of uncertainty and complexity into unprecedented opportunity.Among the themes explored:
Paradoxes of power in an age of terror: Unprecedented dilemmas for the world's only superpower
Unexpected consequences of transparency: Ubiquitous information bring new clarity but also confusion, conspiracies, and craziness
The virtual and tangible economies: Economic value is increasingly intangible, even as physical infrastructure matters more
Technology acceleration and pushback: Computing, biotech, nanotech: breakthroughs, catastrophes, or both?
New forms of governance: The resurgence of local and global innovations in democracy
The widening human footprint: The impact of 9 billion people on an increasingly challenged planet

Reviews
"Anyone trying to anticipate the future—to seize the great investment opportunities or to dodge potentially enterprise-ending risks—should pay attention to Eamonn Kelly's insights, honed from years of scenario thinking on the world business stage. A distinguished futurist, Kelly has filled his canvas so richly that any perspective will gain from his explication of the global forces that envelop all human enterprise—from the impacts of India, China, and AIDS to the range of energy or meteorologic futures that could unfold from this moment forward. Kelly argues cogently that while continued wealth and prosperity are plausible, they are no one country's or region's manifest destiny."
—Eric Best, global scenario strategist, Morgan Stanley

About the Author
Eamonn Kelly
is the CEO of Global Business Network (GBN), the renowned scenario and strategy consultancy and futures network, and a partner of the Monitor Group. For over a decade, Kelly has been at the forefront of exploring the emergence of a new economic, social, and geopolitical order and its far-reaching consequences for organizations and individuals. He has developed insights, tools, and methodologies for mastering risk and uncertainty and has consulted at senior levels to dozens of the world's leading corporations, governmental agencies, and major philanthropic organizations. Before joining GBN, Kelly directed strategy at Scottish Enterprise, the national economic development organization. A graduate of the universities of Glasgow (economics and drama) and Strathclyde (MBA), Kelly also co-authored
What's Next: Exploring the New Terrain for Business
(2002) and
The Future of the Knowledge Economy
(1999).

Table of Contents
| | | |
| --- | --- | --- |
| | Acknowledgments | |
| | Preface | |
| 1 | History Unleashed | |
| | I. WHAT'S HAPPENING?: PREDICTING THE PRESENT | |
| 2 | Clarity and Craziness | |
| 3 | Secular and Sacred | |
| 4 | Power and Vulnerability | |
| 5 | Technology Acceleration and Pushback | |
| 6 | Intangible and Physical Economies | |
| 7 | Prosperity and Decline | |
| 8 | People and Planet | |
| | II. WHAT IF?: CHANGING FOR THE CHALLENGES AHEAD | |
| 9 | Governance | |
| 10 | Innovation | |
| | III. WHAT'S NEXT?: SCENARIOS FOR THE NEXT DECADE | |
| 11 | Three Snapshots of the Future | |
| | IV. SO WHAT?: ACTING IN AN ERA OF TRANSFORMATION | |
| 12 | Creating Our New Future | |
| | Endnotes | |
| | Afterword: Using This Book in Your Life and Work | |

Find Items On Similar Subjects

The Power of Impossible Thinking
: Transform the Business of Your Life and the Life of Your Business