Your Brain at Work
: Strategies for Overcoming Distraction, Regaining Focus, and Working Smarter All Day Long
David Rock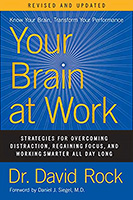 Format:
Hardcover, 304pp.
ISBN:
9780063003156
Publisher:
Harper Business
Pub. Date:
August 11, 2020
Average Customer Review:

For Bulk Orders Call: 626-441-2024

Description and Reviews
From
The Publisher:
In this revised edition updated with new findings, a researcher and consultant burrows deep inside the heads of one modern two-career couple to examine how each partner processes the workday—revealing how a more nuanced understanding of the brain can allow us to better organize, prioritize, recall, and sort our daily lives.
Emily and Paul are the parents of two young children, and professionals with different careers. Emily is the newly promoted vice president of marketing at a large corporation; Paul works from home or from clients' offices as an independent IT consultant. Their days are filled with a bewildering blizzard of emails, phone calls, more emails, meetings, projects, proposals, and plans. Just staying ahead of the storm has become a seemingly insurmountable task.
In
Your Brain at Work
, Dr. David Rock goes inside Emily and Paul's brains to see how they function as each attempts to sort, prioritize, organize, and act on the vast quantities of information they receive in one typical day. Dr. Rock is an expert on how the brain functions in a work setting. By analyzing what is going on in their heads, he offers solutions Emily and Paul (and all of us) can use to survive and thrive in today's hyperbusy work environment—and still feel energized and accomplished at the end of the day.
In
Your Brain at Work
, Dr. Rock explores issues such as:
• why our brains feel so taxed, and how to maximize our mental resources
• why it's so hard to focus, and how to better manage distractions
• how to maximize the chance of finding insights to solve seemingly insurmountable problems
• how to keep your cool in any situation, so that you can make the best decisions possible
• how to collaborate more effectively with others
• why providing feedback is so difficult, and how to make it easier
• how to be more effective at changing other people's behavior
• and much more.

Reviews
"Rock makes the science of your mind accessible and relevant."
—Fortune Small Business
"Rock makes the science of your mind accessible and relevant."
—Daniel Akst, Fortune Small Business
"This is the best, the most helpful, and the brainiest book I've read on how the brain affects how, why and what we do and act."
—Warren Bennis, Distinguished Professor of Business and University Professor, University of Southern California and author of On Becoming a Leader
"Simply put, this intriguing book offers fascinating research about the brain's functions, limitations and capacities, and it teaches us how we can "direct" our own brain chemistry in order to achieve fulfillment and success. Well worth reading and ingesting these skills."
—Stephen R. Covey, author of The 7 Habits of Highly Effective People
"Rock deserves an ovation for his writing and direction."
—Fort Worth Star-Telegram
"This book will improve how you work-by showing you how your brain works!"
—Marshall Goldsmith, author of What Got You Here Won't Get You There

About the Author
David Rock
is a consultant and leadership coach who advises corporations around the world. The author of
Coaching with the Brain in Mind
,
Quiet Leadership
, and
Personal Best
, he is the CEO of Results Coaching Systems, a leading global consulting and coaching organization. He is on the advisory board of the international business school CIMBA and the cofounder of the NeuroLeadership Institute and Summit. He lives in Sydney, Australia, and New York City.

Find Items On Similar Subjects

Coaching with the Brain in Mind
: Foundations for Practice

Quiet Leadership
: Six Steps to Transforming Performance at Work