Quiet Leadership
: Six Steps to Transforming Performance at Work
David Rock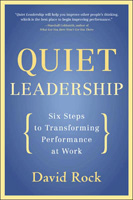 Format:
Paperback, 288pp.
ISBN:
9780060835910
Publisher:
HarperCollins Publishers
Pub. Date:
October 1, 2007
Average Customer Review:


For Bulk Orders Call: 626-441-2024

Description and Reviews
From
The Publisher:
Improving the performance of your employees involves one of the hardest challenges in the known universe: changing the way they think. In constant demand as a coach, speaker, and consultant to companies around the world, David Rock has proven that the secret to leading people (and living and working with them) is found in the space between their ears. "If people are being paid to think," he writes, "isn't it time the business world found out what the thing doing the work, the brain, is all about?" Supported by the latest groundbreaking research,
Quiet Leadership
provides a brain-based approach that will help busy leaders, executives, and managers improve their own and their colleagues' performance. Rock offers a practical, six-step guide to making permanent workplace performance change by unleashing higher productivity, new levels of morale, and greater job satisfaction.

Reviews
Quiet Leadership
will help you improve other people's thinking, which is the best place to begin improving performance.
—Marshall Goldsmith, founder of Marshall Goldsmith Partners
Rock has broken the code on how to leverage our most basic human function-thinking! Both practical and profound - a must- read for anyone who wants to unleash the potential of their team.
—Michael W. Morrison, Dean, University of Toyota
Success depends on the quality of thinking. In the past, if we wanted to change our habitual forms of thinking, we operated in the dark - because nobody had taken the cutting-edge insights of neuroscientists and rephrased them in ordinary language or a business context. Now David Rock has done exactly that, and done it well.
—Art Kleiner, Editor-in-Chief, Strategy+Business magazine
Essential reading for any leader who has ever wondered, Why don't people do what I tell them to do?
—Dianna Anderson, MCC VP Leadership Coaching, Metrix Global, LLC
Thank you, David Rock! At last, a comprehensive set of conversational tools that support leaders in having powerful, results-oriented conversations with their employees around change, performance, and career development
—Colette Dempster, Coaching and Mentoring Program Manager, EDS Global Learning and Development Program
In the first major book to explore what business leaders ought to know about the brain, David Rock creatively marshals an abundance of new research to coherently explain how it advances the use of mind-based brain change as the dynamic element of better leadership training. The key to the future of leadership development lies in these pages.
—Jeffrey Schwartz, MD, Author of The Mind & The Brain, and Brain Lock
Quiet Leadership is an inspiring, clear, step-by-step approach to changing people, rather than processes.
—Elisa Mallis, Human Performance Consultant, Accenture, London

About the Author
David Rock
is a leadership coach, teacher, and public speaker who advises corporations around the world. He is the CEO of Results Coaching Systems, and for the past several years has been studying the impact of coaching on performance and the links between coaching and neuroscience.

Customer Reviews
Write your own online review
.

The Surbordinates May Never Know What To Do
January 13, 2009
Reviewer: Omodo Michael from Uganda
Quiet Leadership will help you improve other people's thinking, which is the best place to begin improving performance. UNleashing high productivity among the leadrship team but leader should have it on his finger tips that communication with the subordinates requires more time for this will enable you to asses them.and finding away of helping them to improve. Being quiet also creates a gap between the surbordinates and superior this is not a healthy behaviour it instead compounds matters.however it improves the thinking of your working team.

Find Items On Similar Subjects

Quiet Leadership
: Six Steps to Transforming Performance at Work • Hardcover

Learned Optimism
: How to Change Your Mind & Your Life

Leading Quietly