Mavericks at Work
: Why the Most Original Minds in Business Win
William C. Taylor and Polly G. LaBarre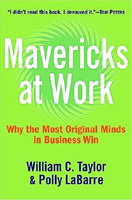 Format:
Paperback, 318pp.
ISBN:
9780060779627
Publisher:
Harper
Pub. Date:
January 2, 2008
Average Customer Review:


For Bulk Orders Call: 626-441-2024

Description and Reviews
From
The Publisher:
Meet the innovators and upstarts who are inventing the future of business. Their unconventional ideas and groundbreaking strategies can become your business plan for the twenty-first century-a better way to lead, compete, and succeed.
Business as usual is a bust. In industry after indus-try, the old guard is cutting back and losing ground. Meanwhile, organizations that were once dismissed as upstarts, as wildcards-or mavericks-are making waves and growing fast. There is a reason: In an age of hypercompetition and nonstop innovation, the only way to stand out from the crowd is to stand for something truly original.
That's the lesson behind the companies, executives, and entrepreneurs you'll meet in Mavericks at Work.They are winning big in business by rethinking the logic of how business gets done. They have devised exciting new answers to the timeless challenges facing organizations of every size and leaders in every field: how you make strategy, how you unleash new ideas, how you connect with customers, how your best people achieve great results.
Who are these mavericks? They are break-the-mold business units inside giants such as IBM and Procter & Gamble, as well as high-profile innovators such as HBO and Pixar. They are Internet banks and gold mines, fashion retailers and advertising agencies, funky sandwich shops and hard-charging computer programmers. Together, they are creating an inspiring agenda that every business can put to work.
Their success demonstrates that:
Being different makes all the difference
Sharing values beats selling value
The company with the smartest customers wins
Nobody is as smart as everybody
Character counts for as much as credentials
Great leaders are insatiable learners
Whether you're a young professional setting out on your career, a senior executive looking to make your organization grow, or an entrepreneur building a company from scratch,
Mavericks at Work
will help you think bigger, aim higher, and win more decisively.

Reviews
"Example after example tumbles out of these pages in a seemingly inexhaustible supply. The energy of the narrative never slackens. This is business journalism animated by the spirit of the Duracell bunny."
—Stefan Stern, Financial Times

About the Authors
William C. Taylor
is a cofounder and founding editor of
Fast Company
. During his tenure, the magazine won numerous awards (including two National Magazine Awards) and earned a passionate following among executives and entrepreneurs. He writes the "Under New Management" column for the
New York Times
and has published essays and CEO interviews in the
Harvard Business Review
. He lives in Wellesley, Massachusetts, with his wife and two daughters.
Polly LaBarre
spent eight years as a senior editor of
Fast Company
, where she wrote articles on strategy, creativity, and personal success, and cohosted the magazine's Real Time conferences. She has spoken to business audiences around the world and has appeared on Good Morning America, CNBC, and PBS's Nightly Business Report. She lives in New York City.

Table of Contents
Introduction: The Maverick Promise
xi
PART 1: RETHINKING COMPETITION
1
Not Just a Company, a Cause: Strategy as Advocacy
What ideas is your company fighting for? • Can you play competitive hardball by throwing your rivals a strategic curveball? • Changing the channel: The one-of-a-kind network that transformed television.
3
2
Competition and Its Consequences: Disruptors, Diplomats, and a New Way to Talk About Business
Can you be provocative without provoking a backlash? • Why strategic innovators develop their own vocabulary of competition. • Winning on purpose: The values-driven ad agency that carves its beliefs into the floor.
31
3
Maverick Messages (I): Sizing Up Your Strategy
Why "me-too" won't do: Make-or-break questions about how you and your organization compete.
53
PART 2: REINVENTING INNOVATION
4
Ideas Unlimited:Why Nobody Is as Smart as Everybody
How to persuade brilliant people to work with you, even if they don't work for you. • Why grassroots collaboration requires head-to-head competition. • Eureka! How one open-minded leader inspired the ultimate Internet gold rush.
63
5
Innovation, Inc.: Open Source Gets Down to Business
Have you mastered the art of the open-source deal? • Why smart leaders "walk in stupid every day." • Bottom-up brainpower: How a 170-year-old corporate giant created a new model of creativity.
89
6
Maverick Messages (II): Open-Minding Your Business
Shared minds: The design principles of open-source leadership.
117
PART 3: RECONNECTING WITH CUSTOMERS
7
From Selling Value to Sharing Values: Overcoming the Age of Overload
If your products are so good, why are your customers so unhappy? • How to build a cult brand in a dead business. • "Our customer is our category"—the retailer that sells a sense of identity.
129
8
Small Gestures, Big Signals: Outstanding Strategies to Stand Out from the Crowd
Do you sell where your customers are—and your competitors aren't? • Warm and scuzzy: How Howard Stern became the world's most unlikely teddy-bear salesman. • Why the company with the smartest customers wins.
157
9
Maverick Messages (III): Building Your Bond with Customers
Brand matters:The new building blocks of cutting-edge marketing.
181
PART 4: REDESIGNING WORK
10
The Company You Keep: Business as if People Mattered
Can you attract more than your fair share of the best talent in your field. • How to find great people who aren't looking for you. • Building the character of competition: Why the world's friendliest airline unleashes the "warrior spirit" in its workforce.
193
11
People and Performance: Stars, Systems, and Workplaces That Work
The first law of leadership:"Stars don't work for idiots." • How free agents become team players. • From bureaucracy to adhocracy: The many merits of a messy workplace.
221
12
Maverick Messages (IV): Practicing Your People Skills
Hiring test: Is your design for the workplace as distinctive as your designs on the marketplace?
253
Appendix: Maverick Material
263
Endnotes
285
Acknowledgements
303
Index
307

Find Items On Similar Subjects

Small Is the New Big
: and 193 Other Riffs, Rants, and Remarkable Business Ideas

Juicing the Orange
: How to Turn Creativity into a Powerful Business Advantage