Juicing the Orange
: How to Turn Creativity into a Powerful Business Advantage
Pat Fallon and Fred Senn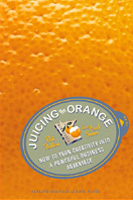 Format:
Hardcover, 272pp.
ISBN:
9781591399278
Publisher:
Harvard Business School Press
Pub. Date:
July 18, 2006
Average Customer Review:

For Bulk Orders Call: 626-441-2024

Description and Reviews
From
The Publisher:
Too many companies think creativity means throwing money into marketing efforts and giving lip service to "out of the box" thinking. But such efforts rarely have a positive impact on the bottom line. Pat Fallon and Fred Senn argue that leaders have more creativity within their organizations than they realize--but they inadvertently stifle it or channel it in ineffective ways.
Juicing the Orange
outlines a disciplined approach to building creativity actively into the organizational culture and leveraging that creativity into campaigns that deliver measurable results.
Drawing from 25 years of successful marketing and acclaimed, award-winning work, the authors show that bankable, creative ideas come from zeroing in on the one key business problem that must be solved and then rigorously unearthing insights that will lead to a spectacular solution. Behind-the-scenes stories of successful and failed campaigns for companies in diverse industries reveal the core secrets of training for creativity: develop a proprietary brand emotion, offer big ideas without a big budget, and get customers to seek out your message. Illustrating the link between creativity and profits,
Juicing the Orange
helps industry players measure their success at the cash register.

Reviews
"The best [of new books on creativity]...There are many good things about this book...engaging...solid."
—The New York Times, July 2, 2006
"For people in the ad business and marketing a brand, it's a very worthwhile read."
—BusinessWeek, July 5, 2006

About the Authors
Pat Fallon
is the cofounder and Chairman of Fallon Worldwide, a subsidiary of the French-based Publicis Groupe S.A., one of the world's largest advertising and media conglomerates.
Fred Senn
is a cofounder and Partner with Fallon.

Table of Contents
| | | |
| --- | --- | --- |
| | Contents | |
| 1 | Redefining creativity in today's marketing environment | 1 |
| 2 | Outpacing the commoditization of your brand : how the right emotional connection freed Citibank from the commodity trap | 23 |
| 3 | Fighting for your brand's voice : how United Airlines stayed connected with its core customers through multiple crises | 39 |
| 4 | Establishing and leveraging a category advantage : how a catchphrase captured the category for Holiday Inn Express | 57 |
| 5 | Overcoming a serious branding problem : how Skoda UK rescued its brand from public ridicule | 73 |
| 6 | Reviving a mature consumer brand : how a relic from the corporate Attic revived Lee Jeans | 87 |
| 7 | Reenergizing a mature business brand : how EDS emerged from B2B brand obscurity | 107 |
| 8 | Choosing the best media for the message : how BMW reached drivers on their own turf - the Internet | 125 |
| 9 | Marketing a network of businesses under one brand : how the islands of the Hahamas reorganized as a brandable destination | 147 |
| 10 | Rethinking customer engagement : why share of market no longer depends on share of voice | 163 |
| 11 | Lesson learned : how to juice your environment for creativity | 185 |

Find Items On Similar Subjects

Peripheral Vision
: Detecting the Weak Signals That Will Make or Break Your Company