The Risk Advantage
: Embracing the Entrepreneur's Unexpected Edge
Tom Panaggio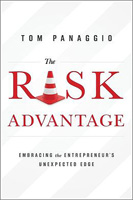 Format:
Paperback, 218pp.
ISBN:
9781938416446
Publisher:
River Grove Books
Pub. Date:
October 17, 2013
Average Customer Review:

For Bulk Orders Call: 626-441-2024

Description and Reviews
From
The Publisher:
As an entrepreneur and racecar driver, Tom Panaggio has learned that you cannot avoid risk if you want to be a winner.
In
The Risk Advantage
, Panaggio tells the story of how he and his business partners built two thriving companies: Direct Mail Express (which now employs more than 400 people and is a leading direct marketing company) and Response Mail Express (which was eventually sold to equity fund Huron Capital Partners).
The book is designed as a guide for those who are contemplating an entrepreneurial pursuit, are already engaged in building a business, or are currently working for someone else and want to inject their entrepreneurial ideas and attitude. With
The Risk Advantage
, Panaggio aims to help entrepreneurs face the many situations, predicaments, and crises they'll encounter during their lives as well as to help them formulate their leadership style and business strategy.
The Risk Advantage
is a story about an entrepreneurial journey that explores the relationship between opportunity and risk, two important forces that are necessary for success. Panaggio teaches that the unexpected edge for entrepreneurial success starts with identifying a worthy risk and then having the courage to take it. In his book, he identifies those risks based on what he's experienced along his own journey.
Opportunities are always there for you to grab. If you want to realize a dream, accomplish a daunting goal, or simply start your own business, you must be willing to embrace risk. Learning the lessons of
The Risk Advantage
is an important first step to do just that.

About the Author
Tom Panaggio
has enjoyed a thirty-year entrepreneurial career as cofounder of two successful direct marketing companies. As a result, he can give a true perspective on starting and running a small business. His practical approach to business concepts and leadership is grounded in the belief that success is the result of a commitment to embracing risk as a way to ensure opportunity. In 1983 he cofounded Direct Mail Express (DME) in Daytona Beach, Florida, with his siblings Mike and Kathy. DME has always been on the leading edge of marketing technology and is still recognized as an industry leader in personalized digital marketing. As CEO of spin-off RME in Tampa, Florida, Tom headed a company that created the most effective lead-generation program in the financial services industry. RME revolutionized financial services marketing with its Seminar Success program, a marketing system that has created billions in sales for their clients.

Find Items On Similar Subjects

Risk Intelligence
: How to Live with Uncertainty