Risk Intelligence
: How to Live with Uncertainty
Dylan Evans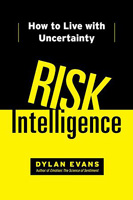 Format:
Paperback, 288pp.
ISBN:
9781451610918
Publisher:
Free Press
Pub. Date:
September 29, 2015
Average Customer Review:

For Bulk Orders Call: 626-441-2024

Description and Reviews
From
The Publisher:
There is a special kind of intelligence for dealing with risk and uncertainty. It doesn't correlate with IQ, and most psychologists failed to spot it because it is found in such a disparate, rag-tag group of people - American weather-forecasters, professional gamblers, and hedge-fund managers, for example.
This book shows just how important risk intelligence is. Many people in positions which require high risk intelligence - doctors, financial regulators and bankers, for instance - seem unable to navigate what Evans calls the "darkened room", the domain of doubt and uncertainty.
Risk Intelligence
is a traveller's guide to the twilight zone of probabilities and speculation. Evans shows us how risk intelligence is vital to making good decisions, from dealing with climate change to combating terrorism. He argues that we can all learn a lot from expert gamblers, not just about money, but about how to make decisions in all aspects of our lives. Introducing a wealth of fascinating research findings and using a wide range of real-life examples--from the brilliant risk assessment skills of horse race handicappers to the tragically flawed evaluations of risk that caused the financial crisis--Evans reveals the common errors in our thinking that undermine our risk intelligence. He also introduces a host of simple techniques we can use to boost our RQ, and a brief test to measure our RQ. Both highly engaging and truly mind-changing, Risk Intelligence will fascinate all of those who are interested in how we can improve our thinking in order to enhance our lives.

Reviews
Risk analyst and popular-science writer Evans (Placebo: Mind Over Matter in Modern Medicine, 2004, etc.) analyzes the fallacy of the quest for certainty in making decisions. ["M]ost of us simply aren't comfortable with or adept in making judgments in the netherland of uncertainty," writes the author. We tend to over-react when it comes to assessing uncertainty and ambiguity and when we are faced with daunting challenges. Evans attributes this unwillingness to deal with uncertainty to "our reluctance to gauge the limits of what we know" and make judgments accordingly. Our comfort zone is located at either extreme of the spectrum: overconfidence or the expectation of doom. While the cost of over-optimism has been showcased by the recent financial crisis, we may suffer losses from missed opportunities when we refuse to accept a reasonable amount of risk. Though some of our difficulty in dealing with risk can be attributed to the tendency of our brain to overestimate dramatic events and indulge in wishful thinking, as well as our susceptibility to after-the-fact confirmation bias, these tendencies can be overcome. Evans looks at the improvement in weather forecasting in the past 50 years as a case in point. He suggests that one way to raise our risk intelligence is to carefully assess the limits of what we know, assess the reliability of sources, critically evaluate the accuracy of our estimates and learn the rudiments of probability theory. Financial speculation has become a dirty word, he writes, but in many circumstances it is valuable to make an educated guess. A provocative critique of the power of positive thinking and a solid addition to the behavioral-economics shelf.
—Kirkus Reviews

About the Author
Dylan Evans
is the founder and CEO of Projection Point, which designs risk intelligence training programs for corporate clients. He has written several popular science books, including Emotion: The Science of Sentiment (Oxford University Press, 2001) and Placebo: The Belief Effect (HarperCollins, 2003), and in 2001 he was voted one of the twenty best young writers in Britain by the Independent on Sunday. He received a PhD in Philosophy from the London School of Economics in 2000, and has held academic appointments at King's College London, the University of Bath, the University of the West of England, and University College Cork. He is also a Distinguished Supporter of the British Humanist Association.

Find Items On Similar Subjects

Risk Intelligence
: Learning to Manage What We Don't Know