The Leader's Climb
: A Business Tale of Rising to the New Leadership Challenge
Bob Parsanko and Paul Heagen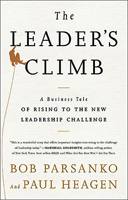 Format:
Hardcover, 188pp.
ISBN:
9781937134211
Publisher:
Bibliomotion
Pub. Date:
September 18, 2012
Average Customer Review:

For Bulk Orders Call: 626-441-2024

Description and Reviews
From
The Publisher:
"Adam was stuck." And with this simple phrase, The Leader's Climb introduces the reader to an engaging tale of how leaders often ascend quickly to the top, only to unknowingly slip down a path of decline—until it is too late. In this novel approach to the subject, set against the backdrop of a rock-climbing vacation gone awry, executive coaches Bob Parsanko and Paul Heagen draw from decades of success with business executives to reveal an all-too-familiar path of leadership struggles.
The protagonist, Adam, is capable and well-meaning but has a confidence bordering on hubris, and blind spots that could be the end of him. That is, until unlikely encounters with a park ranger and a home handyman, who become confidants and mentors, reveal new insights to Adam. Through their wisdom, and the realities of the hard knocks of business, Adam gets "unstuck" and begins to turn around his life and career with three fundamental principles of personal growth: awareness, acceptance, and abundance.

Reviews
"This is a wonderful story that offers important insights into rising to the challenge of leadership today."
—Marshall Goldsmith, million-selling author of New York Times bestsellers MOJO and What Got You Here Won't Get You There
"This is a powerful, evocative, and realistic tale of good leaders trying to climb the next mountain. If more people took this story to heart, they would be better leaders."
—Ted Nixon, Former International Executive Chair, Young Presidents' Organization (YPO) and CEO, DD Williamson, Inc.
"The recommended-reading list for a business leader is extensive, with new books from well-known authors, such as Jim Collins (Great by Choice, 2011, and others), and ones by new writers, such as journalist Charles Duhigg's The Power of Habit (2012). Yet business leaders should pay attention here, because executive coaches Parsanko and Heagen have captured an important business trend, the art of listening, which has been noticed by the McKinsey Quarterly. Although that particular lesson isn't necessarily the one they espouse—instead, they point to going too fast, fighting too much, and forcing too many decisions—it is the heart of fictional CEO protagonist Adam and his almost-fall from glory, literally and figuratively. During his vacation, Adam has a rock-climbing accident, and while recovering, he meets contractor Duncan and trail-guide A. J., who provide teachable moments in the midst of his disagreement with the board of directors about a possible acquisition. Good things to learn here, especially considering that 85 percent of today's CEOs are new 'top dogs' and are expected to remain only about 3.5 years in their positions."
—Booklist
"People are not born great leaders. They develop skills over a lifetime that come together into a leadership approach. The Leader's Climb rings with truth, depth, and realism, and will challenge you to grow continually as a leader."
—Matthew Kelly, New York Times bestselling author of The Dream Manager
"Wow! This may be a tale, but it sure feels amazingly real. The message in this book is powerful and timely."
—Mike Monahan, author of Inc. #1 bestseller From the Jungle to the Boardroom
"The Leader's Climb is a cause for self-reflection and discovery. It is an engaging story that has applications both personally and professionally for those who connect with its message."
—Susan Croushore, CEO, The Christ Hospital, Cincinnati
"This book couldn't be more timely or relevant to the challenges leaders are facing. Through an artful story, it makes a powerful case for slowing down to avoid being a casualty of today's break-neck pace of business. I wish all executives would take the time to read this — it is that different and that important."
—Jim Anderson, former Director, Executive Education, Kelley Graduate School of Business, Indiana University
"Adam's story is repeated every day by well-intentioned business leaders trying to get a grip on the never-ending struggles we all face. While the signs of decline may not be obvious, they are insidious. The three key messages in this book identify these signs and the remedies in ways that are personally and professionally meaningful."
—Larry Grypp, President, Goering Center for Family and Private Business, Lindner College of Business, University of Cincinnati
"This book is an easy read covering three important and often overlooked elements of leadership. For more than 20 years Bob Parsanko has helped us build a successful global organizational culture based on these principles and guided our key executives, including me, to become better leaders."
—Mogens Bay, Chairman and CEO, Valmont Industries, Inc.
"The Leader's Climb carries an elegant, useable message for all leaders who care to be the best they can be while creating great and enduring organizations."
—Al Stuempel, Master Chair, Vistage International, Inc.

About the Authors
Bob Parsanko
, president and founder of Executive Insights, is a personal coach, confidant and adviser to presidents, CEOs, senior executives and executive teams throughout the United States, in Asia, Europe and South America. His intimate understanding of senior executives and executive teams serves as his platform for global leadership development and drive for improvements in organizational effectiveness. Bob is certified by the Center for Creative Leadership (CCL) and has presented leadership topics to the Young Presidents' Organization (YPO) and other executive audiences. He earned his bachelor's in psychology from Miami University of Ohio and an MBA from Xavier University.
Paul Heagen
, president and founder of Defining Moments Consulting, is an executive coach who guides executives through crucial events and phases of their careers and personal lives. His belief that reputations, purpose and even destiny are shaped by how leaders capitalize on such "defining moments" has distinguished his work for more than 30 years with clients ranging from Disney to Cisco to Fidelity Investments. He is an instructor with the Cincinnati-based Goering Institute and is a high-ranked presenter at conferences and workshops on topics ranging from personal branding and the role of storytelling in propelling business growth.

Table of Contents
| | | |
| --- | --- | --- |
| | | |
| | Foreword | ix |
| | Part I: Stuck | 1 |
| | Part II: Awareness | 27 |
| | Part III: Acceptance | 75 |
| | Part IV: Abundance | 111 |
| | Part V: Unstuck | 143 |
| | Epilogue | 175 |

Find Items On Similar Subjects

Consider
: Harnessing the Power of Reflective Thinking In Your Organization