Consider
: Harnessing the Power of Reflective Thinking In Your Organization
Daniel Patrick Forrester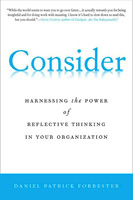 Format:
Hardcover, 240pp.
ISBN:
9780230106079
Publisher:
Palgrave Macmillan
Pub. Date:
January 18, 2011
Average Customer Review:


For Bulk Orders Call: 626-441-2024

Description and Reviews
From
The Publisher:
"STOP, THINK, AND DON'T DO SOMETHING STUPID!" This is the warning Dr. Robert Bea drills into his Civil and Environmental Engineering students at the University of California in Berkeley. Bea wants to dramatize what he terms the inevitable "oh shit" moments that present themselves—before an actual engineering calamity like the Deepwater Horizon/BP disaster happens.
There's an intangible and invisible marketplace within our lives today where the products traded are four fold: attention, distraction, data and meaning. The stories and examples within Consider demonstrate that the best decisions, insights, ideas and outcomes result when we take sufficient time to think and reflect. While technology allows us to act and react more quickly than ever before, we are taking increasingly less time to consider our decisions before we make them. Reflection supplies an arsenal of ideas and solutions to the right problems. Including interviews with leaders such as General David Petraeus, attorney Brooksley Born and global investor Kyle Bass, Forrester shows us that taking time and giving ourselves the mental space for reflection can mean the difference between total success and total failure.

Reviews
"Daniel Forrester has truly identified the biggest leadership problem we face today. The flood of data and the ease of communications afforded us by 21st Century technology have led to snap decision making without the careful thought or processing necessary for us to make quality decisions. Speed and action have replaced well thought out strategic thinking. Daniel provides a valuable guide on how to strategically think and analyze before we act. This first rate book is a must read for leaders in every facet of our society."
—General Anthony C. Zinni USMC (Retired)
"While technological improvements make it easier to both act and act quickly, this powerful book reminds us about the value of reflection. Invest the time to read this wonderful work. Your professional and personal actions will be that much more impactful when they are informed by its insights on thoughtfulness."
—Mark Zupan, Dean and Professor of Economics and Public Policy, Simon School of Business, University of Rochester
"THINK and be spared—egregious mistakes, widespread second guessing, and embarrassing contrition. That is the simple and powerful message from Daniel Forrester who has extensively probed the sturm and drang of management. Technologies abundant harvest of information affords priceless opportunities for reflection to improve the quality of decisions, if not squandered by a Pavlovian urge towards instantaneous response. Our cultural bias toward action limits critical thinking to less than 10% of our day's activity. Yet thoughtful analysis can spawn great ideas and prevent bad things from happening."
—John F. Budd, Chairman and Chief Executive Officer, Omega Group
"Daniel Forrester has sliced through the paradox of our time: while the world seems to want you to go ever faster and keep up with ever more, it actually rewards you for being insightful and for doing work with meaning. I know it's hard to slow down to read this, but you should."
—Seth Godin, author of Linchpin: Are You Indispensable?
"CONSIDER buying this book; then buy it, read it, and live it. Daniel Forrester has done a terrific job of laying out the problems, pitfalls and disasters of today's action-driven, 24/7, email-overloaded workplace—and offers breath-catching reporting and proven examples of the value and rewards of reflection and THINK TIME. Based on in-depth research and personal interviews with many of America's top business, social, military, and cultural leaders; CONSIDER will change how you work, how you run your business, how you live your life."
—Dennis Wholey, Host and Executive Producer, PBS-TV's THIS IS AMERICA and author of The Courage to Change and Why Do I Keep Doing That?
"Daniel Forrester singles out what is potentially the largest opportunity for corporations and governments of our time: the power of deep reflection at all levels of the organization. Through persuasive and insightful examples he provides evidence that more and better think time is a value creating proposition. He also contributes useful recommendations to actually implement think time habits in your organizations. Anyone in the corporate world should read this book; it may transform your company."
—Sergio A. Pernice, MBA Director and Professor of Organizational Design and Financial Engineering and Risk Management, UCEMA Business School, Argentina
"In a very readable interesting book Daniel Forrester captures the essence of an organization's power to grow and prosper in both good and bad times. If you are serious about growing your organization in these turbulent times do yourself a favor; Buy, read and act on Daniel Forrester's recommendations."
—Peggie O'Niell, Co-Founder and Former Director of Loyalty Management University, Host of Passionate Leaders Powerful People (TV Show), and Director of Prayer Power Worldwide
"Forrester's book practices what it preaches by taking you--slowly and with great care--inside the pauses, downtimes and sheer zoning-outs that trigger most creative thinking. Better yet, Daniel provides ample ammunition for anybody looking to listen to that inner voice that says, "I just don't know and NEED to think about this longer!" A great book for a time in which too many of us pull back from the data deluge, clinging to unshakable beliefs instead of exercising our minds. Bottom line: free your time and the rest will follow."
—Thomas P.M. Barnett, Author and strategist


Reader's Index
Send us your favorite quotes or passages from this book
.
• "Only by carving out think time and reflection can we actually understand, in an entirely different context, the actions we take." Pg. 8

About the Author
Daniel Patrick Forrester
is a management consultant with over fifteen years experience leading complex strategy and technology evolution engagements for senior executives from Fortune 100 and 500 companies, and federal government organizations. Current and past clients include: Verizon, Sallie-Mae, Sprint, Dow Chemical, FMC Corporation, The Department of Homeland Security, The Library of Congress, The Congressional Research Service, and the United States Marine Corps. Forrester is frequently in demand as a public speaker at organizations such as The Brookings Institute and the top-ranked Booth School of Business at the University of Chicago. He is currently a Director and Executive within Sapient Government Services, a subsidary of Sapient Corporation.

Table of Contents
| | | |
| --- | --- | --- |
| | | |
| | Acknowledgements | xi |
| | | |
| | Introduction: The Space Between Data and Meaning | 1 |
| 1 | The Human Need for Think Time: of Business, Interleaving, and Oil Spills | 11 |
| 2 | Forcing Think Time: Of Presidential Commutes, Personal Battle Rhythms and Making Time to Wonder | 33 |
| 3 | Thinking Out Loud: Of Terminal Niceness, Intellectual Awkwardness and Real Dialogues | 53 |
| 4 | Promoting Think Time: Of Intellectual Freedom, Digital Books and Manly Refrigerators | 75 |
| 5 | Taking a Step Back: From Abusing E-mail to Exceptional Organizations | 95 |
| 6 | Too Big to Think? Of Cassandras abd Cognitive Dissonance | 117 |
| 7 | Rapid Contemplation: Rethinking War in the Middle of War | 139 |
| 8 | Outside the Da-to-Day: From Radical Sabbaticals to Unleashing Reflective Capacity | 161 |
| 9 | Reflection and Extreme Situations: From Commanders Intent, To Finding the Middle Ground | 179 |
| 10 | The Future of Think Time and Reflection: From Sovereign Debt to Subway Performances | 199 |
| | | |
| | Notes | 219 |
| | Index | 231 |