The Shift from One to Many
: A Practical Guide to Leadership
Chrismon Nofsinger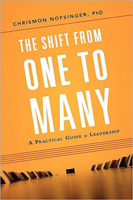 Format:
Paperback, 68pp.
ISBN:
9781936909087
Publisher:
Live Oak Press
Pub. Date:
December 7, 2011
Average Customer Review:

For Bulk Orders Call: 626-441-2024

Description and Reviews
From
The Publisher:
A fascinating look at the "secret sauce" of leadership-learning to assist and give recognition to others while suspending your own need for credit Whether you're starting a new business or running a Fortune 100 firm, finding success as a leader requires a monumental shift in the way you approach your business and your employees. We are born thinking about "me"-it's a survival thing. But the leadership journey requires a shift from thinking first about ourselves to thinking first about others and their part in any effort in which we are involved.
The Shift from One to Many
helps you move into a leadership role with grace and ease by mastering three essential skills: facilitating the output of others, giving them recognition, and relinquishing your own need for praise in the process. On a four-stage journey through the leadership continuum, you'll learn how to:
Recognize and manage the self-interested mentality of the "Me" Stage in yourself and others
Share credit in the "Us" Stage when working with or leading a team
Facilitate the output of others and minimize the need for acknowledgment in the "Letting Go" Stage
Focus exclusively on others and share your expertise without any desire for personal recognition in the "Giving Away the Gold" Stage
With a wise and discerning approach to workplace relations, the author demonstrates how professional altruism can guide the trajectory of your career, helping you find greater satisfaction and success as a truly exceptional leader.

Reviews
"Whether as a board member for public and private companies or as the CEO of Adobe, I have coached and mentored many 100s of leaders. Chrismon's methods and leadership tools work -- I've seen the evidence first hand. I strongly recommend you add this book to your leadership library."
—Bruce Chizen; Former CEO, Adobe Systems Incorporated; Oracle, Board of Directors
"Leadership matters. It can be learned if the aspiring executive is open to the process. "One to Many" is not a magic curative, but rather a thoughtful guide to be used over and over throughout a career, not read just once and shelved."
—Stephen Light; CEO, Xerium Technologies
"I have worked with Chrismon for over a decade. This book hits the sweet spot -- read the book, use the tools, become a better leader -- simple."
—Thomas M. Lindquist; EVP and COO; Plum Creek Timber
"There are literally thousands of leadership models and perspectives. In The Shift From One to Many Dr. Nofsinger drives quickly to the essential elements and delivers a brilliantly simple set of leadership tools and frameworks. This is a short read that packs a punch."
—Dr. Stewart I. Donaldson; Dean & Chair of Psychology; School of Behavioral & Organizational Sciences at Claremont Graduate University
"The Shift leadership model is common sense made actionable -- I use the tools daily; and find the concepts equally helpful in coaching my team."
—David Feringa; VP of Sales; F5 Networks
"I have guided 100s of companies though strategic and go-to-market processes and in my experience its quality leadership, more than any other factor, that is key in a successful execution. Chrismon cuts through the fluff and gets down to the essential with a simple yet powerful framework for a leader in any stage."
—Tom Kippola; Managing Director; The Chasm Group; co-author of bestselling book The Gorilla Game


Reader's Index
Send us your favorite quotes or passages from this book
.
• "To succeed, you need to learn to think in terms of what other people are capable of and what they need in order to feel valued—rather than in terms of your own abilities and your own needs." Pg. 4

About the Author
Chrismon Nofsinger
is the CEO and founder of the Nofsinger Group. In his twenty-plus years in the field, Chrismon has become a trusted confidant and advisor to numerous CEOs, board members, and private equity investors. Chrismon has personally worked with more than 200 companies, from start-ups to Fortune 500, focusing on organizational change, individual and team development, and CEO coaching. Chrismon earned his M.A. and Ph.D. in organizational psychology from Claremont Graduate University, where he was a student of management guru Peter F. Drucker; and currently serves as a board member. A sought after speaker and thought-leader, Chrismon frequently speaks to business, academic, and nonprofit groups on the use of stage models as a tool to meaningfully improve business interactions and relationships.

Table of Contents
| | | |
| --- | --- | --- |
| | | |
| | Acknowledgements | ix |
| | | |
| | Introduction | 1 |
| | | |
| 1 | The Truth About Leadership | 3 |
| 2 | The leadership Continuum | 7 |
| 3 | It's All About Me | 11 |
| 4 | Thinking Like a Team | 19 |
| 5 | The Power of Letting Go | 29 |
| 6 | Giving Away the Gold | 41 |
| 7 | Putting It All to Work | 51 |
| | | |
| | About the Author | 57 |

Find Items On Similar Subjects

The Truth about Leadership
: The No-fads, Heart-of-the-Matter Facts You Need to Know