The Truth about Leadership
: The No-fads, Heart-of-the-Matter Facts You Need to Know
James M. Kouzes and Barry Z. Posner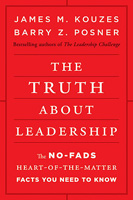 Format:
Hardcover, 224pp.
ISBN:
9780470633540
Publisher:
Wiley
Pub. Date:
August 16, 2010
Average Customer Review:


For Bulk Orders Call: 626-441-2024

Description and Reviews
From
The Publisher:
A fresh look at what it means to lead from two of the biggest names in leadership
In these turbulent times, when the very foundations of organizations and societies are shaken, leaders need to move beyond pessimistic predictions, trendy fads, and simplistic solutions. They need to turn to what's real and what's proven. In their engaging, personal, and bold new book, Kouzes and Posner reveal ten time-tested truths that show what every leader must know, the questions they must be prepared to answer, and the real-world issues they will likely face.
Based on thirty years of research, more than one million responses to Kouzes and Posner's leadership assessment, and the questions people most want leaders to answer
Explores the fundamental, enduring truths of leadership that hold constant regardless of context or circumstance-leaders make a difference, credibility, values, trust, leading by example, heart, and more
Shows emerging leaders what they need to know to be effective; fans of The Leadership Challenge will find a dynamic new look at the real challenges leaders face today
Drawing from cases spanning three generations of leaders from around the world, this is a book leaders can use to do their real and necessary work-bringing about the essential changes that will renew organizations and communities.

Reviews
"This book cuts through the clutter and reminds us of what really matters. The introduction alone is worth the price of the book."
—PATRICK LENCIONI, president, The Table Group, and author of The Five Dysfunctions of a Team and Getting Naked
"The leadership truths Kouzes and Posner lay out have not only endured the test of time but are even more relevant now in a world transformed by Twittering Millennials. Buy copies for yourself, your boss, and also for leaders of your organization."
—CHARLENE LI, author of Open Leadership, and founder, Altimeter Group
"The Truth About Leadership provides some of the best practical advice on leadership I've read in a long time. If you have not read Kouzes and Posner and you manage people, shame on you. Start here. If you have read their work and your workplace needs a shot in the arm, you'll find this book a quick, engaging jewel that will help you become a more trusted, credible, and valued leader."
—ADRIAN GOSTICK, author of The Carrot Principle
"I've always been a big proponent of simple truths. That's why I love the new book from Jim Kouzes and Barry Posner, The Truth About Leadership. Jim and Barry spell out ten fundamental truths about leadership and every one of them is right on. If you want to do a fact check on your leadership expertise, read this book!"
—KEN BLANCHARD, coauthor of The One Minute Manager® and Leading at a Higher Level
"Regardless of your experience, age, generation, or life stage, The Truth About Leadership will remind you of the vital role leaders play in our lives, renew your interest in understanding what makes a leader great, and rekindle your desire to be an inspiring leader yourself."
—LYNNE LANCASTER, coauthor of When Generations Collide and The M-Factor
"Elegant in its simplicity and powerful in its depth, The Truth About Leadership dazzles the reader with evidence-based knowledge and practical inspiration This is that one in a million book that serves to pull an entire field together for the reader. No matter how many books you've read on leadership, you will better understand each of them after reading this remarkable book."
—COLONEL TOM KOLDITZ, PhD, professor, U.S. Military Academy at West Point, and author of In Extremis Leadership
"This is a book a leader should put on his or her nightstand and read a chapter a night to refresh on what is important from a leadership perspective."
—STEPHEN ALMASSY, Global Vice Chair, OCA/Industry, Ernst & Young Global Limited

About the Authors
James M. Kouzes
is Dean's Executive Professor of Leadership, Leavey School of Business, Santa Clara University.
Barry Z. Posner
, Ph.D. is Dean of the Leavey School of Business, Santa Clara University, and Professor of Leadership. Kouzes and Posner are the coauthors of A Leader's Legacy, Credibility, Encouraging the Heart, and The Leadership Challenge Workbook, as well as over a dozen other books and workbooks on leadership and leadership development. They also developed the highly acclaimed Leadership Practices Inventory (LPI) and LPI Online, 360-degree assessment tools based on The Five Practices of Exemplary Leadership.

Table of Contents
| | | |
| --- | --- | --- |
| | | |
| | Introduction: What Everyone Wants to Know About Leadership | xiii |
| | | |
| Truth 1 | You Make a Difference | 1 |
| Truth 2 | Credibility Is the Foundation of Leadership | 15 |
| Truth 3 | Values Drive Commitment | 29 |
| Truth 4 | Focusing on the Future Sets Leaders Apart | 45 |
| Truth 5 | You Can't Do It Alone | 61 |
| Truth 6 | Trust Rules | 75 |
| Truth 7 | Challenge Is the Crucible of Greatness | 91 |
| Truth 8 | You Either Lead by Example or You Don't Lead at All | 105 |
| Truth 9 | The Best Leaders Are the Best Learners | 119 |
| Truth 10 | Leadership Is an Affair of the Heart | 135 |
| | Epilogue: Leaders Say Yes | 153 |
| | | |
| | About the Authors | 165 |
| | Acknowledgements | 171 |
| | Notes | 175 |
| | Index | 191 |

Find Items On Similar Subjects

The Leadership Challenge
: Sixth Edition