The Seven Rules of Success
: Life Coaching for Professional Success and Personal Fulfillment
Fiona Harrold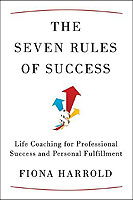 Format:
Paperback, 256pp.
ISBN:
9781933648736
Publisher:
Pegasus
Pub. Date:
September 9, 2008
Average Customer Review:

For Bulk Orders Call: 626-441-2024

Description and Reviews
From
The Publisher:
The proven blueprint that reveals how you can achieve professional fulfillment and personal happiness.
Renowned life coach Fiona Harrold has a proven blueprint that reveals how the truly successful have achieved professional fulfillment and personal happiness—and how you can too.
Fiona Harrold has talked to some of the world's top achievers—those who have found their passion and made it their career—and discovered the rules they live by. Now she shows you, in seven easy steps, how to apply them to your own life. From getting past your fear of failure, to becoming a charming, effective individual who people want to do business with, Fiona coaches you on how to understand and use these seven techniques, tips, tricks and strategies to achieve your dreams.

Reviews
With a distinct British sensibility and syntax, life coach Harrold (Coach Yourself to Success) describes seven rules for achieving and maintaining success, illustrated by in-depth interviews with entrepreneurs and business people. Her subjects are united in focus, drive and unrelenting appetite for hard work; Harrold observes, "They all had a grand idea, a big scheme that inspired them. It was never about the money. It was about service, improving things and helping others." While her seven categories may seem generic--be passionate, practice self-belief, do more, take more risks, inspire others, persevere, be generous--her paradigm of success is useful and inspiring. Vision, generosity and what Harrold calls "optimistic resilience" are crucial components of the successful person's psyche. An entertaining roundup of "famous failures"--including J.K. Rowling (eight literary agents rejected the first Harry Potter book), Walt Disney (fired from a newspaper because he "lacked imagination"), Isaac Newton and Winston Churchill (both academic failures)--takes some of the sting out of perceived failure and is genuinely emboldening, while periodic short exercises throughout the book sharpen the reader's sense of purpose and clarify life goals. (Nov.)
—Publishers Weeklu, Copyright © Reed Business Information, a division of Reed Elsevier Inc. All rights reserved.

About the Author
Fiona Harrold
is one of our most successful life coaches. She is the author of Coach Yourself to Success (McGraw Hill); The Power of Self-Coaching (Wiley); and Kiss Theory Goodbye (Golden Pen/Ingram). She lives in London.

Find Items On Similar Subjects

Napoleon Hill's Golden Rules
: The Lost Writings