Napoleon Hill's Golden Rules
: The Lost Writings
Napoleon Hill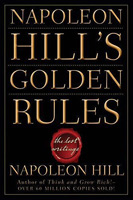 Format:
Paperback, 224pp.
ISBN:
9780470411568
Publisher:
Wiley
Pub. Date:
December 29, 2008
Average Customer Review:

For Bulk Orders Call: 626-441-2024

Description and Reviews
From
The Publisher:
An amazing collection of long-lost articles from the king of personal success
Napoleon Hill has been inspiring people to achieve their personal best for more than seventy years. He was the first and most famous motivational author of all time, and in fact, today's most successful self-help authors owe a lot to Hill's farsighted wisdom, including some of their very best ideas.
Now, Napoleon Hill's Golden Rules presents the articles Hill wrote between 1919 and 1923, which started it all. Never before collected in book form, these articles feature big nuggets of golden wisdom that are as applicable today as they were nearly a century ago. Based on interviews with famous rags-to-riches tycoons like Carnegie, Ford, and Edison, they reveal proven, effective paths to success that truly work for the average person—yesterday, today, and tomorrow.
These entertaining, lively articles are packed with plenty of inspiration and motivation and offer timeless insight on topics like the power of suggestion, building self-confidence, using persuasion versus force, and the law of attraction. If these ideas sound familiar, they are. Modern motivational writers have been tweaking and repackaging Hill's ideas for decades, but the original source remains the best. Read Napoleon Hill's Golden Rules and change your life.
Lesson #1: Your Social and Physical Heredity--Hills Golden Rule (May 1920)
Lesson #2: Auto Suggestion--Napoleon Hill's Magazine (July 1921)
Lesson #3: Suggestion (Applied Salesmanship)--Napoleon Hill's Magazine (August 1921)
Lesson #4: The Law of Retaliation--Hill's Golden Rule (March 1919)
Lesson #5: The Power of Your Mind (Little Odd Visits with Your Editor)--Hill's Golden Rule (October 1919)
Lesson #6: How to Build Self-Confidence--Napoleon Hill's Magazine (June 1921)
Lesson #7: Environment and Habit--Hill's Golden Rule (April 1919)
Lesson #8: How to Remember--Hill's Golden Rule (May-June 1919)
Lesson #9: How Marc Antony Used Suggestion in Winning the Roman Mob--Hill's Golden Rule (July 1919)
Lesson #10: Persuasion vs. Force--Hill's Golden Rule (September 1919)
Lesson #11: The Law of Compensation--Napoleon Hill's Magazine (April 1921)
Lesson #12: The Golden Rule as a Pass Key to All Achievement--Napoleon Hill's Magazine (June 1921)

About the Author
Napoleon Hill
(1883–1970) was a highly respected, influential, and bestselling author of the first modern motivational and personal success books. His most famous book, Think and Grow Rich!, has sold more than 60 million copies worldwide, is the all-time bestseller in the genre, and continues to change thousands of lives each year.

Find Items On Similar Subjects

The Seven Rules of Success
: Life Coaching for Professional Success and Personal Fulfillment