The Oracle Speaks
: Warren Buffett In His Own Words
(In Their Own Words Series)
Edited by David Andrews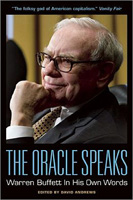 Format:
Paperback, 160pp.
ISBN:
9781932841695
Publisher:
Agate B2
Pub. Date:
October 30, 2012
Average Customer Review:

For Bulk Orders Call: 626-441-2024

Description and Reviews
From
The Publisher:
From his office in Omaha, Nebraska, without even the benefit of a computer, Warren Buffett has racked up an investment record that far surpasses his counterparts on Wall Street—or anyone else in the world, for that matter. While traditionally stock exchanges have returned about 11 percent annually in the past half century, Buffett's investments have by nearly 29 percent a year, solidifying Buffett's conglomerate holding company, Berkshire Hathaway, as the eighth-largest business in the world and netting him $44 billion along the way.
Despite this tremendous success, "the Oracle of Omaha" remains modest. He acknowledges that he has a unique ability to evaluate businesses, but he doesn't feel entitled to the vast wealth that ability has earned him. Instead, he likes to say that he was born at the right place and time. This humility in the face of proven talent and innumerable wealth is part of what makes Buffett universally popular—he is one of the world's wealthiest men and yet he is still personable and relatable.
For the first time, the most thought-provoking and inspiring quotes from Buffett are now compiled in a single book.
The Oracle Speaks: Warren Buffett in His Own Words
is a comprehensive guidebook to the inner workings of the Berkshire Hathaway chairman. Hundreds of Buffett's best quotes, comprising thoughts on investing, Wall Street, business, politics, taxes, and life lessons, will provide the most intimate and direct look into the mind of a modern business icon and give readers enough counsel to last a lifetime.
Media outlets, financial advisers, politicians, and Americans from Main Street to Wall Street hang on every word Buffett speaks, hoping to gain valuable insight into Buffett's investments and successes. There is possibly no greater stamp of approval in the business world than to have Buffett invest in a company, and few leaders in the course of history have commanded such universally agreed-upon respect. Even beyond his business savvy, Buffett is influential as a progressive thinker and active philanthropist, having pledged to give most of his money to charity through the Bill and Melinda Gates Foundation as well as foundations run by his three children. It is this humility that consistently draws people to Buffett, and will draw people to
The Oracle Speaks
.
Most recently, inspired by Buffett's New York Times editorial in which he claimed he paid too little in taxes, Barack Obama and Congress have named a series of tax reforms after Buffett. While the political implications have been controversial, Buffett has retained his reputation as an outspoken and successful business leader.
The Oracle Speaks
draws from decades of interviews, editorials, and annual shareholder reports, amassing the most complete outline of how Buffett believes a good business is run and a good life is led. It's advice that Buffett has successfully adhered to throughout his 80-plus years, and it is advice now available in the succinct, poignant, gift-friendly package of
The Oracle Speaks
.

About the Author
David Andrews
lives outside of Chicago.

Find Items On Similar Subjects

Virgin Rebel
: Richard Branson In His Own Words

I, Steve
: Steve Jobs in His Own Words

The Boy Billionaire
: Mark Zuckerberg In His Own Words

Impatient Optimist
: Bill Gates in His Own Words