I, Steve
: Steve Jobs in His Own Words
(In Their Own Words Series)
Edited by George Beahm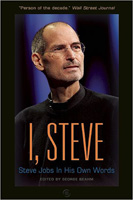 Format:
Paperback, 160pp.
ISBN:
c
Publisher:
Agate B2
Pub. Date:
October 19, 2011
Average Customer Review:

For Bulk Orders Call: 626-441-2024

Description and Reviews
From
The Publisher:
Drawn from more than three decades of media coverage—print, electronic, and online—this tribute serves up the best, most thought-provoking insights ever spoken by Steve Jobs: more than 200 quotations that are essential reading for everyone who seeks innovative solutions and inspirations applicable to their business, regardless of size.
Jobs, who passed away on October 5, 2011 at the age of 56, co-founded Apple in 1976. He stepped down from that role in August 2011, bringing an end to one of the greatest, most transformative business careers in history. Over the years, Jobs gave countless interviews to the media, explaining what he called "the vision thing"—his unmatched ability to envision, and successfully bring to the marketplace, consumer products that people find simply irresistible.
Jobs made an indelible mark in multiple industries, and played an enormous role in creating others. Consider how Jobs and Apple shaped the following fields: personal computers (laptop and desktop), apps (for multiple electronic devices), computer animation (Pixar), music (iTunes), telecommunications (iPhone), personal digital devices (iPod), books (iBook), and, most recently, tablets (iPad). Jobs was the greatest business visionary of our era.
I, Steve
is the perfect gift or reference item for everyone interested in this great American original.

Reviews
"It's the same treatment given such luminaries as Winston Churchill, Abraham Lincoln and Christopher Hitchens and offers Jobs's views on life, death, technology and design, among other topics."
—Timothy R. Smith, Washington Post
"A new book revealing many of Steve Jobs' most illuminating quotes..."
—Lance Whitney, CNET
"It is a sad day, and one to remember and celebrate the life of one of the most insightful, brilliant, successful--and, yes--quotable geniuses in tech history."
—Jason O. Gilbert, Huffington Post
"Steve Jobs, whose resume twice cites 'the vision thing,' has given us some truly memorable quotes."
—FoxNews.com
"The book, which was edited by George Beahm, contains Jobs' thoughts about product design, his $1 annual salary and Apple's popular 'Think, Different' ad campaign. The format, arranged alphabetically by topic, is as simple as the book's premise."
—Elizabeth Woyke, Forbes
"The kind of book that you read, think about, and then pass on to a friend or colleague...I learned a lot about Jobs' thinking process."
—Allen Stern, CenterNetworks
"A short work to be dipped into for nuggets of business (or law firm) wisdom..."
—Michael Roach, Law Technology News
"A 160-page collection of quotes from the most iconic product pitchman since P.T. Barnum."
—Ben Popper, The New York Observer BetaBeat blog
"A much better Jobs product is coming soon. It'll entertain you for hours, and no — it is not a Jobs-branded iPad or anything similarly high-tech. It is, friends, an old-fashioned book!"
—Hillary Reinsberg, Mogulite
"Inspirational reading pleasure."
—Courtney Boyd Myers, The Next Web
"Steve Jobs, who brought the world the iPhone, the iPad, the iPod and so much more, has left a rich history, both of technological innovations and of thoughts about what people want from them. Perhaps it's inevitable that a book about him would be titled I, Steve."
—Ned Potter, ABCNews.com

About the Author
George Beahm
is the author or editor of more than 25 books, many of them companion volumes about well-known writers and public figures. He lives in Williamsburg, Virginia.

Find Items On Similar Subjects

Virgin Rebel
: Richard Branson In His Own Words

The Oracle Speaks
: Warren Buffett In His Own Words

The Boy Billionaire
: Mark Zuckerberg In His Own Words

Impatient Optimist
: Bill Gates in His Own Words