Business Stripped Bare
: Adventures of a Global Entrepreneur
Richard Branson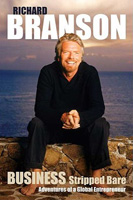 Format:
Hardcover, 352pp.
ISBN:
9781905264421
Publisher:
Virgin Books
Pub. Date:
September 30, 2008
Average Customer Review:

For Bulk Orders Call: 626-441-2024

Description and Reviews
From
The Publisher:
Sir Richard Branson is one of the world's most successful entrepreneurs and his Virgin Group is one of the most recognised lifestyle brands, trusted and enjoyed by many millions of people.
Now, in his trademark charismatic and honest style, Richard shares the inside track on some of his greatest achievements over forty years in business as well as the lessons he has learned from his setbacks. In
Business Stripped Bare
, he discusses why he took on one of the world's biggest superbrands, how he built Virgin Mobile USA into the fastest growing company in history to reach a billion dollars in revenue, faster than Microsoft, Google or Amazon.com, and how Richard is the only person in the world to have built seven billion dollar companies from scratch in seven completely different sectors.
Richard tells the story behind the launch of Virgin America, his new airline in the USA, how Virgin Galactic is set to initiate a new era of space tourism from a spaceport deep in the Mojave desert, and what he has learned about business from a diverse group of leaders, including Nelson Mandela, Jack Welch, Herb Kelleher, Steve Jobs and the founders of Google. He also shares his thoughts on the changing face of the global economy and how businesses worldwide need to work together to tackle environmental challenges and invest in the future of our world.
Combining invaluable advice with remarkable and candid inside stories,
Business Stripped Bare
is a dynamic, inspirational and truly original guide to success in business and in life. Whether you are an executive, an entrepreneur or just starting out in the business world, Richard strips down business to show how you can succeed and make a difference.
Content will cover a huge range of areas including:
• People and Work/life Balance
• Money and Profits
• The Power of the Brand
• Learning from Missed Opportunities
• Sex and Celebrity
• The Social Responsibility of Business


Reader's Index
Send us your favorite quotes or passages from this book
.
• "There are many ways to run a successful company. What works once may never work again. What everyone tells you never to do may just work, once. There are no rules. You don't learn to walk by following rules. You learn by doing, and by falling over, and it's because you fall over that you learn to save yourself from falling over. It's the greatest thrill in the world and it runs away screaming at the first sight of bullet points." Pg. 6

About the Author
Sir Richard Branson
was born in 1950 and educated at Stowe School. It was here that he began to set up Student Magazine when he was just 16. By 17 he'd also set up Student Advisory Centre, which was a charity to help young people. In 1970 he founded Virgin as a mail order record retailer, and not long after he opened a record shop in Oxford Street, London. During 1972 a recording studio was built in Oxfordshire, and the first Virgin artist, Mike Oldfield, recorded 'Tubular Bells' which was released in 1973. This album went on to sell over 5 million copies. Since then many household names, including Belinda Carlisle, Genesis, Phil Collins, Janet Jackson and The Rolling Stones have helped to make Virgin Music one of the top six record companies in the world. The equity of Virgin Music Group - record labels, music publishing, and recording studios was sold to THORN EMI in 1992 in a US$1billion deal.
The Virgin Group has now expanded into international music Megastores, air travel, mobile, financial, retail, music, internet, drinks, rail, hotels and leisure, with around 200 companies in over 30 countries. Richard is married with two children and spends most of his time at his home on Necker Island.

Table of Contents
| | | |
| --- | --- | --- |
| | Acknowledgements | |
| | | |
| | Introduction | 1 |
| | People: Find Good People - Set Them Free | 13 |
| | Brand: Flying the Flag | 41 |
| | Delivery: Special Delivery | 95 |
| | Learning From Mistakes and Setbacks: Damage Report | 169 |
| | Innovation: A Driver for Business | 215 |
| | Entrepreneurs and Leadership: Holding on and Letting Go | 253 |
| | Social Responsibility: Just Business | 287 |
| | Epilogue: Success | |
| | | |
| | Index | |

Find Items On Similar Subjects

Screw It, Let's Do It
: 14 Lessons on Making It to the Top While Having Fun & Staying Green
(Expanded Edition)

The Snowball
: Warren Buffett and the Business of Life

The First Billion Is the Hardest
: Reflections on a Life of Comebacks and America's Energy Future

Call Me Ted