The First Billion Is the Hardest
: Reflections on a Life of Comebacks and America's Energy Future
T. Boone Pickens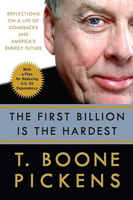 Format:
Paperback, 272pp.
ISBN:
9780307396013
Publisher:
Crown Business
Pub. Date:
September 8, 2009
Average Customer Review:

For Bulk Orders Call: 626-441-2024

Description and Reviews
From
The Publisher:
With a Plan for Reducing U.S. Oil Dependency
It's never too late to top your personal best.
Now eighty years old, T. Boone Pickens is a legendary figure in the business world. Known as the "Oracle of Oil" because of his uncanny ability to predict the direction of fuel prices, he built Mesa Petroleum, one of the largest independent oil companies in the United States, from a $2,500 investment. In the 1980s, Pickens became a household name when he executed a series of unsolicited buyout bids for undervalued oil companies, in the process reinventing the notion of shareholders' rights. Even his failures were successful in that they forced risk-averse managers to reconsider the way they did business.
When Pickens left Mesa at age sixty-eight after a spectacular downward spiral in the company's profits, many counted him out. Indeed, what followed for him was a painful divorce, clinical depression, a temporary inability to predict the movement of energy prices, and the loss of 90 percent of his investing capital. But Pickens was far from out.
From that personal and professional nadir, Pickens staged one of the most impressive comebacks in the industry, turning his investment fund's remaining $3 million into $8 billion in profit in just a few years. That made him, at age seventy-seven, the world's second-highest-paid hedge fund manager. But he wasn't done yet. Today, Pickens is making some of the world's most colossal energy bets. If he has his way, most of America's cars will eventually run on natural gas, and vast swaths of the nation's prairie land will become places where wind can be harnessed for power generation. Currently no less bold than he was decades ago when he single-handedly transformed America's oil industry, Pickens is staking billions on the conviction that he knows what's coming. In this book, he spells out that future in detail, not only presenting a comprehensive plan for American energy independence but also providing a fascinating glimpse into key resources such as water—yet another area where he is putting billions on the line.
From a businessman who is extraordinarily humble yet is considered one of the world's most visionary,
The First Billion Is the Hardest
is both a riveting account of a life spent pulling off improbable triumphs and a report back from the front of the global energy and natural-resource wars—of vital interest to anyone who has a stake in America's future.

Reviews
"A fascinating, eye-opening book by one of America's greatest iconoclasts and entrepreneurs. Boone Pickens' sense of daring and innovation has never been sharper. Readers will quickly realize that this billionaire's extraordinary achievements are but a warm-up for what he is about to do now."
—Steve Forbes, President and CEO, Forbes Inc., and Editor-in-Chief of Forbes magazine
"Boone's analysis of America's energy situation is 100% on the money. In easy and colorful language he tells us where we are going wrong and what we must do about it. The country should listen to him — now!"
—Warren Buffett, Chairman and CEO, Berkshire Hathaway
"It is inspiring to see Boone Pickens tackling the big issues, daring himself to think bigger, putting forward wind, water and energy ideas that are nothing less than paradigm busters. This absorbing and illuminating book shows why Boone has been more successful than just about all his competitors, and, more crucially, why the problem of resource scarcity may not be as insoluble as some think."
—Jeffrey Immelt, CEO, General Electric
"Boone Pickens was among the first to grasp that corporations can be marvelous catalysts for progress if individual investors are given a say in what their priorities should be. Today, as humanity faces resource scarcity and dwindling supplies of cheap energy, the responsibility that has devolved to entrepreneurs, and the investors who back them, has never been more immense. Yet, in recounting his own story of comeback after comeback and tackling some of history's biggest oil, wind and water projects, Boone shows that sometimes all it takes is rejecting the 'usual' and striking out across virgin territory. In that sense, Boone is a pioneer, and this is a pioneer's story. Even now, the man they call the Oracle of Oil is blazing new paths that may, indeed, lead us out of the predicament we find ourselves in."
—Carl Icahn, Chairman, Icahn & Co., Inc.

About the Author
T. Boone Pickens
is, in his ninth decade, the very active strategic and managerial force behind BP Capital, one of America's most successful energy-investment companies. Currently, Pickens ranks among the world's richest men. He lives with his wife, Madeleine, in the Dallas–Fort Worth area and at his ranch in the Texas Panhandle.

Table of Contents
| | | |
| --- | --- | --- |
| | | |
| 1 | Blood, Guts, and Feathers | 15 |
| 2 | "A Big Deal Takes as Much Time as a Little Deal" | 25 |
| 3 | Starting Over | 59 |
| 4 | The Bottom of the Canyon | 75 |
| 5 | Loading the Boat | 93 |
| 6 | It's All About the Team | 113 |
| 7 | Learning to Live with Peak Oil | 127 |
| 8 | Going Long and Scoring Big | 155 |
| 9 | Stepping Up My Giving | 165 |
| 10 | "Roll Up the Maps!" | 191 |
| 11 | Mixing Oil and Water | 211 |
| 12 | The Biggest Deal of My Career: Wind | 225 |
| 13 | The Big Idea: An Energy Plan for America | 235 |
| | | |
| | Afterword: Going Forward | 247 |
| | Index | 253 |

Find Items On Similar Subjects

The Snowball
: Warren Buffett and the Business of Life

Call Me Ted

Business Stripped Bare
: Adventures of a Global Entrepreneur