Robert's Rules of Innovation II
: The Art of Implementation
Robert F. Brands with Martin J. Kleinman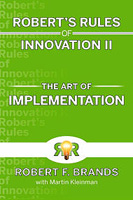 Format:
Hardcover, 224pp.
ISBN:
9781634137300
Publisher:
Bascom Hill Publishing Group
Pub. Date:
December 8, 2015
Average Customer Review:

For Bulk Orders Call: 626-441-2024

Description and Reviews
From
The Publisher:
In
Robert's Rules of Innovation II: The Art of Implementation
, innovation thought-leader Robert Brands introduces readers to the best and most recent thinking of his international network and shows how to permanently implement a culture of Innovation in one's work environment.
Brands has led innovation-driven companies around the world, and, on these pages, these international experts share their passion for innovation and the Art of Implementation and provide hands-on tips in an informative and entertaining manner.
With The Art of Implementation, readers will dive head first into practical techniques to break down the barriers to innovation, whether they are self-imposed or due to external or marketplace reasons. And The Art of Implementation delivers a hands-on, understandable, and practical approach to making innovation part of every outfit's DNA.

Reviews
''Brands follows up on the original Robert's Rules of Innovation by focusing on the unequivocal key to innovation, the people who innovate. His insights into the potential roadblocks your company will face, and the concrete steps you and your team can take to overcome them, are practical and timely. If a culture of innovation is something your business needs (Hint: all businesses do), then start with this book. When you are finished reading, read it again.''
—William Silverman, Director of The Launch Pad at The University of Miami, and Co-Founder, Accredify.
''Creativity is hard. But making creative strategies produce results in a business environment is even harder. Robert's Rule of Innovation II: The Art of Implementation actually builds that elusive and critical bridge from creative spark to implementable, grounded, money-making business outcomes. Its counsel is practical, usable, real world based and, of course, creative as hell.'
—Robert Seltzer, former Chairman and CEO of Ogilvy Public Relations Worldwide and renowned client service innovator.
''Today's CEOs are facing a market where the pace of change is accelerating around new technologies, consumer behaviors, global competition, and a generational shift in the workplace. Robert's Rules--The Art of Implementation provides executives with excellent ideas on how to infuse innovation into the corporate DNA--and prepare those organizations to not just survive, but thrive, in the future.''
—Karl W. Sprague, Vistage -Chairman
''Robert Brands has done it again in laying out a clear, thoughtful and practical approach to help any CEO or business leader develop the plan to not only introduce but install innovation within the culture and behaviors of their organization to create a viable and sustainable business. This is a must read for every business leader''
—Chris Ruisi, author, leadership coach and keynote business speaker

About the Authors
Robert F. Brands
is president and founder of Innovation Coach® (InnovationCoach.com) and Brands & Company, LLC. Brands's hands-on experience in bringing innovation to market spans decades and includes the creation and improvement of product development processes and company culture. He is currently a serial entrepreneur and continues to be engaged in business development and start-up companies. A native of The Netherlands, Brands earned a bachelor of science in Business Administration from HTS Eindhoven. Brands is also an avid sailor, open-water diver, and licensed pilot of single-engine aircraft. He resides in Stuart, Florida.
Martin Kleinman
is Managing Director of Communications Strategies, LLC, and is a New York based business writer and communications specialist. Martin holds a BA degree in Economics and Psychology from City University of New York at Lehman College. Martin, who enjoys tennis and cycling, resides in New York City.

Find Items On Similar Subjects

Robert's Rules of Innovation
: A 10-Step Program for Corporate Survival