Robert's Rules of Innovation
: A 10-Step Program for Corporate Survival
Robert F. Brands, Martin J. Kleinman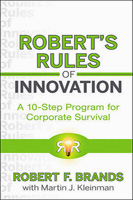 Format:
Hardcover, 212pp.
ISBN:
9780470596999
Publisher:
Wiley
Pub. Date:
March 8, 2010
Average Customer Review:

For Bulk Orders Call: 626-441-2024

Description and Reviews
From
The Publisher:
From a leader in innovation best practices, 10 practical steps your business must take to achieve profitable growth, through innovation
In this timely guide, innovation expert and former CEO Robert Brands presents the best practices for today's "innovate or die" world, in the form of 10 simple and practical steps your business must take to achieve growth through innovation.
Robert's Rules of Innovation
simply, intelligently, and entertainingly creates order from the chaos imposed by today's misguided mandate for "addition by subtraction" profitability. Concisely,
Robert's Rules of Innovation
Distills Robert Brands' wealth of experience as a leader of international product development teams
Explains why innovation is imperative
Provides the practical steps needed to deliver innovation
Draws upon the wisdom of global business leaders and is filled with real world examples, anecdotes, and practices
Timely, accessible, and indispensable,
Robert's Rules of Innovation
is a road map for success through sustainable innovation with a clear message: innovation is the lifeblood of business and the secret to outperforming your competition. Direct and practical, Robert's Rules of Innovation is a must-read for managers at all levels.
Innovation, the key to your company's survival, must be encoded in your corporate DNA. It is an imperative—because you can bet your competitors are going at Innovation full-throttle.
Robert's Rules of Innovation: A 10-Step Program for Corporate Survival
chronicles decades' worth of collective, invaluable experience contributed by Innovation guru Robert Brands and his international network of Innovate-For-Success experts. Much like Robert's Rules of Order, which created order from chaos in meetings around the world, Robert's Rules of Innovation sets a new standard for "doing" Innovation, equipping you with the principles needed to:
Inspire, lead, and drive the process
Manage risk, without letting fear of failure kill innovation
Create a formalized New Product Development (NPD) process—an absolute must
Convince others to work outside their comfort zone
Build value for your Innovation
Instill accountability—one of the most important of Robert's Rules of Innovation
Properly hire, train, and coach—to create, reinforce, and enhance your company's culture and mindset
Stay open to new ideas
Observe, measure, and track NPD results—essential to optimal ROI
Grow profitably, which benefits shareholders, stakeholders, employees, customers, and consumers
Let's face it, whether you manage a multinational company or an entrepreneurial start-up, or if you are a manufacturer, distributor, service provider, supplier, retailer, or a not-for-profit, the pressures today—in terms of time, budget, everything—are unprecedented in our lifetimes.
Robert's Rules of Innovation
introduces you to easy-to-implement, immediately useful world-class guidance for starting, nurturing, and profiting from a culture of sustained innovation in the work environment.
Get passionate about creativity. Prepare to unleash your team's abilities. Create the next home-run new product. Do it all with the high-performance ideas found in
Robert's Rules of Innovation
.

Reviews
"One surefire way to develop a compelling, competitive advantage is through Innovation. Every company needs this well-crafted blueprint to Innovation success."
—Jaynie Smith, coauthor, Creating Competitive Advantage and President, Smart Advantage, Inc.
"I like Robert's Rules of Innovation because it provides practical guidelines for ensuring successful Innovation. The author's vast experience with Innovation projects provides context for understanding the challenges innovators are facing and how they can be overcome to become successful innovators."
—Han Gerrits, CEO, Innovation Factory, and Professor, Vrije Universiteit, Amsterdam
"I hate rulebooks. But I love Robert's Rules of Innovation. This highly practical book, with its hands-on advice and detailed guidelines, is guaranteed to help you turn Innovation from the enigmatic into the systematic."
—Rowan Gibson, coauthor, Innovation to the Core
"Innovation: easy to talk about, hard to execute. Robert Brands teaches us not only how to create the conditions in which Innovation occurs, but how to verify that we've done our job at each stage. No business can truly compete without vibrant Innovation. Robert's Rules of Innovation shows us how to get there and—most importantly—how to be consistent at it. Highly recommended."
—Peter Firestein, author, Crisis of Character: Building Corporate Reputation in the Age of Skepticism
"As corporations understand more and more that consumers own brands, Robert's Rules of Innovation brings the road map on how to deliver the new ideas people want to the market place."
—Marc Gobe, President, Emotional Branding LLC and bestselling author, Emotional Branding

About the Authors
ROBERT F. BRANDS
is President and founder of Brands & Company, LLC (www.innovationcoach.com). Having gained hands-on experience in bringing innovation to market, creating and improving the necessary product development processes and needed culture, he delivered on his charter to bring "at least one new product per year to market"—resulting in double-digit profitable growth and share-holder value.
MARTIN J. KLEINMAN
is a New York–based business writer and marketing communications specialist (www.commstratpr.com). His experience includes work at a wide range of companies, such as DuPont, Johnson & Johnson, Mattel, Infiniti Automobiles, Coors, American Express, Fidelity, and more.

Find Items On Similar Subjects

The Innovative Leader
: How to Inspire Your Team and Drive Creativity