What You Really Need to Lead
: The Power of Thinking and Acting Like an Owner
Robert Steven Kaplan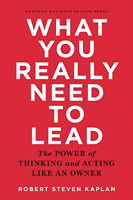 Format:
Hardcover, 224pp.
ISBN:
9781633690554
Publisher:
Harvard Business Review Press
Pub. Date:
September 15, 2015
Average Customer Review:

For Bulk Orders Call: 626-441-2024

Description and Reviews
From
The Publisher:
WHAT MAKES A LEADER? CAN YOU REALLY LEARN TO LEAD?
You might believe that leaders are born, not made. Perhaps you think that you need to hold an important job to be a leader—that you need permission to lead. Leadership is one of the most important aspects of our society. Yet there is enormous disagreement and confusion about what leadership means and whether it can really be learned.
As Harvard Business School professor Robert Steven Kaplan explains in this powerful new book, leadership qualities are not something you either have or you don't. Leadership is not a destination or a state of being. Leadership is about what you do, rather than who you are, and it starts with an ownership mind-set. For Kaplan, learning to lead involves three key elements:
• Thinking like an owner
• A willingness to act on your beliefs
• A relentless focus on adding value to others
Kaplan compellingly argues that great organizations are built around a nucleus of people who think and act with an ownership mind-set. He believes that leadership is not a role reserved only for those blessed with the right attributes or situated in the right positions of power. Leadership is accessible to each of us—today. It requires a process of hard work, willingness to ask questions, and openness to learning.
This book aims to demystify leadership and outlines a specific regimen that will empower you to build your leadership skills. Kaplan tells real-life stories from his own experience of working with various types of leaders seeking to improve their effectiveness and make their organizations more successful. He asks probing questions, provides exercises, and suggests concrete follow-up steps that will help you develop your skills, create new habits, and move you toward reaching your unique leadership potential.
What You Really Need to Lead
will help you develop your capacity to lead by unlocking your power to think and act like an owner.

Reviews
"What You Really Need to Lead is like having your own personal coaching sessions with a very wise and highly successful leader. Rob Kaplan offers down-to-earth advice about the virtues of listening, engaging others, and taking responsibility, through meaningful, engaging stories."
—ROSABETH MOSS KANTER, professor, Harvard Business School; author, MOVE and Confidence
"Rob Kaplan understands that leadership is not just about taking action— it's also about asking the tough questions again and again, listening with an open mind, and bringing others—regardless of rank—into the decision-making process. For anyone interested in truly owning their professional and personal growth as a leader, What You Really Need to Lead provides an outstanding and very practical guide."
—ROBERT J. BEALL, President and CEO, Cystic Fibrosis Foundation
"Rob Kaplan captures the elements of effective leadership throughout an organization that continuously delivers increasing value for all stakeholders through a reliable process in a rapidly changing world."
—ALAN MULALLY, President and CEO, Boeing Commercial Airplanes; former President and CEO, Ford Motor Company
"Rob Kaplan's book is a must-read for every manager throughout the world. He uses compelling, real-life case studies to help managers understand critical facets of leadership and to become highly effective, empathetic, and successful leaders."
—NARAYANA MURTHY, founder, Infosys
"You'll probably see something of yourself in Rob Kaplan's real-world case studies, and you'll definitely be a more capable and confident leader after you've absorbed and applied his road-tested, highly practical principles."
—MITCHELL E. DANIELS JR., President, Purdue University; former Governor of Indiana
"If you want a tough, wise, and capable coach who can help you to become a better leader, then crack open Rob Kaplan's excellent new book. You'll strengthen yourself, and you'll have a more powerful impact on the lives of those you lead."
—ERIC GREITENS, Navy SEAL; New York Times bestselling author, Resilience

About the Author
Robert Steven Kaplan
is Senior Associate Dean and the Martin Marshall Professor of Management Practice in Business Administration at Harvard Business School. He is also cochairman of the Draper Richards Kaplan Foundation, a global venture philanthropy firm, as well as chairman and a founding partner of Indaba Capital Management. Before joining Harvard in 2005, Kaplan was vice chairman of the Goldman Sachs Group. He is the author of
What You're Really Meant to Do
and
What to Ask the Person in the Mirror
.

Find Items On Similar Subjects

What You're Really Meant to Do
: A Road Map for Reaching Your Unique Potential

What to Ask the Person in the Mirror
: Critical Questions for Becoming a More Effective Leader and Reaching Your Potential