What You're Really Meant to Do
: A Road Map for Reaching Your Unique Potential
Robert Steven Kaplan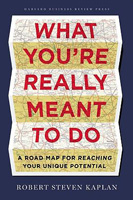 Format:
Hardcover, 240pp.
ISBN:
9781422189900
Publisher:
Harvard Business Review Press
Pub. Date:
May 7, 2013
Average Customer Review:

For Bulk Orders Call: 626-441-2024

Description and Reviews
From
The Publisher:
Robert S. Kaplan is Senior Associate Dean and a Professor of Management Practice at Harvard Business School. He is the author of the popular book
What to Ask the Person in the Mirror: Critical Questions for Becoming a More Effective Leader and Reaching Your Potential
(2011).
In his new book, Kaplan describes a specific and actionable roadmap for helping you define your own success and reach your unique potential. This effort requires several key steps in an integrated process, as well as a high level of motivation and hard work.
Kaplan proposes specific steps and exercises to help you understand yourself more deeply, take control of your career, and build your capabilities in a way that fits your passions and aspirations. In What You're Really Meant to Do, he draws on numerous years of experience and real life experiences in helping people achieve their aspirations and re-think their approach to their personal and career development.
Rather than pursuing goals set by others, Kaplan covers in-depth a critical series of issues that you must address in order to set and achieve your ultimate goals. These include assessing your strengths and weaknesses; understanding your passions (and translating them into potential career opportunities); understanding yourself; performance and career management; exhibiting character and leadership traits that help you go from good to great; creating mutually beneficial relationships; and finally, bringing it all together.
Are you open to this challenge? To understanding what are you really meant to do? If so, this book can help you reach your potential.

Reviews
" What You're Really Meant to Do is a wise, deeply personal, and always practical book by a leader of leaders. It is essential reading for all those who want to define success their own way."
—Rosabeth Moss Kanter, professor, Harvard Business School; author, Confidence and SuperCorp
"As I have seen him do in classrooms in Haiti and at Harvard, Rob Kaplan provides a powerful and pragmatic prescription in What You're Really Meant to Do. Building on his widely praised work on leadership and efficacy, Kaplan offers compelling narratives of those he has coached and counseled—from executives to entrepreneurs to recent graduates—as a guide for anyone pursuing a purposeful professional life."
—Paul Farmer, MD, PhD, professor, Harvard Medical School; co-founder, Partners In Health
"Rob Kaplan has spent years mentoring and coaching executives and young professionals, and there is no one any better. This book is a superb guide for helping people understand themselves and reach their unique potential."
—Henry M. Paulson, Jr., seventy-fourth secretary of the US Department of the Treasury; Chairman and CEO, Goldman Sachs (1999–2006)
"Rob Kaplan's brilliant new book inspires you to reach your full potential by taking responsibility for your development as a leader and as a human being. If you follow his thoughtful, pragmatic approach, you will live an even more satisfying life. Filled with real-world examples, Kaplan helps you build your road map to fulfillment."
—Bill George, professor, Harvard Business School; author, Authentic Leadership and True North
"Forging a fulfilling career can be one of the most difficult challenges we face. What You're Really Meant to Do provides a compelling road map for discovering your passions and unlocking your full potential. A must-read for anyone looking for professional growth and fulfillment."
—Vanessa Kirsch, founder and Managing Director, New Profit Inc.

About the Author
Robert S. Kaplan
is Senior Associate Dean and Professor of Management Practice at Harvard Business School. He is also cochairman of Draper Richards Kaplan Foundation, a global venture philanthropy firm, and senior adviser and member of Indaba Capital Management LLC. Before joining Harvard in 2005, Kaplan spent twenty-two years in a number of senior leadership positions at Goldman Sachs, including as vice-chairman of the firm, with oversight responsibility for the global investment banking and investment management divisions. Throughout his career, Kaplan has worked extensively with nonprofit and community organizations. He is the founding cochairman of the Harvard NeuroDiscovery Center Advisory Board, cochairman of Project ALS, and founding cochairman of the TEAK Fellowship. He serves on the board of the Ford Foundation. He also is cochairman of the executive committee for Harvard University's Office of Sustainability as well as a member of the boards of Harvard Medical School and Harvard Management Company (serving as interim president and CEO from November 2007 to June 2008).

Find Items On Similar Subjects

What to Ask the Person in the Mirror
: Critical Questions for Becoming a More Effective Leader and Reaching Your Potential