The Positive Organization
: Breaking Free from Conventional Cultures, Constraints, and Beliefs
Robert E. Quinn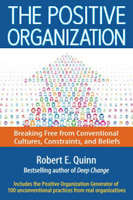 Format:
Hardcover, 168pp.
ISBN:
9781626565623
Publisher:
Berrett-Koehler Publishers
Pub. Date:
August 15, 2015
Average Customer Review:

For Bulk Orders Call: 626-441-2024

Description and Reviews
From
The Publisher:
Beholden to accepted assumptions about people and organizations, too many enterprises waste human potential. Robert Quinn shows how to defy convention and create organizations where people feel fully engaged and continually rewarded, where both individually and collectively they flourish and exceed expectations.
The problem is that leaders are following a negative and constraining "mental map" that insists organizations must be rigid, top-down hierarchies and that the people in them are driven mainly by self-interest and fear. But leaders can adopt a different mental map, one where organizations are networks of fluid, evolving relationships and where people are motivated by a desire to grow, learn, and serve a larger goal. Using dozens of memorable stories, Quinn describes specific actions leaders can take to facilitate the emergence of this organizational culture—helping people gain a sense of purpose, engage in authentic conversations, see new possibilities, and sacrifice for the common good.
The book includes the Positive Organization Generator, a tool that provides 100 real-life practices from positive organizations and helps you reinvent them to fit your specific needs. With the POG you can identify and implement the practices that will have the greatest impact on your organization.
At its heart, the book helps leaders to see new possibilities that lie within the acknowledged realities of organizational life. It provides five keys for learning to be "bilingual"—speaking the conventional language of business as well as the language of the positive organization. When leaders can do this, they are able to make real and lasting change.

Reviews
"Powerful and accessible. Quinn takes the critical topic of positive mindset in organizations and makes it approachable, compelling, and actionable. It will be a must for my graduate entrepreneurship course at Stanford and for the CEOs I mentor. It is as valid for a young entrepreneurial organization as it is for a large established corporation."
—Ricardo Levy, Lecturer, Chemical Engineering, Stanford University, and author of Letters to a Young Entrepreneur
"Bob Quinn has an amazing gift for taking seemingly intangible topics and bringing them to life. The book opens the door to impact. There were many moments when Bob unpicked the Gordian knot of culture with such clarity that I found myself literally stopping and just reflecting on the possibilities and potential for new behaviors. This will be a must-read for all new leaders in our organization."
—Julie Redfield, Senior Vice President, Human Resources, and Global Head of HR, Dorel Sports
"In today's landscape, there is a plethora of readings, teachings, and TED Talks about the power of vision, mission, and purpose. What Bob Quinn gives us is more than just the what and why—his research and insights give us tools and practices that help us with the how. Having a glimpse into what great leadership teams inside world-class brands are doing to establish positive practices is a gift to be leveraged."
—Gina Valenti, Vice President, Owner Services and Hampton Brand Culture and Internal Communications, Hilton Worldwide
"In a world where feeling overextended and underutilized is pervasive, it's hard to imagine being fully engaged and continually renewed. But this book will show you how to do just that. Quinn not only provides clear, inspiring steps but also shares 100 unique examples used in pathbreaking companies to provide you fresh, exciting ideas about where to start."
—Leslie Perlow, Konosuke Matsushita Professor of Leadership, Harvard Business School, and author of Sleeping with Your Smartphone
"Integrating the findings of a decade of scholarship into positive organizations, Bob Quinn applies the same cogent and deeply honest analysis that has characterized his previous writings to produce a highly readable and relevant primer on how leaders can break free of the conventional constraints that bind organizations and individuals to slow-death behaviors and replace them with a culture of sustained excellence and growth."
—Douglas D. Anderson, Dean and Jon M. Huntsman Chair, Jon M. Huntsman School of Business, Utah State University
"Few argue with being positive, but fewer can turn aspirations for being positive into specific organizational actions. Quinn is an exquisite observer and advisor on organizations. This book specifies actions that leaders can take to create abundant or positive organizations. The ideas make sense, the tools are informative, and the examples are clear. This book lays the foundation for redefining organizations."
—Dave Ulrich, Rensis Likert Professor, Ross School of Business, University of Michigan, and Partner, The RBL Group
"A profound book offering wise lessons for igniting deep positive change in your organization. Sound too good to be true? Actually, I think it may be an understatement. The Positive Organization can help you discover the vision and practices needed for creating cultures of possibility where people exceed expectations and flourish in their work."
—Charles C. Manz, coauthor of Share, Don't Take the Lead and Self-Leadership: The Definitive Guide to Personal Excellence
"Bob Quinn addresses the practical realities of building a positive enterprise and the positive culture necessary to sustain it."
—Bill Robertson, Chairman, Weston Solutions, Inc.
"Ten years ago I read Building the Bridge as You Walk on It by Robert Quinn. It changed my career. As I read his new book, I realize it is having the same kind of impact but at an organizational level. I have already started applying the ideas to my company, and the results have been powerful. If you want elegant, easy to access, and deeply engaging, start reading now."
Nick Craig, President, Authentic Leadership Institute, and coauthor of Finding Your True North
"Another insightful, poignant, and practical guide by change master Robert Quinn, The Positive Organization is the ultimate user's manual for leaders who want to create positively deviant organizations. It will work for people who want to change any organization, from a multinational company to neighborhood association."
—Jim Mallozzi, Chairman and CEO, Prudential Real Estate and Relocation Services (Retired)
"People are drawn to the positive. When we are engaged and creative, we are living for a greater purpose. But because we biologically defend ourselves above all else, the default in organizational life is being defensive and then infecting everyone around us with negativity. Quinn unveils the positive organization without being gushy or Pollyanna. He provides hope for the entangled, a spotlight to guide the lost, and reassurance for those on the journey."
—Richard Boyatzis, Distinguished University Professor, Departments of Psychology, Cognitive Science, and Organizational Behavior, Case Western Reserve University, and coauthor of Primal Leadership
"Another masterpiece from Robert Quinn! I have worked with organizations on creating more positive organizations, and while everybody endorses the concept, people typically find it challenging to make it practically sustainable. Bob's new book provides valuable new examples that illustrate how to do this and tools to achieve success."
—Anjan Thakor, John E. Simon Professor of Finance, Director of WFA Center for Finance and Accounting Research, and Director of Doctoral Programs, Olin Business School, Washington University in St. Louis
"This is a wonderfully persuasive, tactile immersion in positive organizations that demystifies them and makes them more attainable while magnifying the reader's desire to get on with that attainment. This is Bob at his best! And it is positive organizing in its best rendering."
—Karl E. Weick, Rensis Likert Distinguished University Professor of Organizational Behavior and Psychology, Emeritus, Ross School of Business, University of Michigan
"Bob Quinn identifies the critical path to invigorate the human spirit at work. His daring description of being 'fully engaged and continually renewed' charts a course on how to invite people to the new possibilities of authentic conversations that ignite positive cultures."
—Jim Haudan, author of The Art of Engagement
"Who doesn't want to be part of an organization where people flourish, are unified with clear purpose, and exceed expectations? Robert Quinn's newest work offers clear pathways for leaders to authentically engage others, consider new possibilities, and think beyond problem solving. Building and understanding positive organizations helps create places where others want to contribute, results are celebrated, and people prosper. This book matters."
—Jim Mahoney, Executive Director, Battelle for Kids

About the Author
Robert E. Quinn
holds the Margaret Elliott Tracy Collegiate Professorship at the University of Michigan and serves on the faculty of Management and Organizations at the Ross School of Business. He is a cofounder of the Center for Positive Organizations. He has authored or coauthored eighteen books, including the bestselling Deep Change and the award-winning Best Teacher in You. He has thirty years of experience consulting with major corporations and government agencies.

Find Items On Similar Subjects

Lift
: Becoming a Positive Force in Any Situation